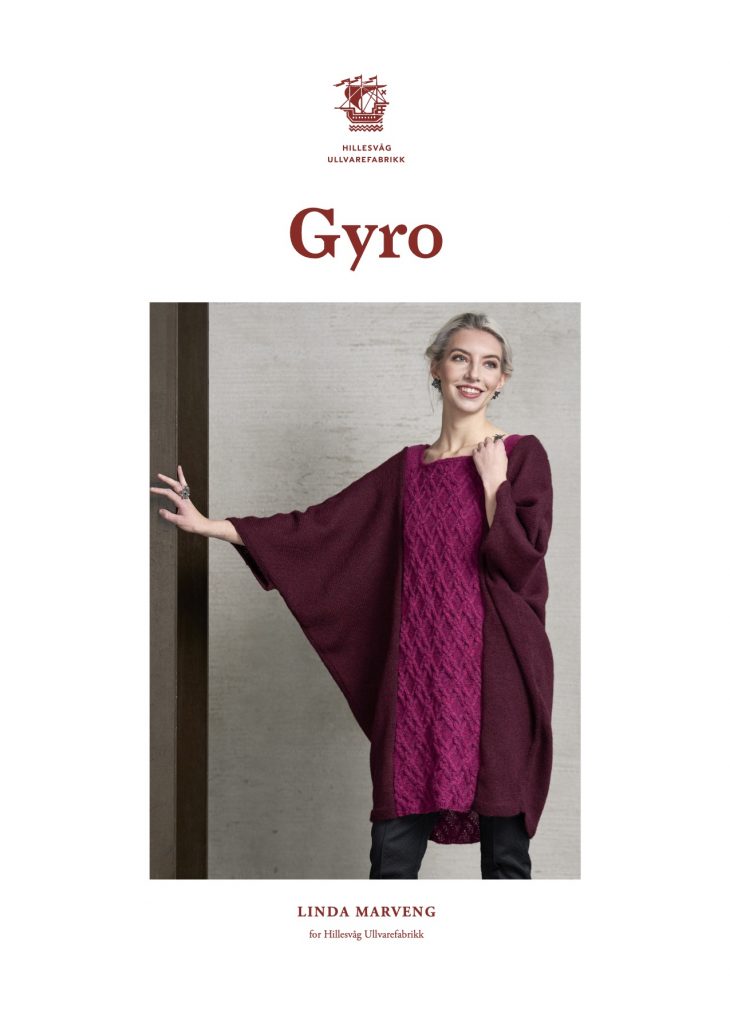 I am thrilled to let you know that my design Gyro is now available as a yarn kit with Norwegian or English pattern directly from Hillesvåg Ullvarefabrikk. Above you see the cover that they made showing the gorgeous Olivia Lindtein, with hair & make-up by Erica Poppe and jewellery by Kaja Gjedebo Design, wearing the dress as a tunic captured by Eivind Røhne in Mortensrud Church last November.
Gyro is an oversized dress with bat sleeves knitted in two yarn thicknesses and colours. The center cable panel crowns the dress and ends in a wide neck with an I-cord bind off. Gyro is an old Norwegian female name, well suited to this dress or tunic made in pieces and sewn or crochet together with a garter stitch sleeve band. The dress is knitted in the divine pelt wool yarn from Hillesvåg Ullvarefabrikk; The thicker Tinde for the cable panel and the thinner Sølje for the side parts.
The dress is available in sizes XS to 3XL with a wingspan of 119 to 137/46.75 to 54",
divided into: Sleevepart/shoulder on each side: 47.5 to 56.5 cm/18.75  to 22.25" and neck: 24 cm/9.5". The length is from 89 to 95 cm/35 to 37.5". Olivia wears size S; 122 cm/48" wingspan and has an 83 cm/32.75" bust circumference and stands 167 cm/5'6" tall.
As for construction: The dress is worked in pieces from the bottom up and seamed. You can easily adjust the length of the dress if you prefer, for instance by shortening (or lengthening) it with one or half a cable pattern repeat 12 cm/4.75" or 6 cm/2.25" and work less rows in between the increases.
You can find the Gyro yarn kit available online on Hillesvåg Ullvarefabrikk. The English and Norwegian Gyro pattern is also available from my Ravelry store.