Inspired by an oversized pullover with a large cable panel and a bottom tuck is my new design Jari. I have used a bottom tuck earlier, but this time I combined it with both Double seed stitch band beneath it and a reverse stockinette stitch band above it. The result is Jari where I discovered a perfect cable panel in one of Barbara Walker's stitch dictionaries, above the tuck with stockinette stitch in the sides as well as on the sleeves. On the back I decided to make only two central cables. The yarn I decided to use for this project is the Hillesvåg Ullvarefabrikk, Ask – a combed wool yarn in the lovely shade called Melange Clear Apple Green.
Sample knitter and patron, Airin Hansen, brilliantly knitted this pullover in size S for me, while I was working on a magazine submission. Airin used a 3.5 mm/US 4 needle to knit the parts with a 22 stitches and 30 rows in stockinette stitch gauge measuring 10 cm/4″ square. I finished the oversized pullover and made the collar in Double seed stitch with an I-cord bind off at the end. In these photos, taken by my husband in our front garden, you can see me wearing size S with a bust circumference of 118 cm/46.5″ with 30 cm/11.75″ positive ease.
Named Jari, Norse for fighter, is this oversized pullover with a bottom tuck, a Celtic cable front panel and a high collar. Unlike the front the back has only the two small center cables. The sleeves are knitted in stockinette stitch but end in a cuff. Jari ends like it began with double seed stitch, but the collar is crowned with an I-cord. The pullover is knitted in the airy Norwegian combed wool yarn Ask from Hillesvåg Ullvarefabrikk.
The pullover is worked back and forth in separate pieces and seamed. The collar is worked in the round. A circular needle is used to accommodate the large stitch number on Back and Front. For a minor length adjustment work a shorter or longer double seed band or work half a Cable pattern repeat more or less on the Front to add or deduct 8 cm/3.25″.
I have graded Jari in sizes XS to 5XL with a bust circumference of 111 to 179 cm/43.75 to 70.5″. Yarn kits with either a Norwegian or an English pattern will soon be available from Hillesvåg Ullvarefabrikk. While the individual pattern will be released after test knitting beginning on April 11 in my Ravelry group. Before then I will show you how marvellous it looked on model Olivia Lindtein, that photographer Wenche Hoel-Knai captured at our photoshoot at Sentralen in Oslo, last December.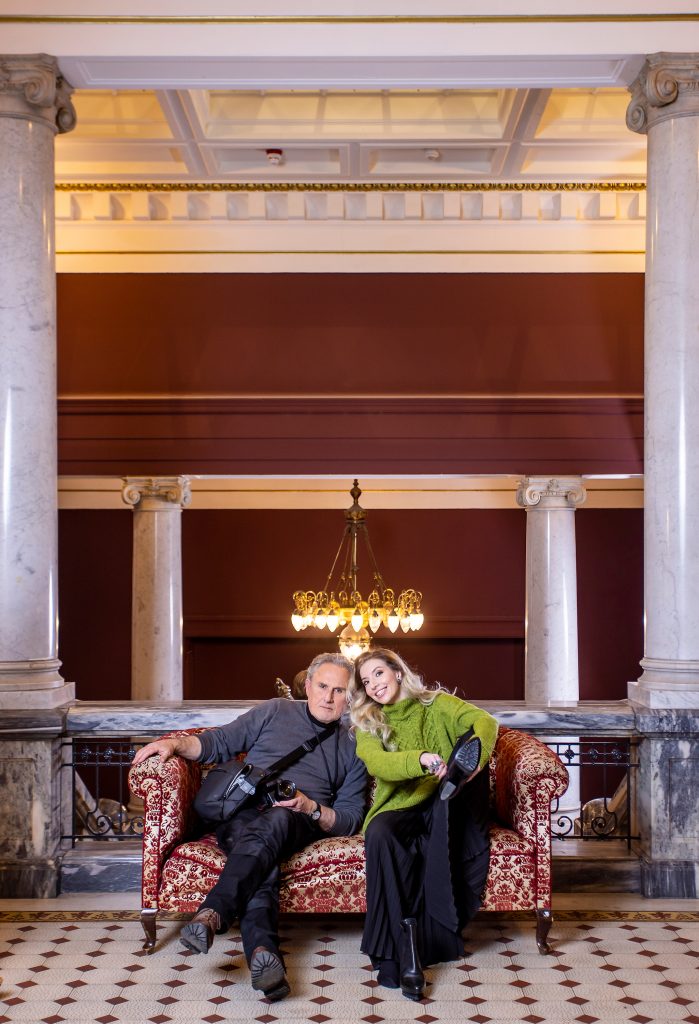 Above is a sneak peek showing Michael – photographer number 2 on the shoot – sitting on the sofa with Olivia, who was putting her boots on, captured by Wenche. I just had to pick this fun photo that illustrates so well the mood of the day!