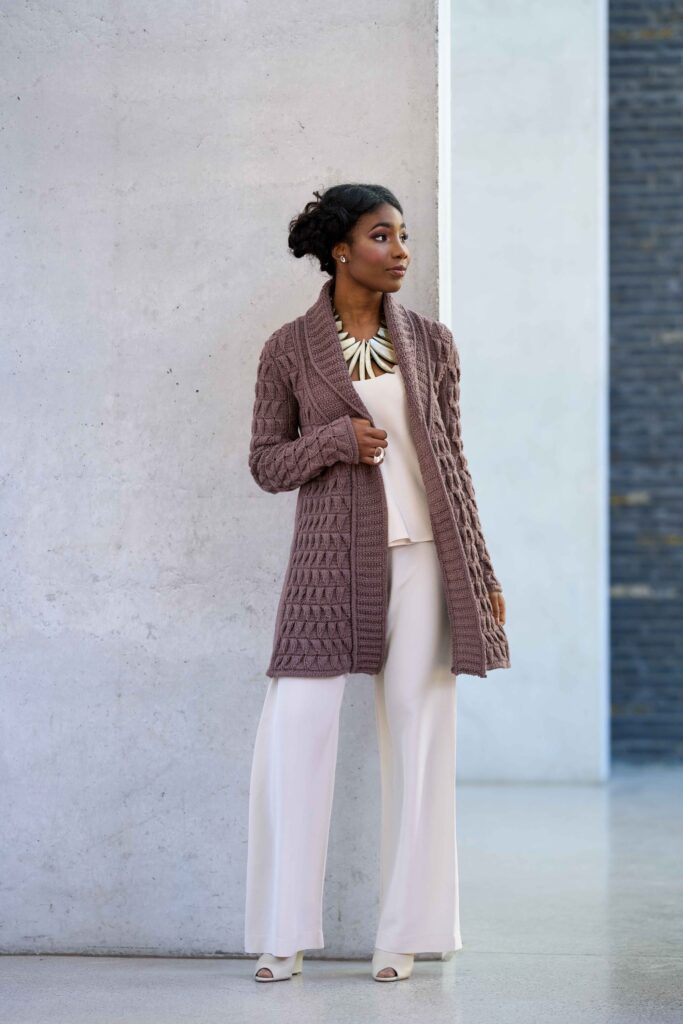 I have been looking forward to showing you the photos of my new model Emmalin Williams – discovered in the high-end fashion store Vincci in Oslo by me – with make-up & hair by Janne Skarpeid Hermansen and jewellery on loan from Kaja Gjedebo Design, taken at Bøler kirke/Church back in June 2022 by Eivind Røhne. The first design I will show is the old design Conic Coat, published in August 2014 in the Norwegian magazine Familien Strikk modelled by dancer Francesco Golfetto with make-up & hairy by Line Sekkingstad Sigberg photographed by Kim Müller at Aker Brygge/Wharf in May 2014.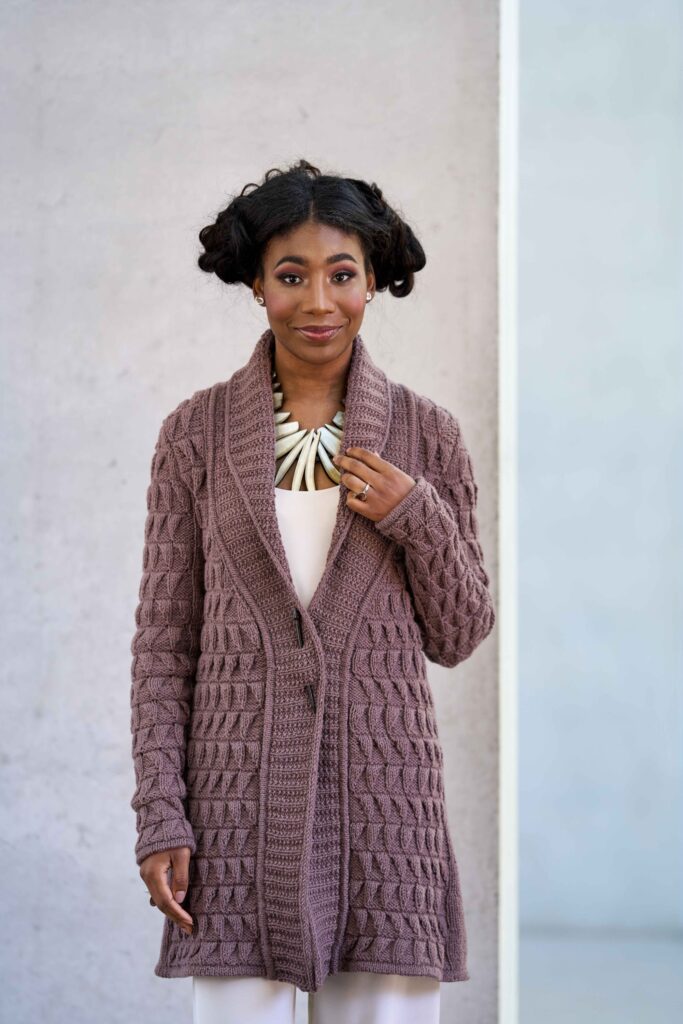 I wanted to have new photos taken with different styling and another modell to see if I can stir some interest for the old pattern. The  is knitted in Embla from Hillesvåg Ullvarefabrikk using a 4 mm/US 6 needle with a 19 stitches and 25 rows gauge in stockinette stitch. The pattern comes in English and Norwegian in sizes S to 2XL with a bust circumference of 101 to 135 cm/39.75 to 53.25″.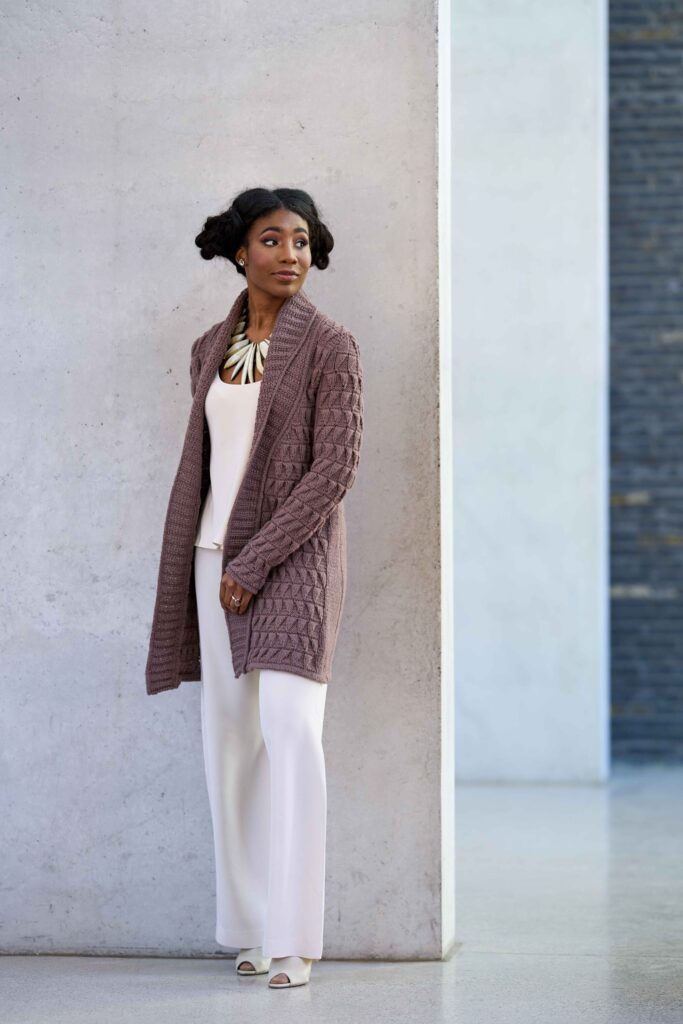 This time I chose to style the A-line Conic Coat with my cream coloured silk trousers and top, as Francesca wore a black Wolford tube dress with it last time. I also brought my Monies statement necklace for Emmalin to wear.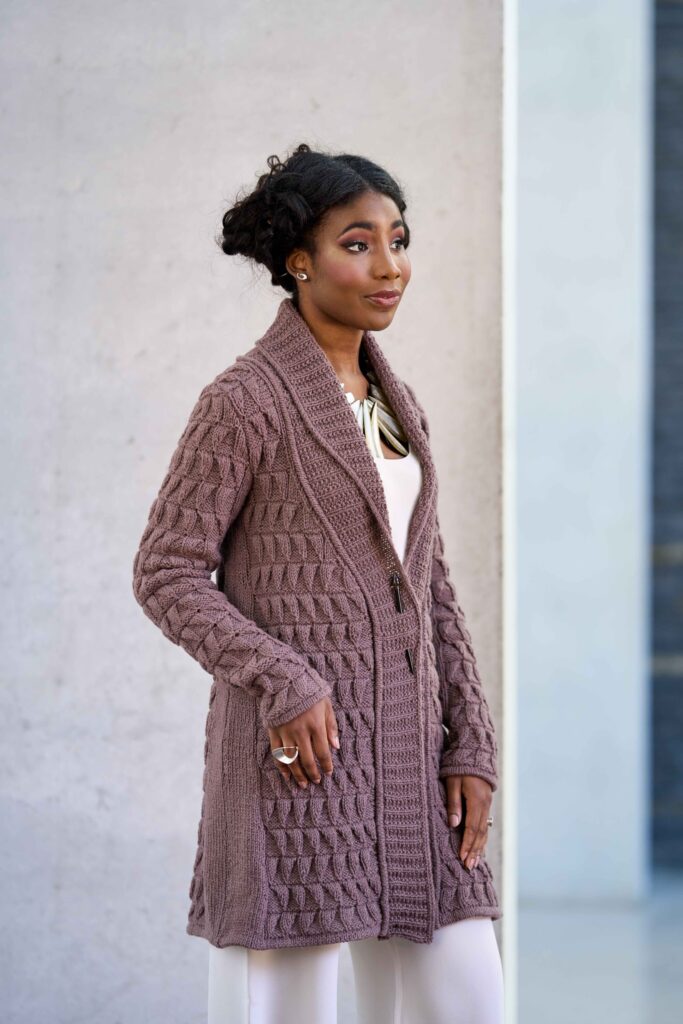 Janne, whom I had not seen since we first met for a photoshoot – organised by editor Mary Ann Astrup for the former Made By Me magazine in Fredrikstad in June 2014 – looked exactly the same and it felt like it was yesterday we met.
What kind of hairstyles do you want, Janne asked and I told her about my fascination with two large hair buns one by each ear. Instead of making them huge and round, Janne made them smaller, all with Emmalin's own hair, and pointy. The style looked perfect, I thought. I chose to have the columns in the lobby in the background, as I wanted the texture of the knit to show.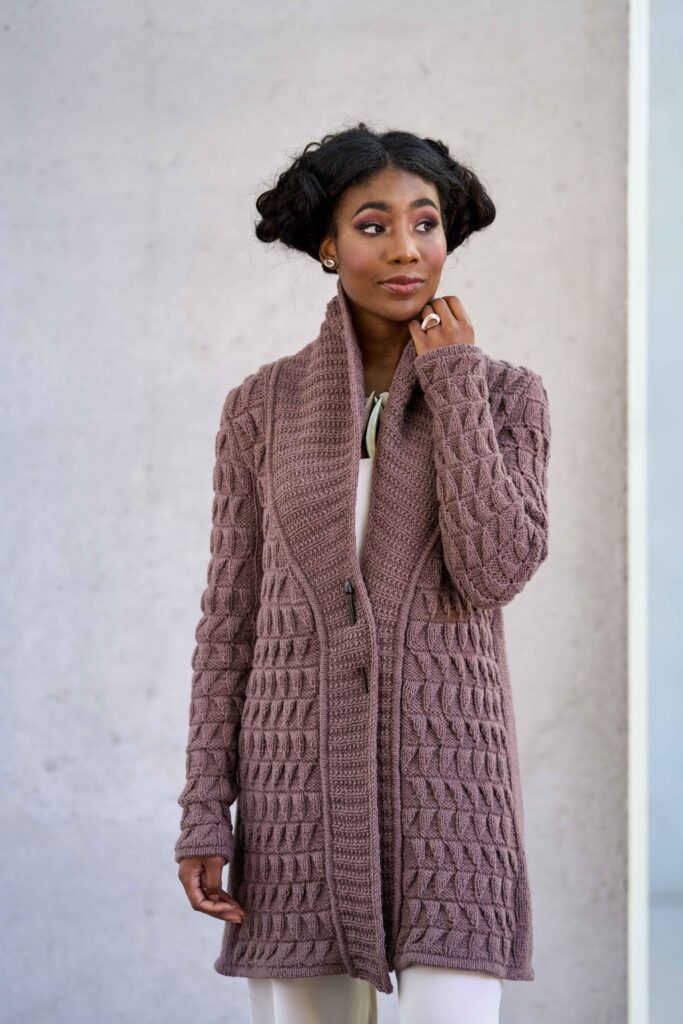 Named Conic Coat, meaning of a cone, is this sculptural A-line coat adorned by a stitch pattern that creates shadows and results in a dense textural feel. The coat is crowned by a generous shawl collar worked in a seeded rib pattern. The two patterns are divided by a tuck that adds another architectonic element to the design. The Conic Coat is knitted in the pure wool Embla from Hillesvåg Ullvarefabrikk.  
I am currently reviewing the pattern and will upload a new version of it shortly. Yarn kits will also soon be available directly from Hillesvåg Ullvarefabrikk. This design and outfit was so comfy said Emmalin that she would wear it every day if she could! I want to thank my brilliant team for these new photos of the Conic Coat. I cannot wait to show you more of the fantastic results!