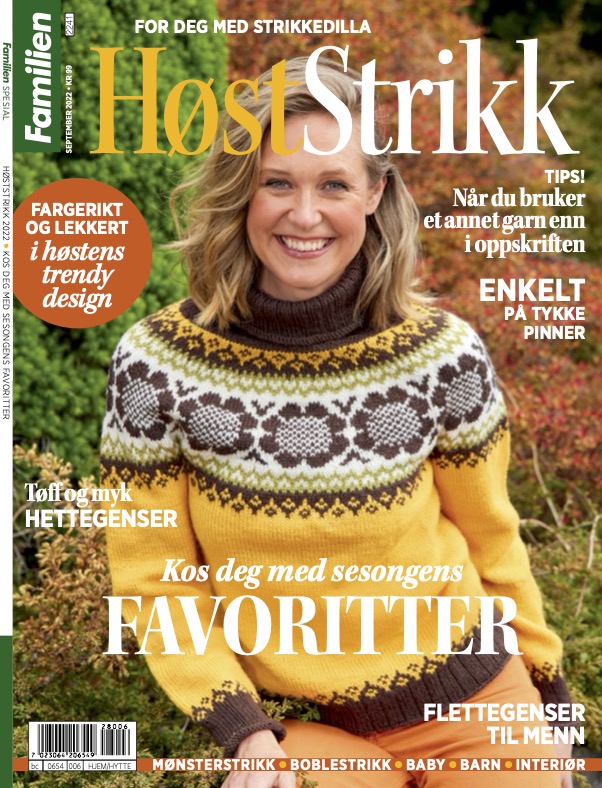 The special issue "Familien HøstStrikk" is now available in Norway and I am fortunate to have two designs in the magazine: Adeline's Cardigan and Fulla Cardigan. As usual, it is a magazine with 100 pages filled with knitting patterns mainly for women but also a few for men, children and interiors. On the cover is the lovely "Solsikkegenser" by Elisabeth Borch @lille_strikk made in Dale Garn, Lanolin Wool.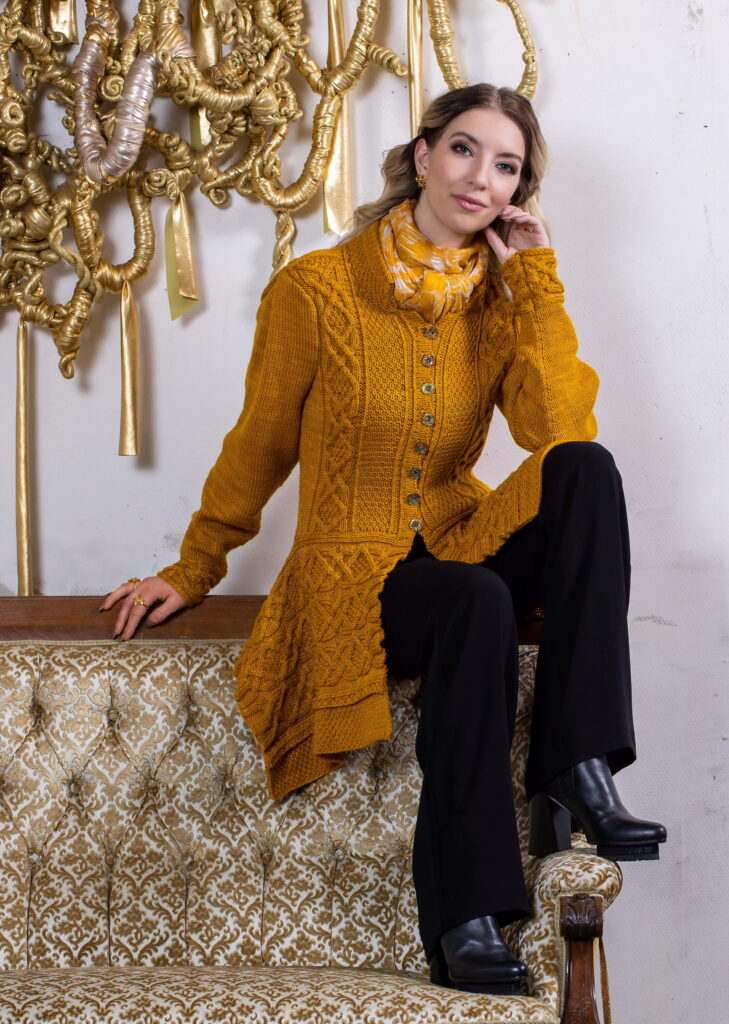 Adeline's Cardigan is introduced as follows: Adeline's Cardigan is a stunning feast for the eyes. The generous peplum is worked sideways in three pieces. Stitches are picked up from the top of the peplum, turning the sides into asymmetrical wings. The cardigan has Gothic inspired features such as a standing collar, fitted waist and puffed sleeves. The back and fronts are worked from the bottom up with framed moss stitch panels in the sides for textural opulence. Captivating cables abound in this piece with contrasting stockinette sleeves that end in pleats.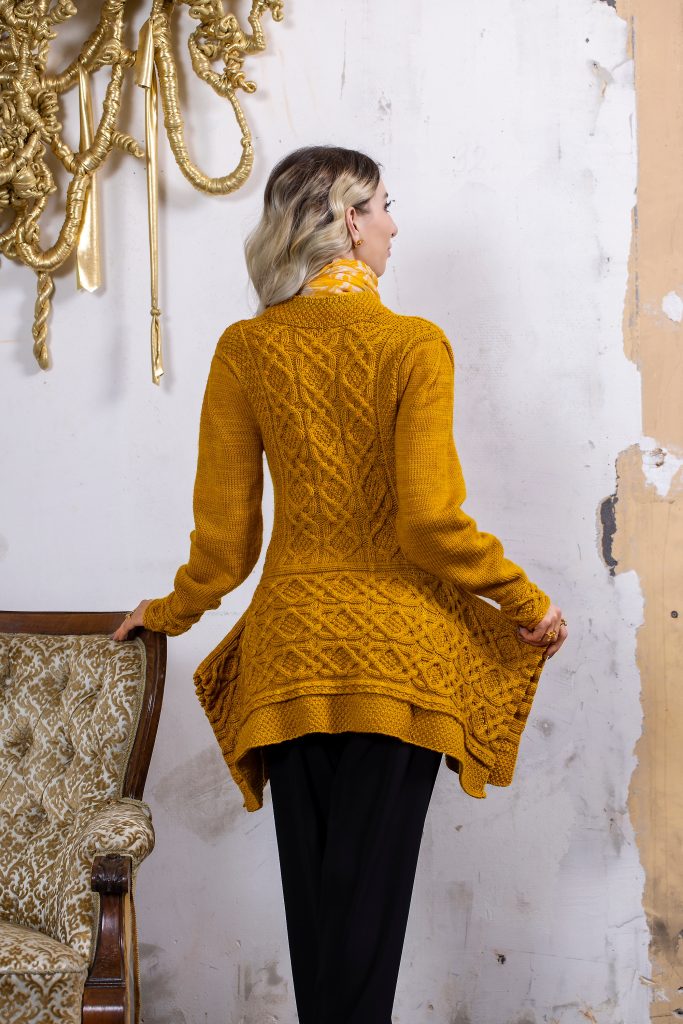 Two more of the photos taken by Wenche Hoel-Knai of Olivia Lindtein with make-up & hair by Nina Hjertaas Bull at Sentralen last December are included in the magazine. The cardigan is available in sizes XS to 5XL with a bust circumference of 80 to 153 cm/31.5 to 60.25″ and knitted in Manos del Uruguay Alegria Grande with a 20 stitches and 29 rows in stockinette stitch using 4 mm/US 6 needle gauge. The Adeline's Cardigan pattern is available in my Ravelry Store and on LoveCrafts.
"Gorgeous contrasts" is the heading for my Fulla Cardigan pattern, first printed in The Knitter issue 175 and continues: "Seamless cable cardigan in four colours with shawl collar, stockinette stitch sleeves, garter stitch parts and decorative I-cord bands". Below is the page from the English The Knitter magazine, printed in Norwegian in Høststrikk (Egmont has a licence to do so), while the English pattern is still available in the magazine in a digital format on Ravelry.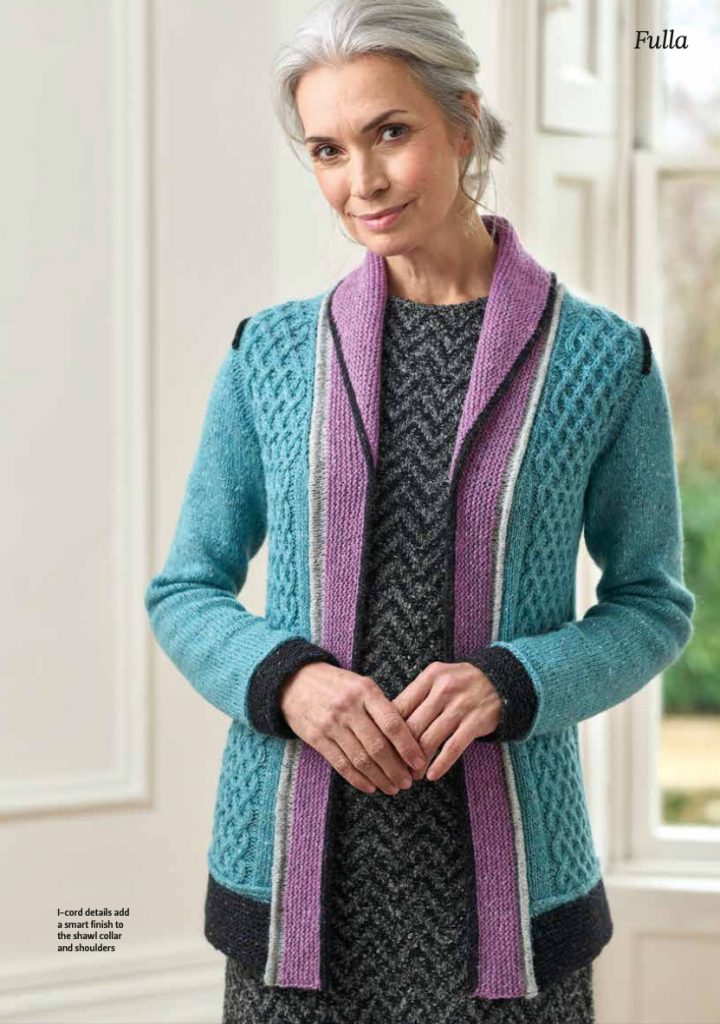 Named for the Norse goddess, this straight seamless cardigan is adorned with cables on the body and has a shawl collar," says Linda Marveng. "As well as contrasting textures, this design uses colour blocking, with four contrasting shades of Rowan's Felted Tweed. The darkest shade is used for the bottom hem, the i-cord collar edges and for the decorative i-cord around the top of the shoulder. The lightest colour is for the collar tuck, while the last contrast colour is for the collar itself.
The Familien HøstStrikk magazine is available at selected news agents and super markets in Norway.