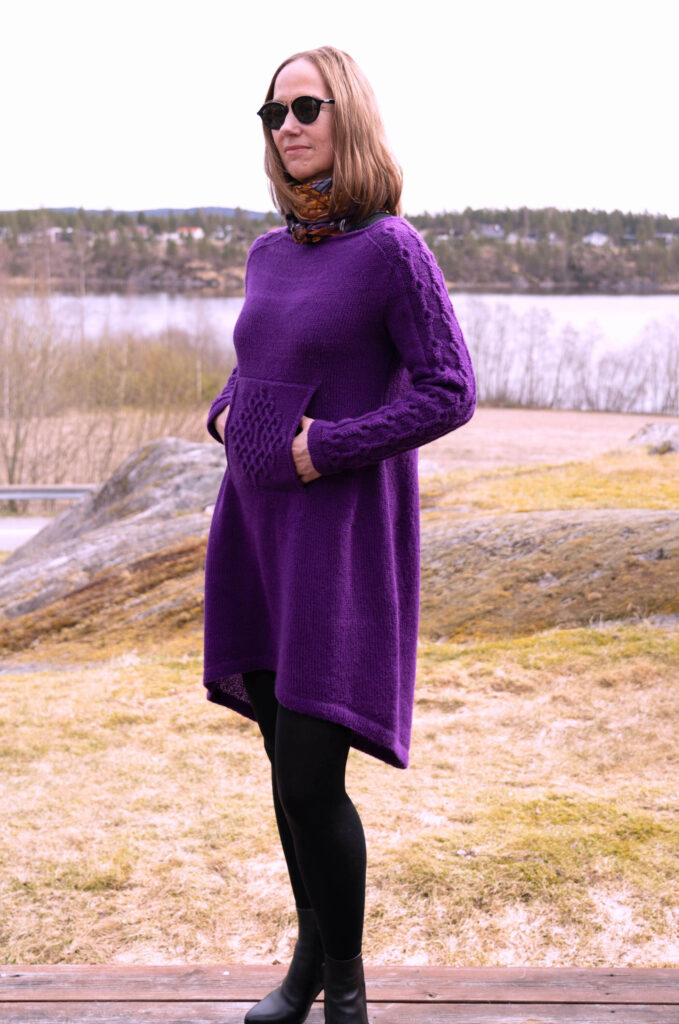 The time has come to show you my new dress design called Armas made for Hillesvåg Ullvarefabrikk, knitted in Ask by the very skilled sample knitter Grete Jenssen, aka ma9 on Ravelry. The idea was to make a seamless high-low dress with a Kangaroo pocket and build on my previous dress the Oráiste also seamless. This time I went for a saddle shoulder instead of a raglan shaping. Yarn kits will soon be available directly from Hillesvåg Ullvarefabrikk, while the individual pattern will be released after test knitting which begins on September 5th in my Ravelry group. Michael took these photos of me wearing size Small with 4 cm/1.5 in positive ease in our front garden.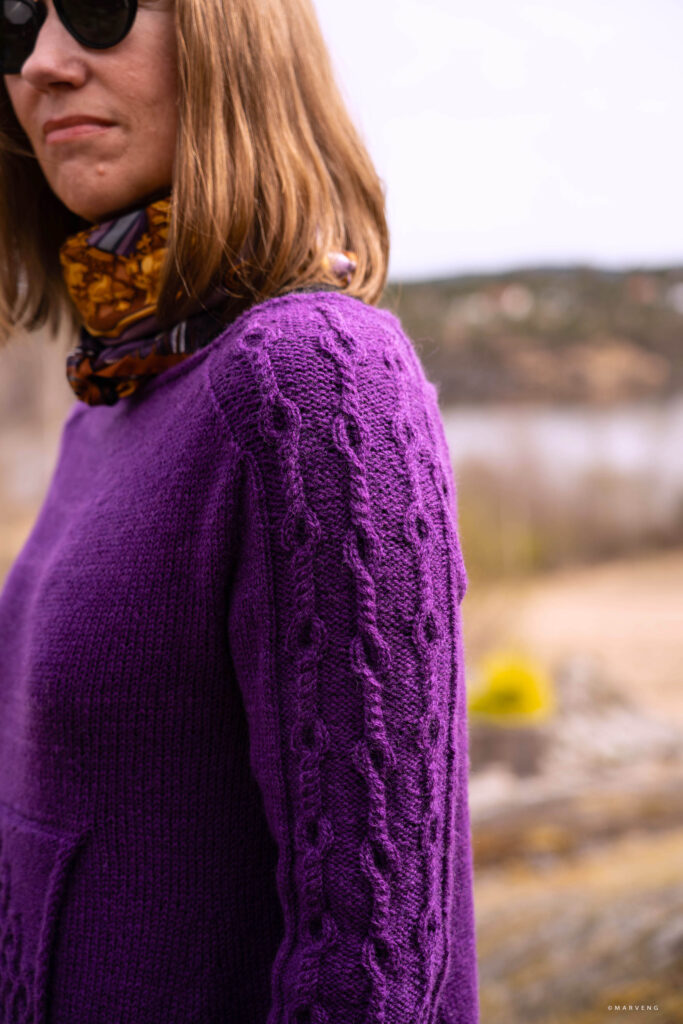 I chose purple/lilla as the colour of the dress and found the perfect cable in Devorgilla's Ravelry Store. The Kangaroo pocket seemed like the perfect spot to place one cable as it is shaped like a crest and at the top of the back. What if I pick a small part of the cable so that I can have a cable running along each sleeve? In the end I picked three small ones to run along the sleeve all the way to the neckband.
Named Armas, Irish for crest as well as achievement, is this seamless high-low dress with a Celtic cable on the top of the back and the kangaroo pocket, like a family crest. Three small cables run along the sleeves ending on the saddle shoulder. The remaining dress is worked in stockinette stitch to make the cables stand out and ends in a crew neck that is crowned with an I-cord. Armas is knitted in the airy Norwegian combed wool yarn Ask from Hillesvåg Ullvarefabrikk.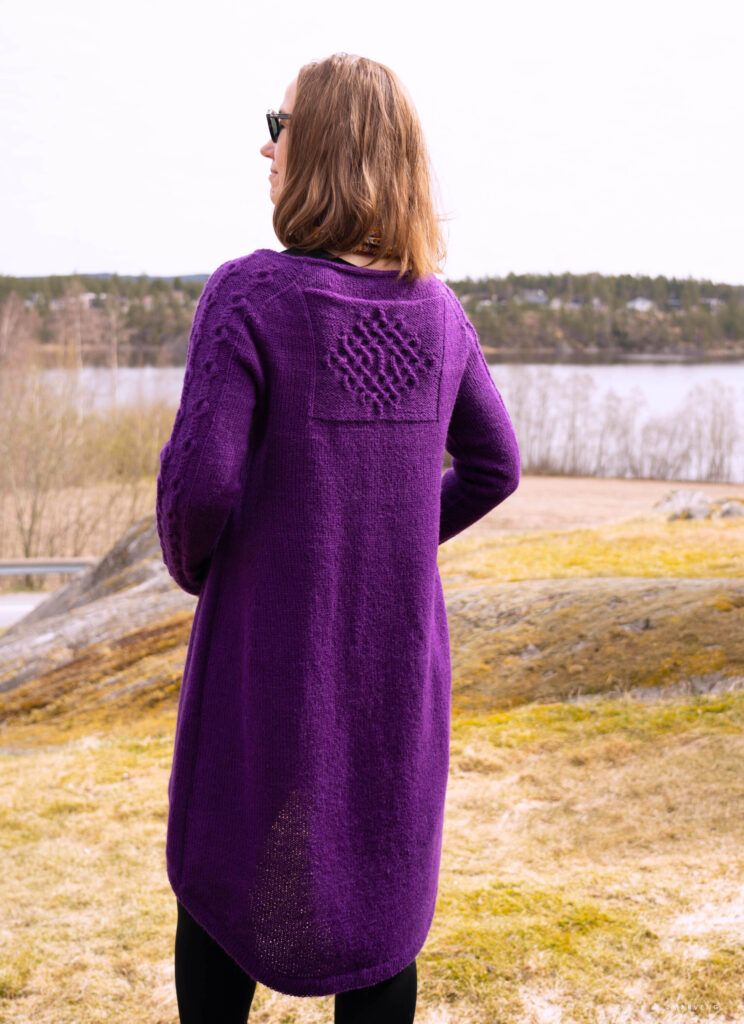 I have graded the dress in sizes XS to 5XL with a bust circumference of 85 to 161 cm/33.5  to 63.5 in. The last photo I will share is one of the dress worn above a pair of wide trousers  like a tunic. As you can see from the very different colours that was taken in the summer while the first set of photos were taken early in the spring. The purple colour in the last photo is the closest to the yarn colour.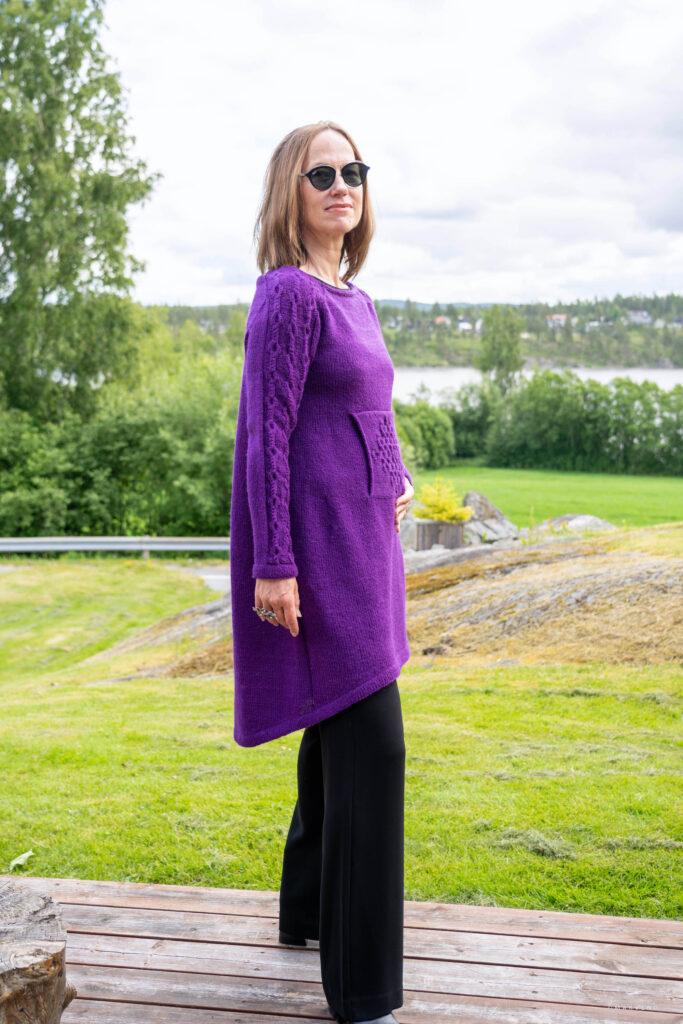 When it was completed I discovered that I wanted to make a jacket to go over it with the same cable as on the sleeves. So I wrote the pattern for the jacket while Grete knitted that one too! The Armas dress looked spectacular on model Emmalin Williams, so I look forward to showing you those photos!