I have recently spent 5 days at Svalbard/Spitsbergen – a group of islands in the Arctic Ocean about midway between the northern coast of Norway and the North Pole – with a group of 8 women travelling on a knitting trip with the Norwegian magazine Hjemmets Reiseklubb/Travel Club organised by Explore Travel. Above is the sign from outside the Svalbard Airport, Longyearbyen.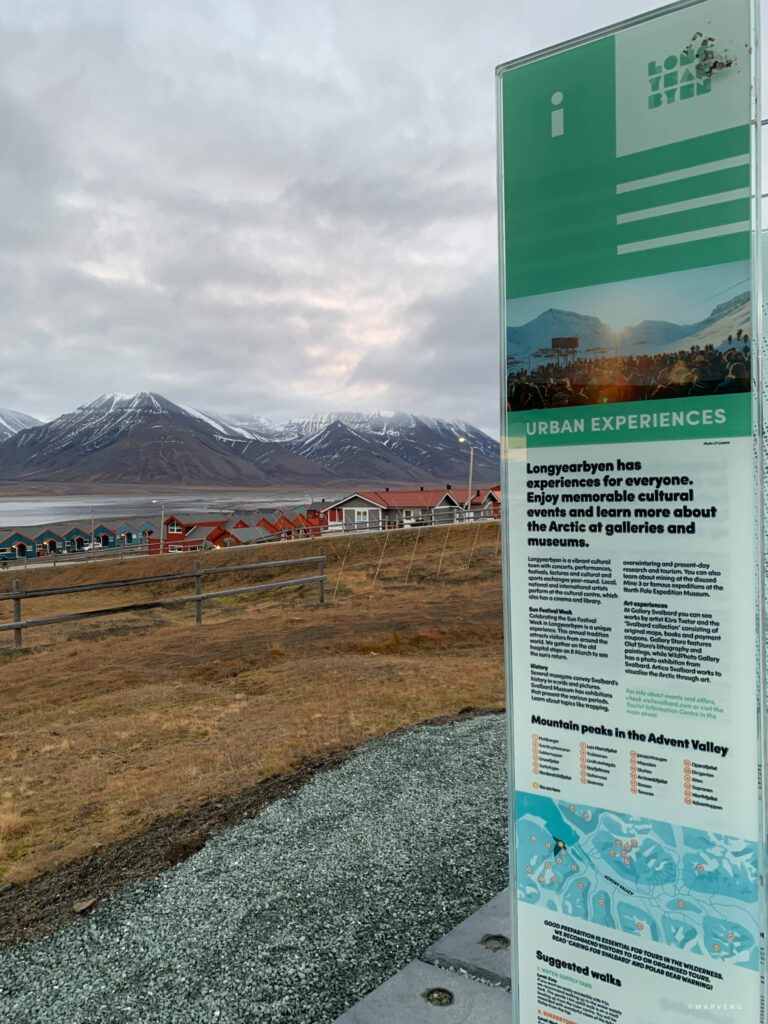 I replaced designer Tove Fevang, who had emergency back surgery, on this knit related trip north. My job was to hold 4 talks and offer 2 short workshops during those days. Marit Larsen, the co-owner of Explore Travel offered to travel with us for a few days, so that I could get my bearings in the settlement Longyearbyen as I had never been to Svalbard before.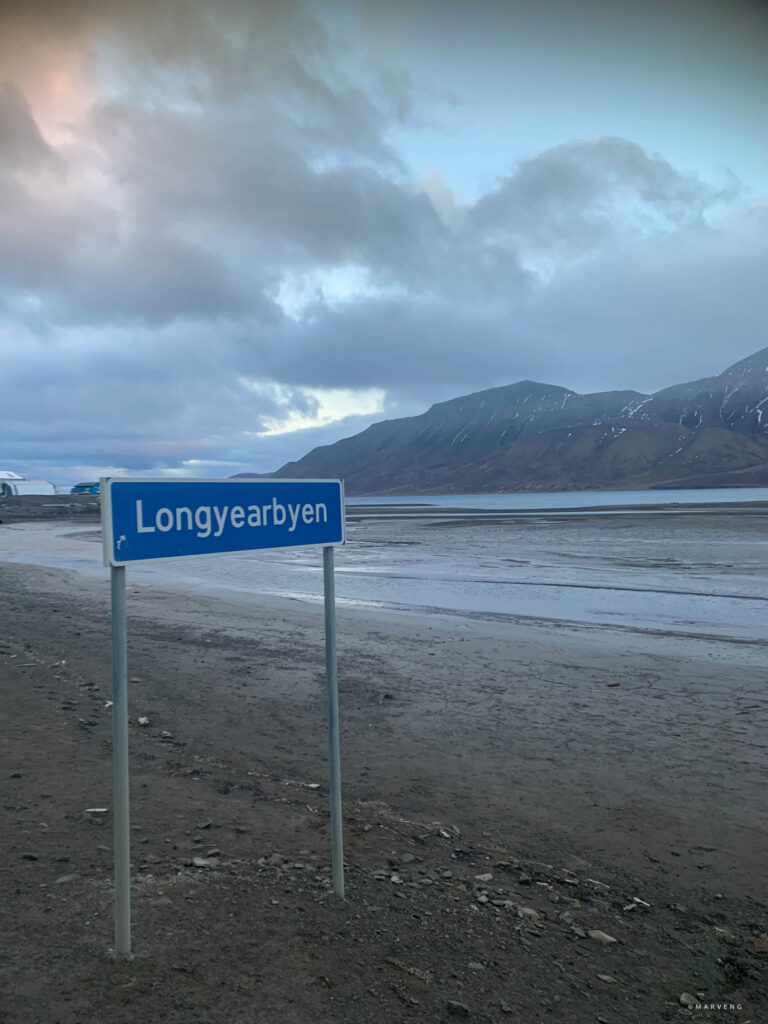 On the Wikipedia page you can read that "The Svalbard Treaty of 1920 recognizes Norwegian sovereignty, and the 1925 Svalbard Act made Svalbard a full part of the Kingdom of Norway".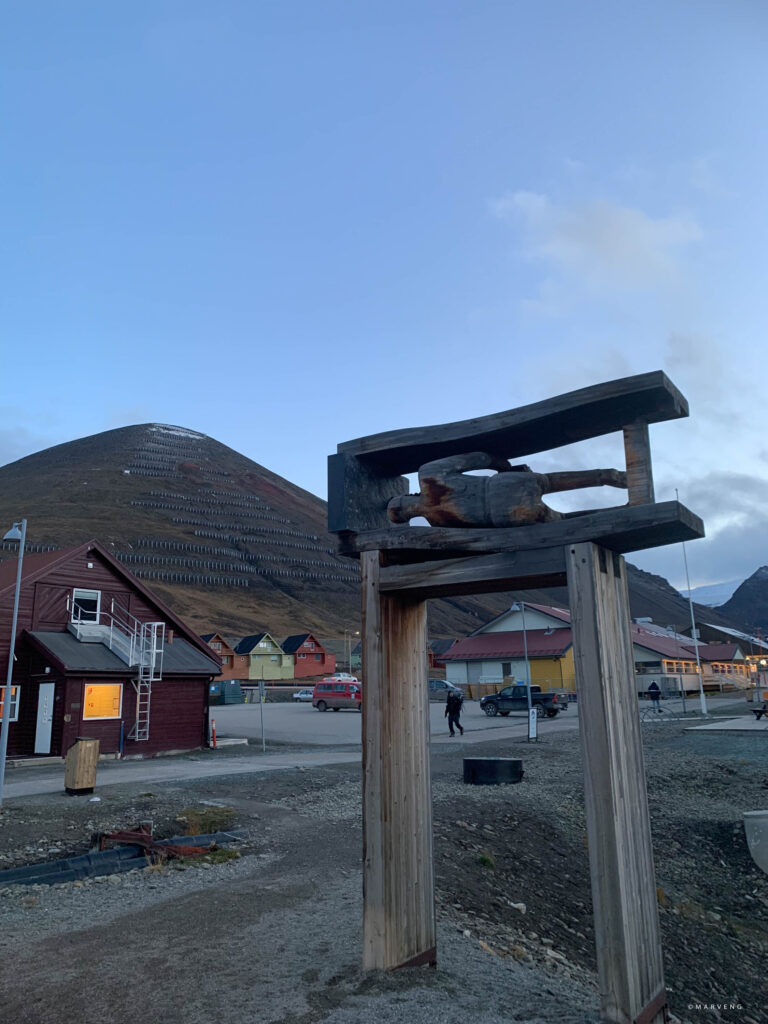 Greetings from Svalbard, it is a wild and barren – yet magnificent – place with coal mines, high mountains, fjords and glaciers. There is one Norwegian and one Russian coal mine still in operation and many that are abandoned. Above is a photo of sculpture of a miner placed next to the Main Street in Longyearbyen.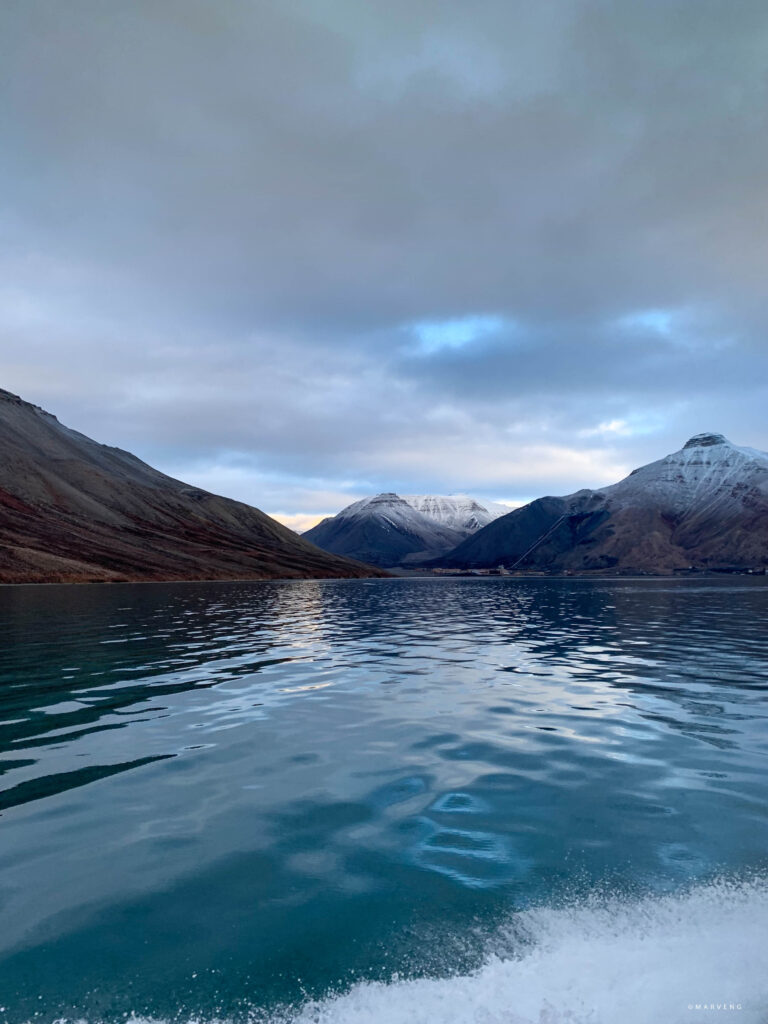 The air is so fresh and the light seams magical when the sun is out. There are about 2 000 people living at Svalbard, most of them in Longyearbyen, and half as many dogs as dog sledding is very popular. Above is a photo of Pyramiden – the Russian settlement – in the distance.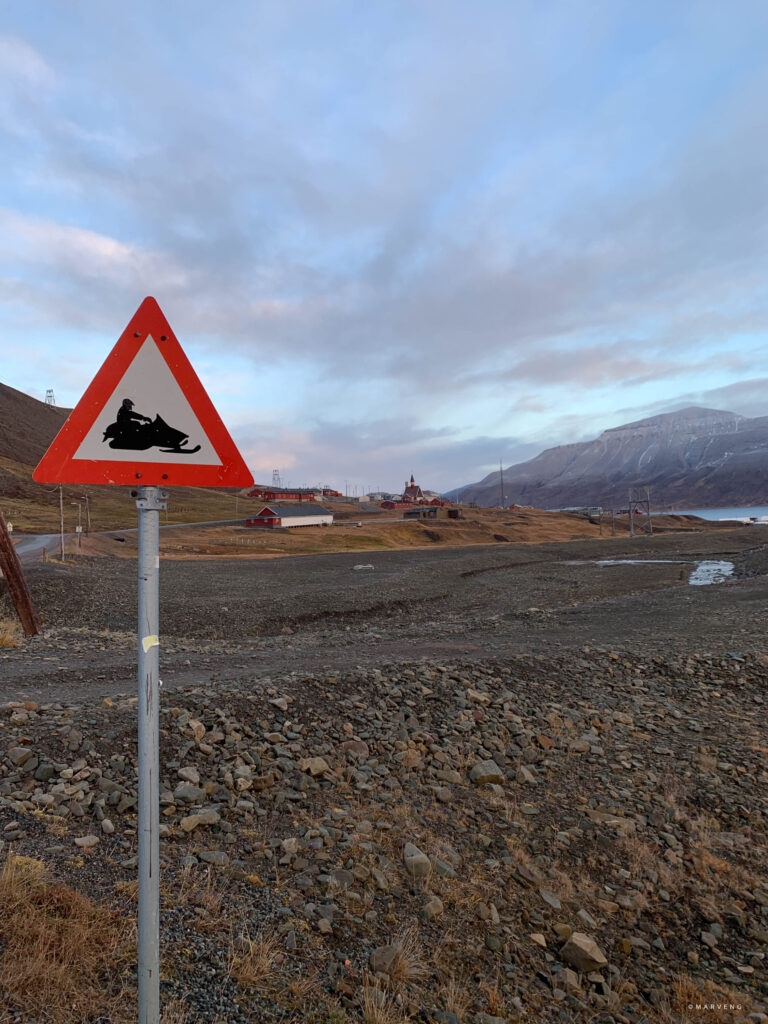 The guided bus tour took only 1,5 hour as there are very few roads on Svalbard, hence you do not need a car but you do need a snowmobile (and possibly a boat) to get around.
The bus tour took us close to one of the mines with a view of the tundra and the Adventsfjord that runs along Longyearbyen and up to the Global Seed Vault (that road ends in another coal mine). See the tiny houses in the photo above for scale.
I signed up for the boat trip – a fjord-safari towards Pyramiden and Nordenskiold Glacier  – organised by Svalbard Adventures and that was a memory for life! We spotted the top of two whales, one seal and numerous reindeer's – the last from a distance.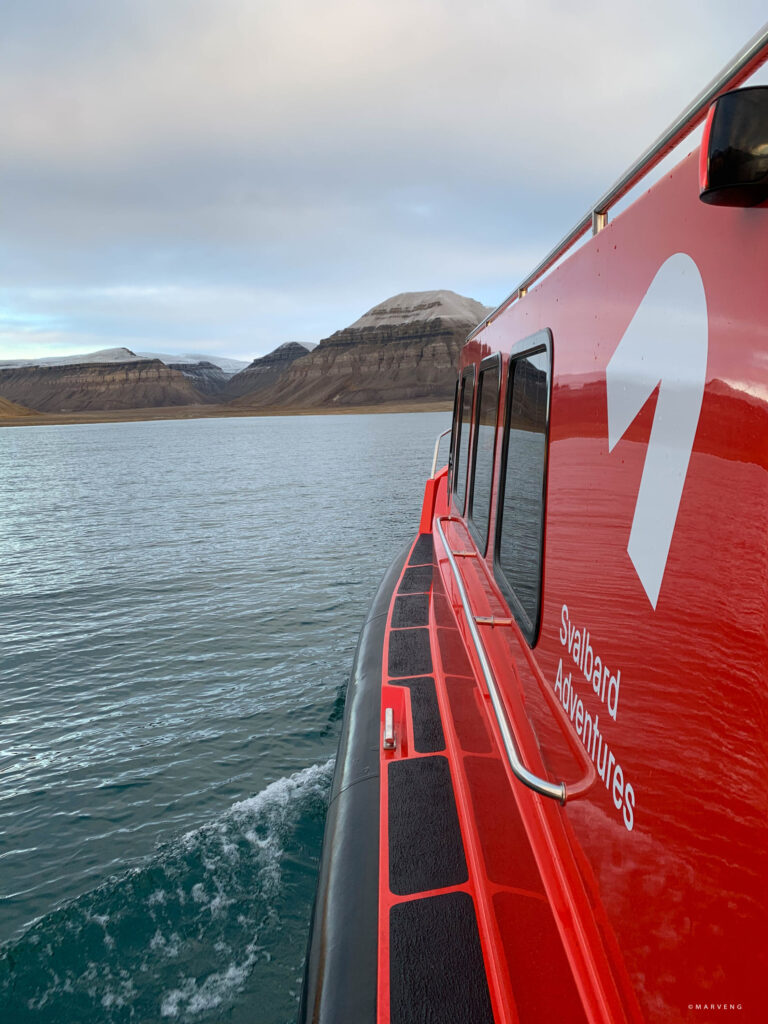 The boat – a closed rib with 12 seats – went to Pyramiden, a Russian settlement with a coal mine no longer in use, and unlike previous (more peaceful) times we did not dock.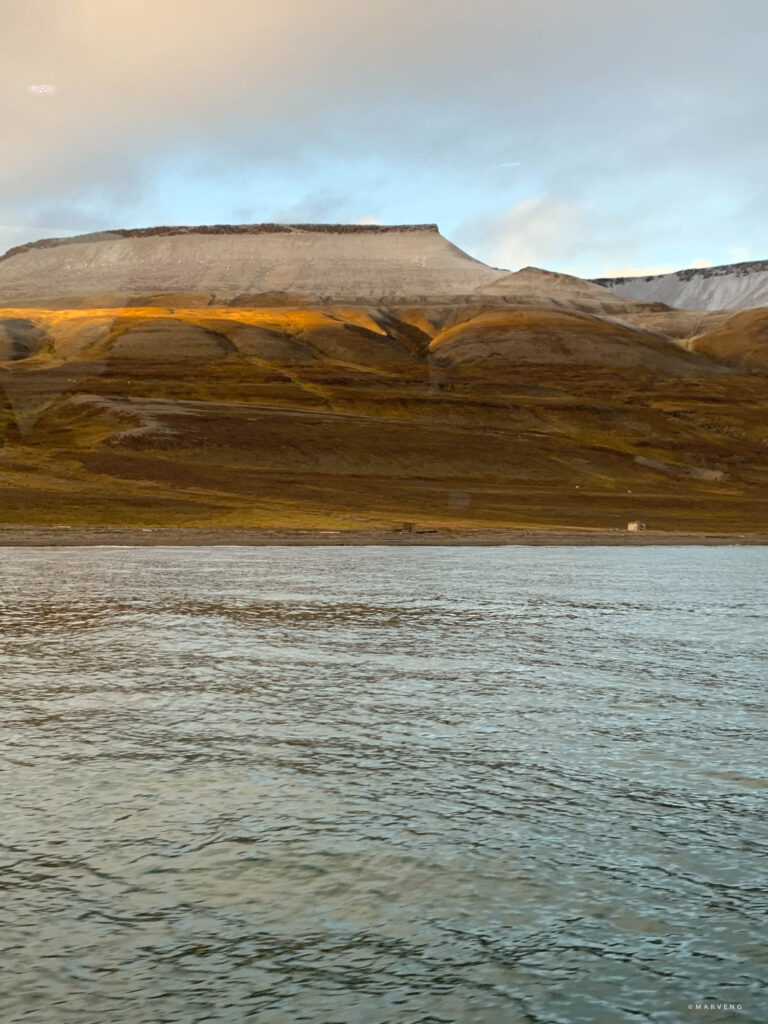 Those white spots in the photo above are actually reindeers.
We had lunch with a glacier view, spotting the small icebergs and flakes that float in the sea after the glacier's calving.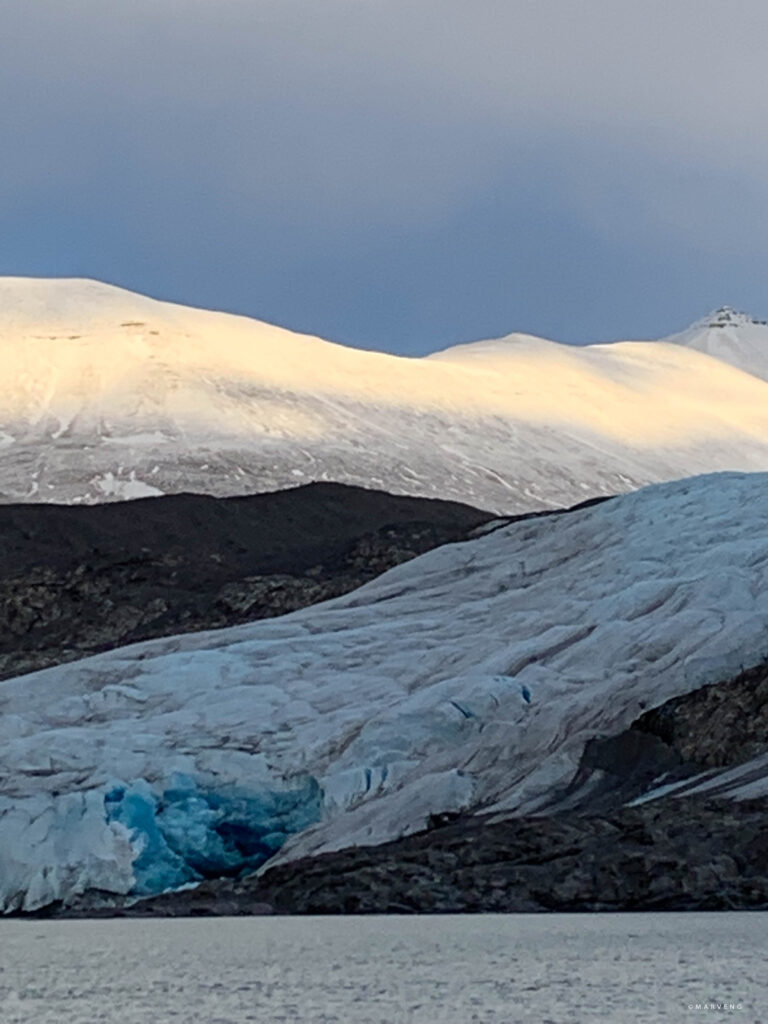 We were allowed to spend time on the back deck with a life vest. Hence I was able to take some spectacular photos, standing on the deck. It was amazing to see how the sun was caught on top of the mountains like above.
I will end with yet a few more magnificent views from the boat trip.
I had an unforgettable trip to Svalbard and hope to visit again! My advice to you all is to save up as well gear up with warm winter wear and go to Svalbard!