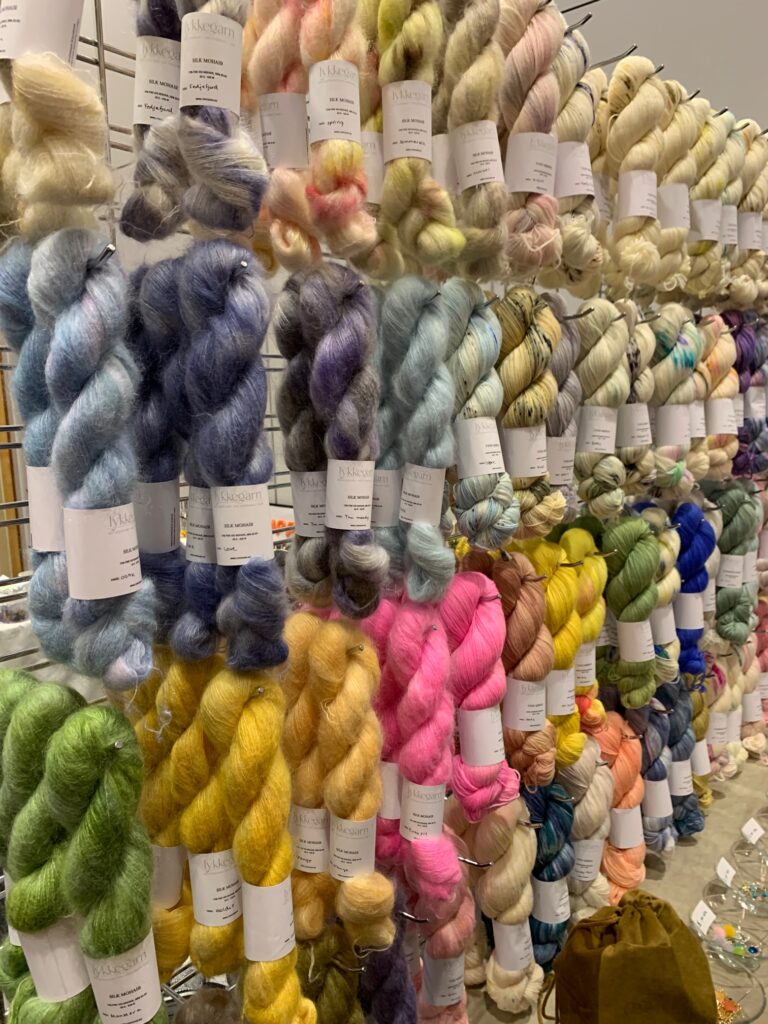 For the 7th time, I held workshops at the knitting festival in Stavanger, organised by "Strikk og Drikk" (and yes, "drikk" means drink as they usually meet up at a pub). I was chuffed to be back at the festival! Above is one of the Lykkegarn yarn walls, see Lykke Garn.
Michael was the official photographer for the festival for the second time around. Above you me in front of the photo wall that Michael wanted to test. Yes, I know, not the best photo of me. But anyway, I am wearing my Saxi.
Just like last year I held a total 5 workshops (Finishing – twice, Cable Knitting Masterclass, Perfect Fit and Tucks) over 13 hours and a one-hour talk, so I had little time to check out the market halls. See my schedule above and a photo taken inside one of the two market halls on Sunday morning before my workshop. Michael and I stayed at the Clarion Hotel Stavanger where the festival was held – very convenient!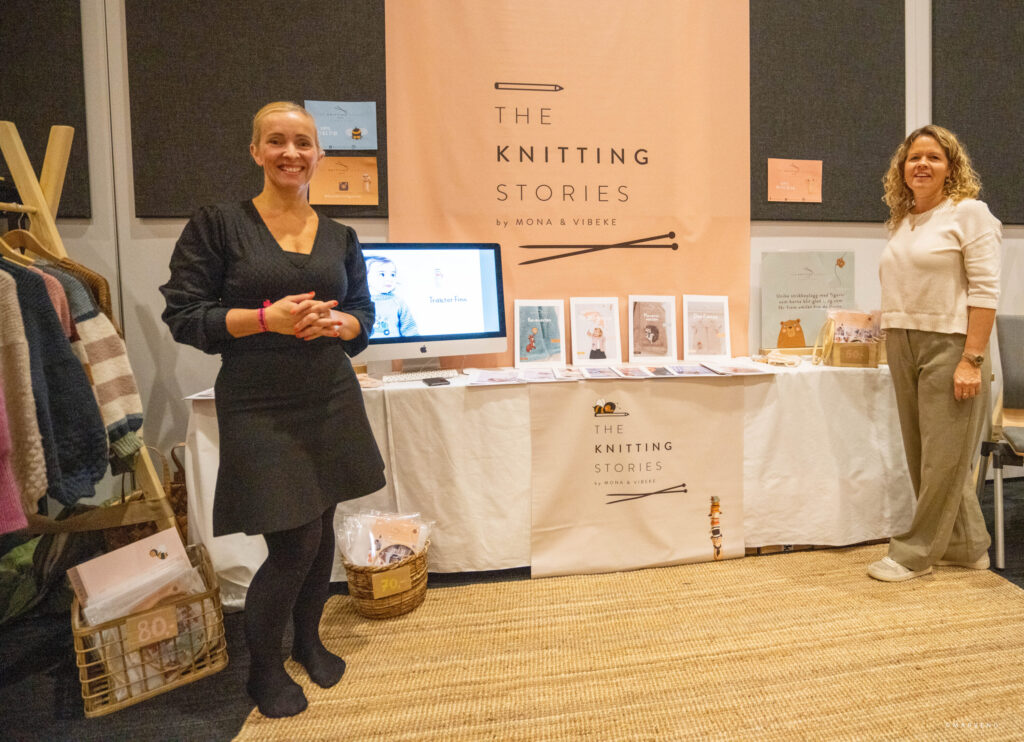 Mona & Vibeke who run The Knitting Stories attended my knitwear design workshop last year and have since launched their company with cute embroidery on knitted garments for children. I was so impressed!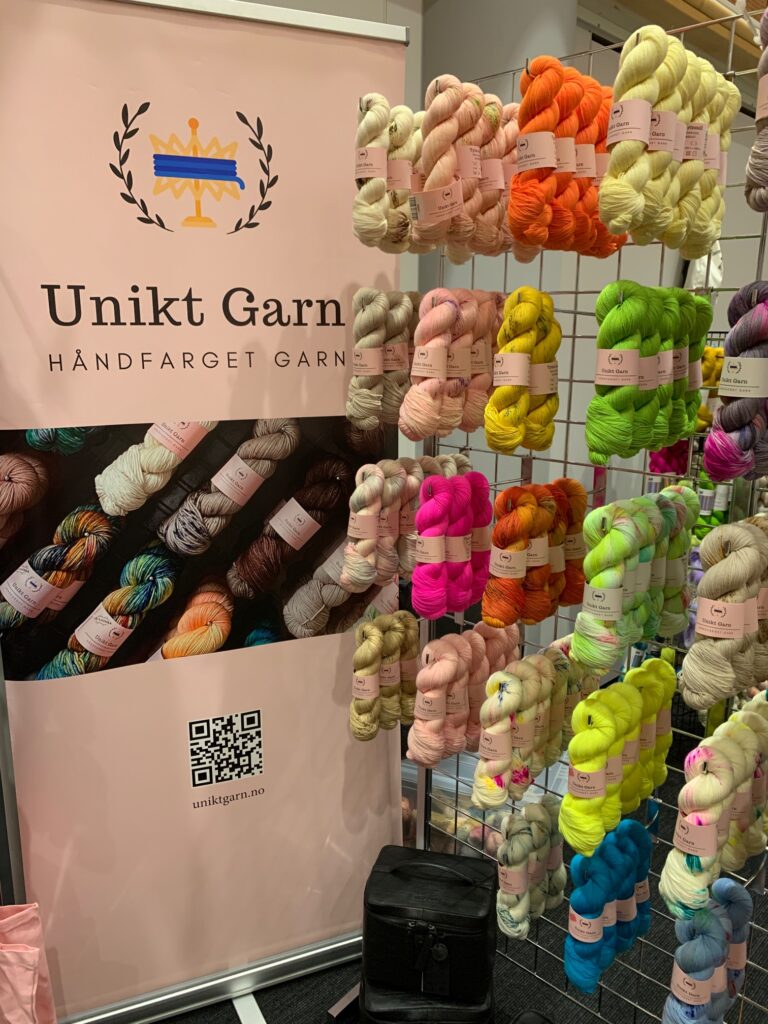 Above is part of the Unikt Garn stand, which was a new hand dyed yarn company to me.
Designer Helene Arnesen and her Fabel Knitwear – hand dyed yarn, notions and knitting patterns – on the other hand is a well known name here in Norway. Helene is well known for her feminine vintage style and modelling her own designs.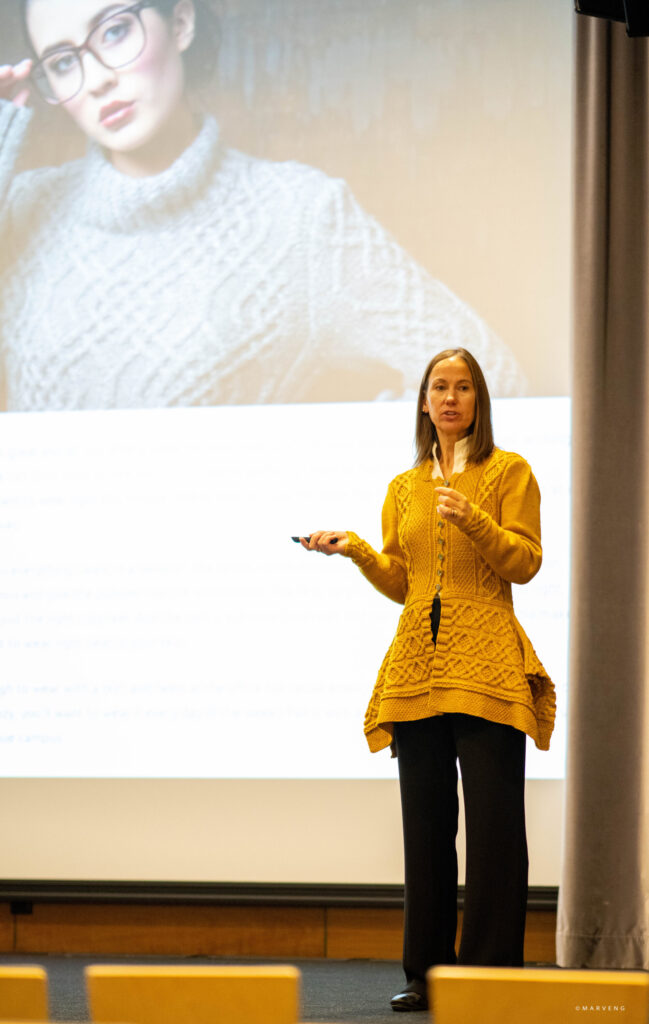 I held my talk on Digital Knitting on Saturday evening and above you see me wearing my Adeline's Cardigan while talking about my Prescott Pullover. Michael took this photo of me and yes, there were a number of available chairs as a number of knitters were preparing for the Strikkefest/Knitting Party. We did not attend the party as we were invited home to former editor Mary-Ann Astrup and spent a lovely evening in her company.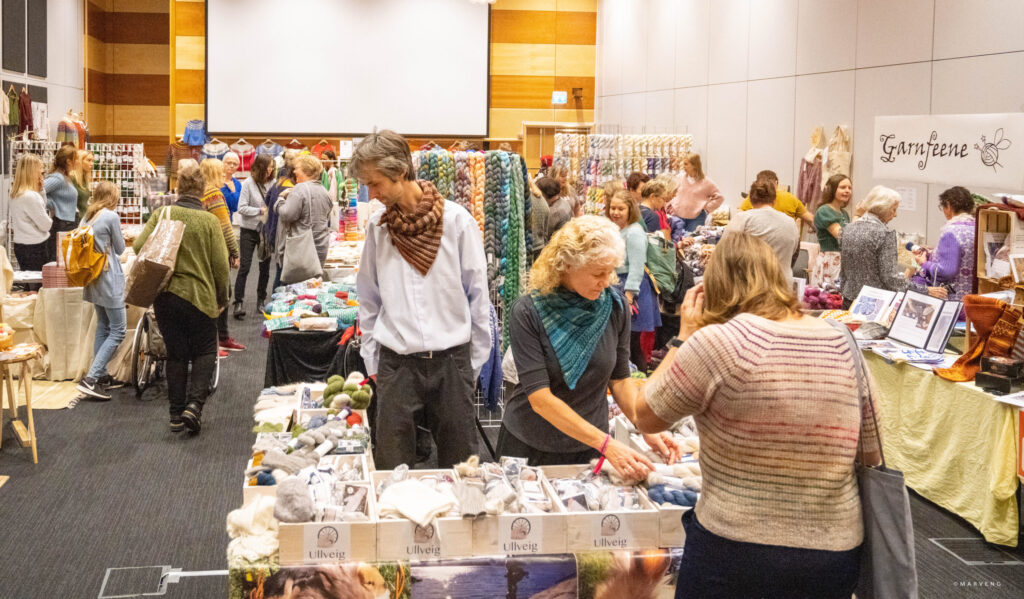 Designer Tove Fevang – with husband photographer Geir Arnesen as sherpa due to her recent back operation – was back in action and we bumped into each other in the hotel restaurant for dinner on Friday evening. Above is a photo Michael took from the market hall on the Saturday. In my workshops I met knitters I knew and some I did not know from previously. I was so honoured by those that attended not only 1 nor 2 but 3 and 4 of my workshops! Stavanger Strikkefestival had an impressive program, fabulous stands and so many nice knitters! I had a fabulous time with new and old friends!