Yes, I have been to yet another NSF/Norwegian Knitting Association's Annual Knitting Weekend, this time in Bergen where I held a workshop in Cable Knitting Masterclass to 80 of the nearly 100 people that attended. I was invited to join as the editorial team for the digital membership magazine "På pinnen", working with editor Tove Fevang. The weekend started in the best possible way with a visit to Hillesvåg Ullvarefabrikk – for both a tour of the mill and a visit to their yarn shop, of course –  departing from either the Thon Hotel Rosenkrantz where we stayed or from the train station for those arriving with the afternoon train from Oslo. Above you see us following the talk by Gilly of Fjord Fibres and notice the back of Ingunn's Fuchsia Dearaim jacket to the far right. Saturday's program after breakfast was from 10 am to 10 pm and it began with the annual meeting, then lunch before it was time for my workshop.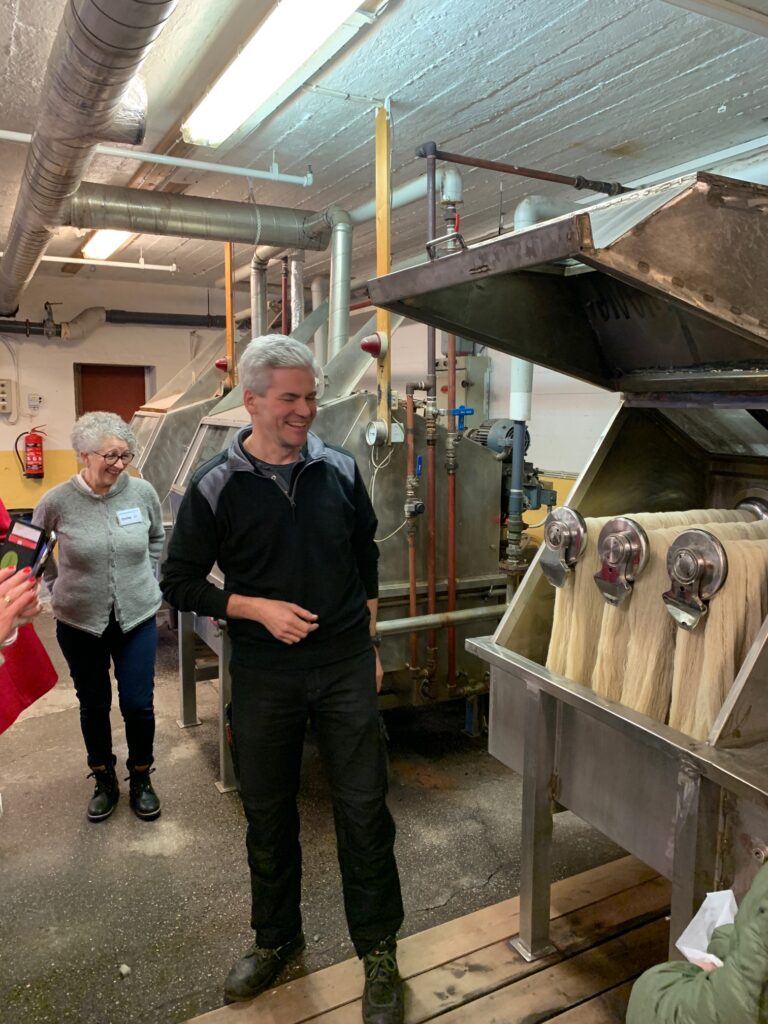 Above you see a photo from the tour and from the dying of the finer yarns. This was my second visit to the mill and I enjoyed it just as much as the first time.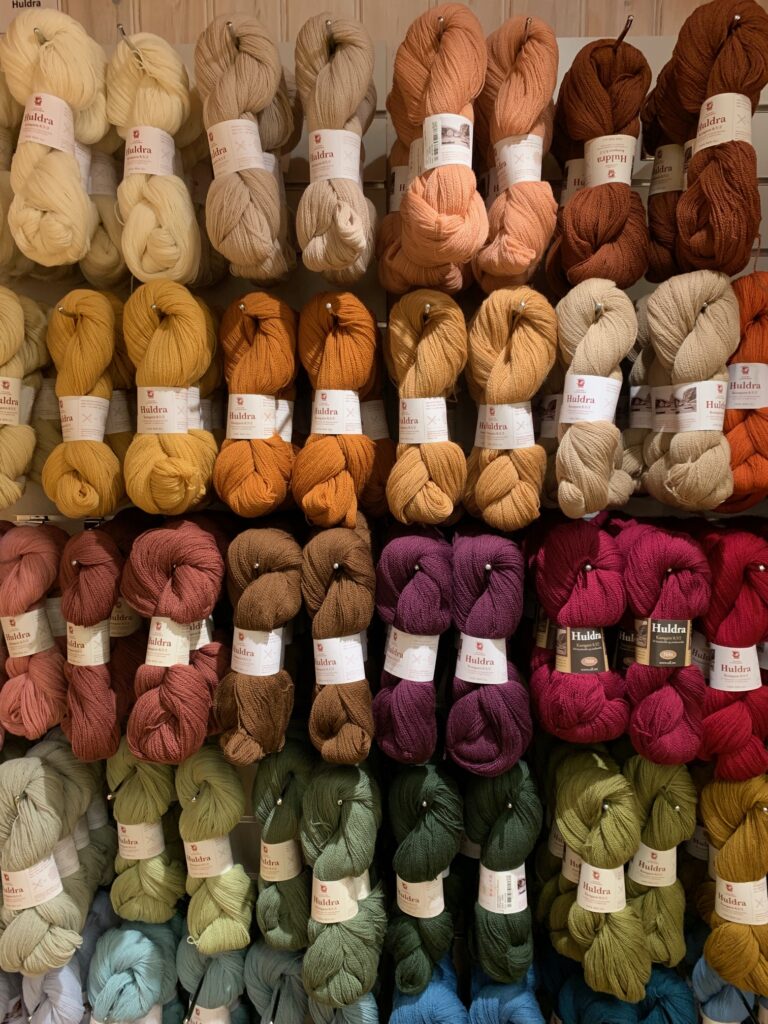 I only had a brief opportunity to talk to the Managing Director Øyvind Myhr and his wife Anette Toft, as they were kept busy at the till. Large amounts of yarn (see one of their finer yarns – Huldra kamgarn – above) and some kits, even some of the ones with my designs, were sold. What a start to the weekend it was! The atmosphere just hit the ceiling after that trip!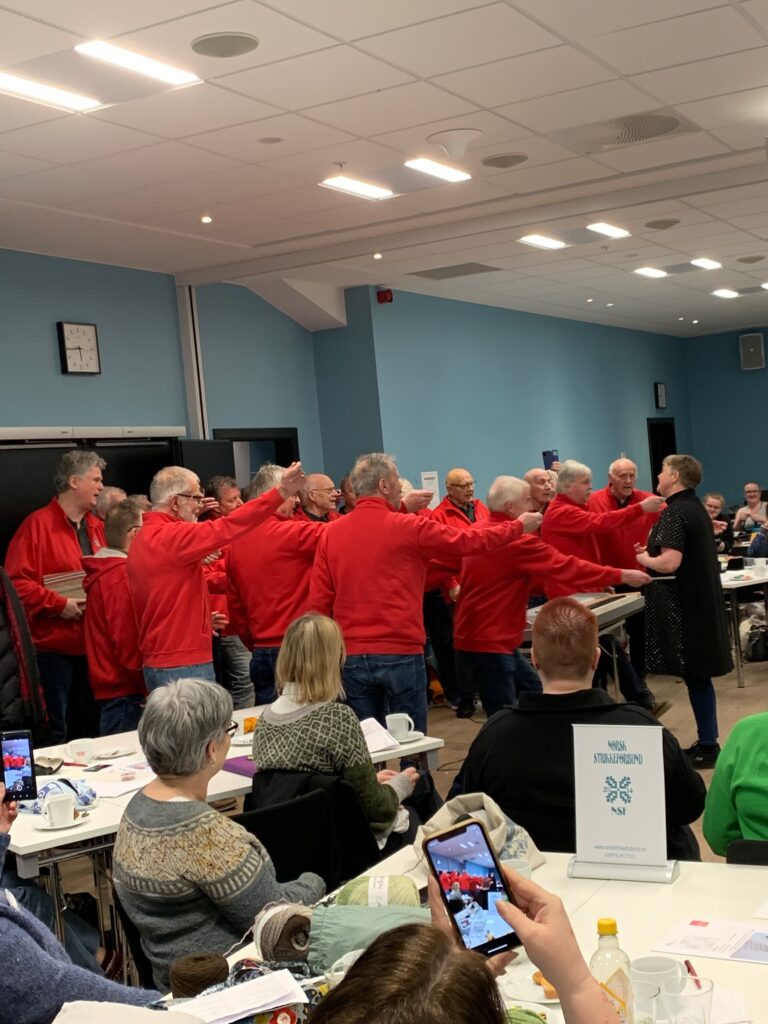 The program also had an event labelled "surprise" and the speculation was fierce. In came the Senior Male Choir from Posten and sang a few songs for us with added entertainment value.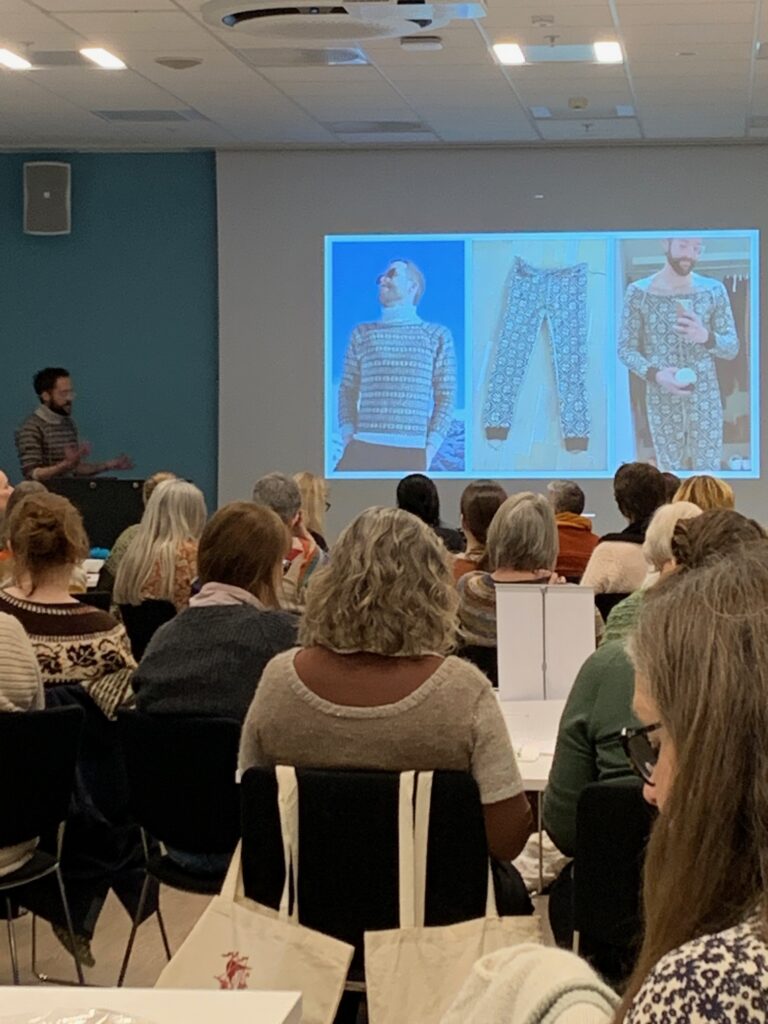 On Sunday morning the designer Birger Berge held a talk and a quiz with a possibility to win his first book Moderne tradisjonsstrikk (translated into English with the title; Nordic Knits with Birger Berge). He also told us the common questions he receives, as a male knitter, like the incredibly: "Can you actually knit?". Do check out some of his new designs – yes, a Onesie – that will be included in his next book coming this autumn in Norwegian.
It was a perfect opportunity to meet known as well as unknown knitters and I had a stand so that I could sell my printed patterns. Above is Tove Fevang's stand with the popular ChiaoGoo needles.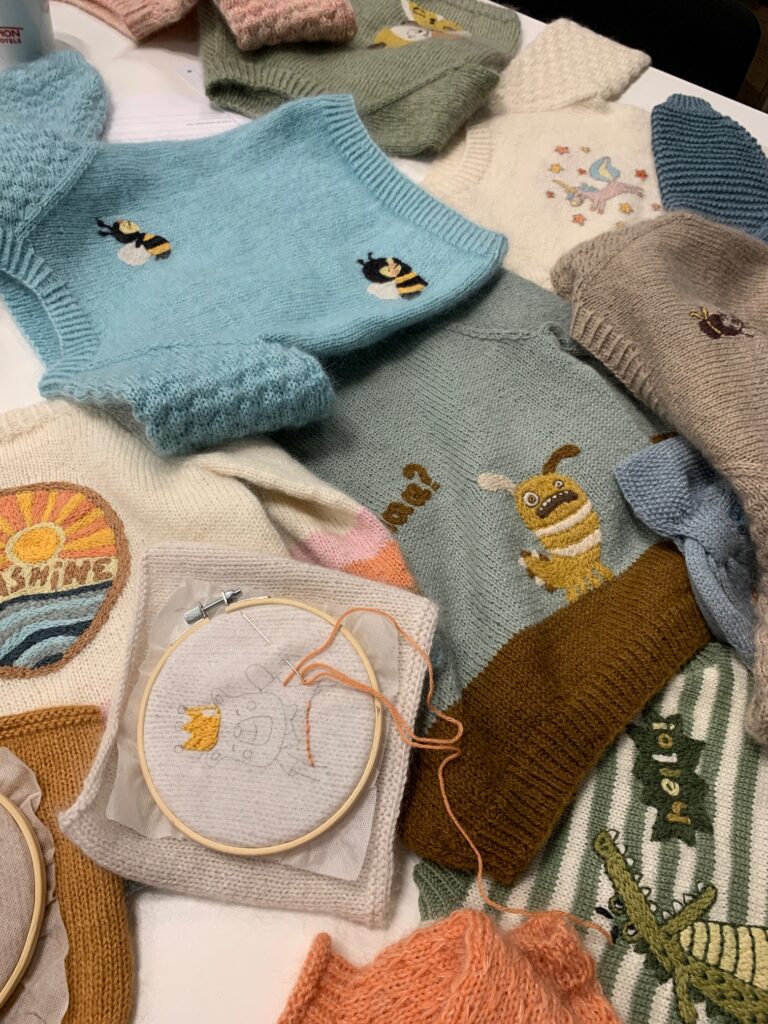 The last workshop was held by Knitting Stories who told us about their designer journey before we learn how to combine knitting and embroidery making their cute figures onto a knitted swatch.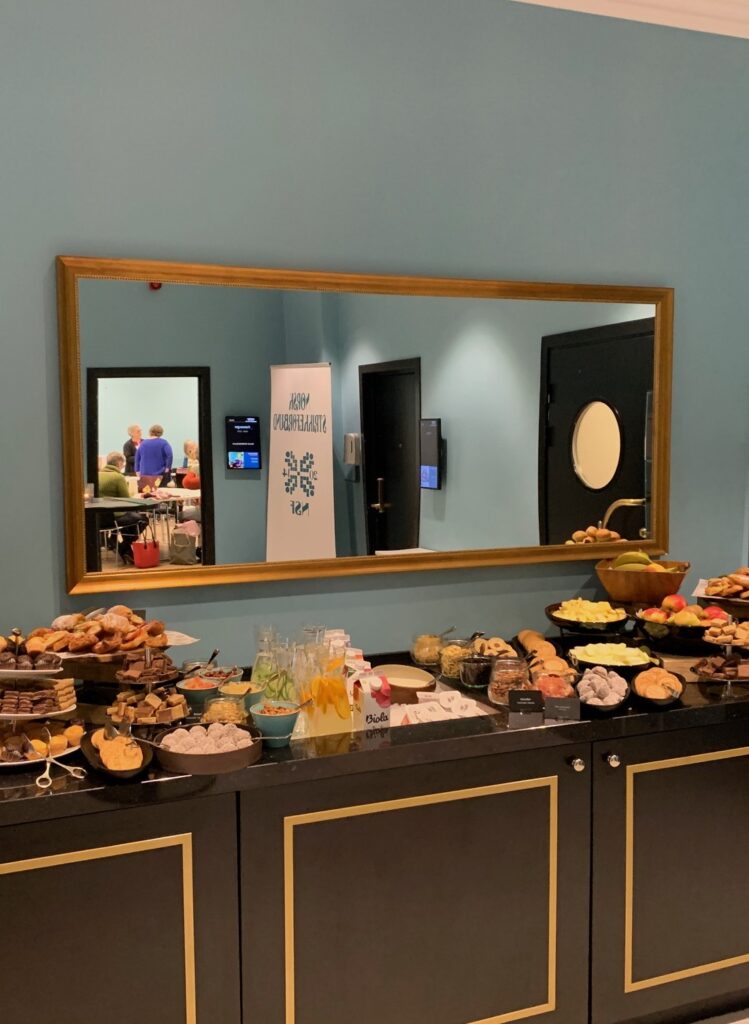 This fabulous weekend was made even better with fantastic food at the hotel. Between the buffets at breakfast and lunch, we had our own snack buffet in between and also before the 3-course dinner – just in case we got hungry. Most of us ate for the following week too… Below is a photo from my walk on Sunday morning with a sprinkling of snow. I had a fabulous weekend and want to thank NSF and everyone I met! I hope to see you all at the next annual event – the 10 year jubilee – in Tromsø in March 2024!