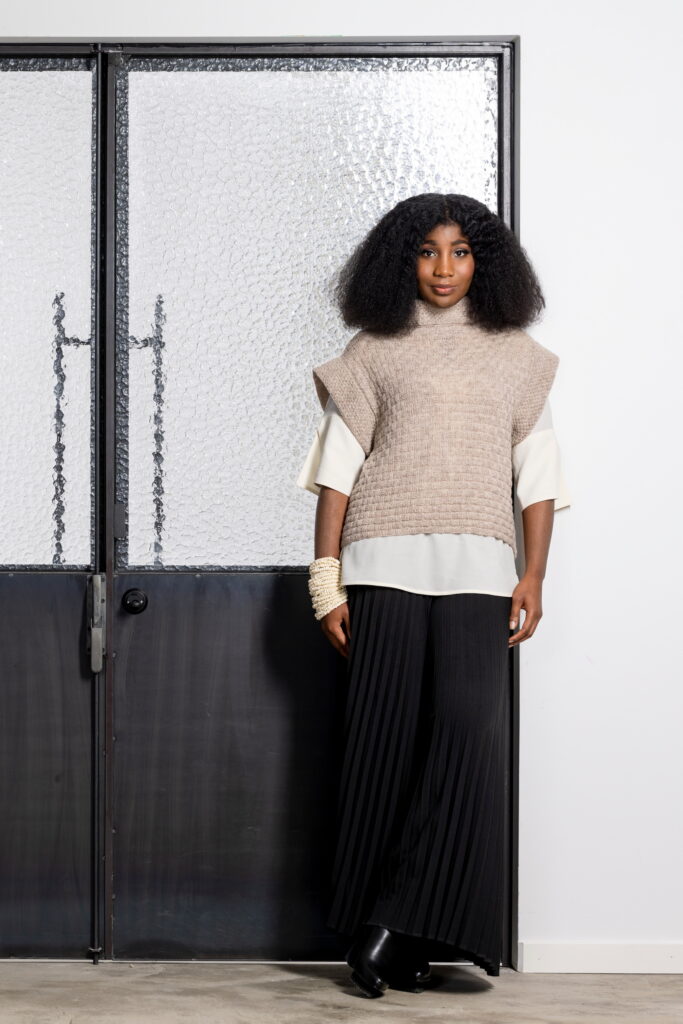 The next set of professional photos I will show you is of Balika made for Hillesvåg Ullvarefabrikk. Photographer Wenche Hoel-Knai brilliantly captured the model Emmalin Williams, with make-up & hair styling by Janne Skarpeid Hermansen and earrings by Kaja Gjedebo Design, wearing the size Small vest with 24.5 cm/9.75" positive ease, during our photoshoot at Ensjø in Oslo. I decided to style the vest with a cream coloured silk blouse, black pleated culottes and a statement bracelet of bones by Monies. So when Wenche suggested we use the black entrance door to her old studio, I instantly thought that would be a great backdrop.
Balika is knitted by my brilliant sample knitter Nadia in Ask using a 3.5 mm/US 4 needle with a gauge of 22 stitches and 30 rows in Stockinette stitch measuring 10 cm/4″ after blocking. The yarn kit is already available directly from their website ull.no, while the test knit of the pattern begins on the 5th of June in my Ravelry group.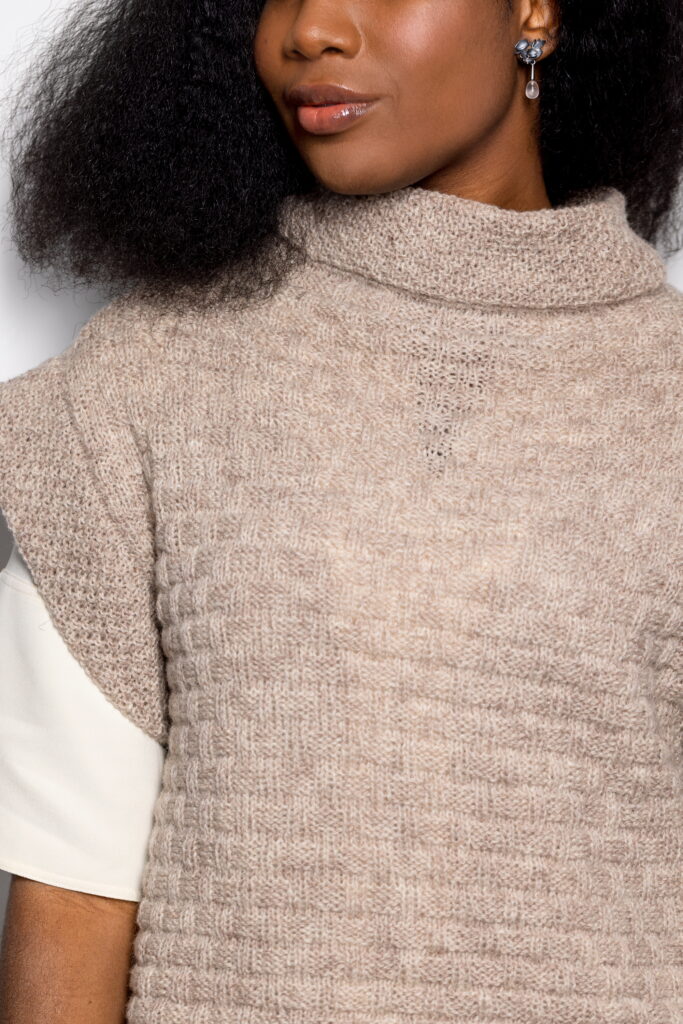 Named Balika, of Greenlandic origin, is this straight oversized vest with a deep armhole bind off replaced by a wide armholeband. Balika is adorned with an allover check pattern, except for the sides which have a line of stocking stitch. The neckband is worked in the round with shaping, the armhole bands are worked flat and seamed in, and the body is worked back and forth in two pieces with side seams for a better fit. Balika is knitted in the airy Ask by Hillesvåg Ullvarefabrikk.
I have graded the pattern in sizes XS to 5XL with a bust circumference of 102 to 167.5 cm/40.25 to 66″. Wenche took a number of detailed shots and I loved them all.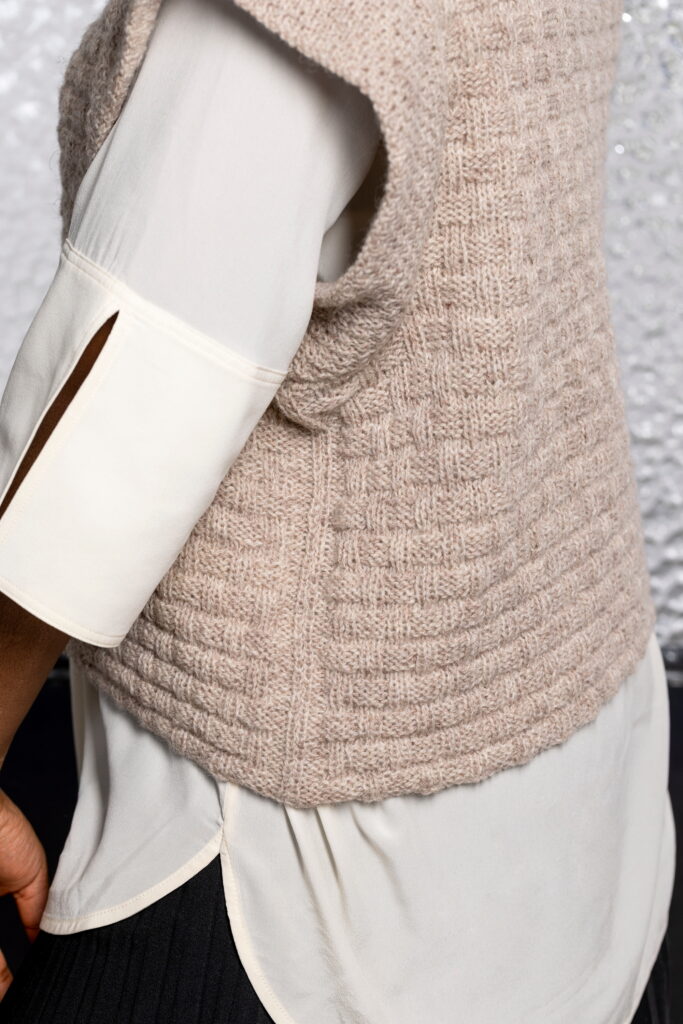 Above you see the armhole band with too many stitches at the bottom. My technical editor Corrina Ferguson suggested to work it flat instead of in the round and sew the height of the band down along the armhole bind off. That will neaten up the band under the arm. I also added some notes to the pattern: The body is worked back and forth in two pieces from the bottom and up. Both the neckband and the armholebands are worked with interfacing, the neckband in the round and the armholeband back and forth. A circular needle is used due to the large stitch number.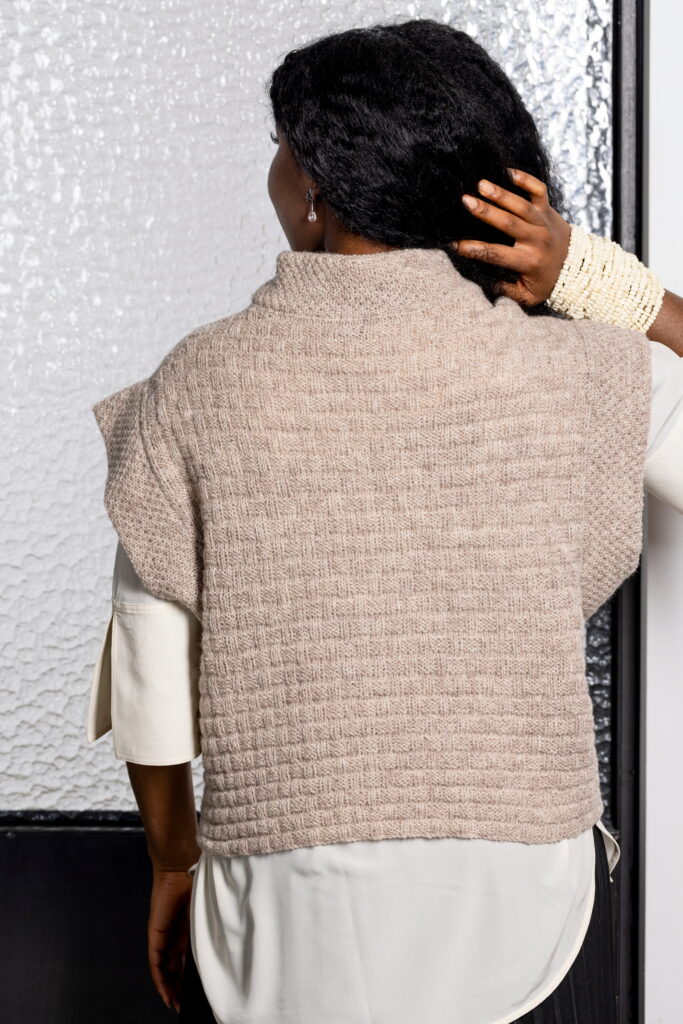 Make-up & Hair Stylist Janne Skarpeid Hermansen suggested to have Emmalin's hair loose and took out the plaits which made this amazing volume.
The last photo I picked is a detail of the back. Overall I am happy with this design and I was so delighted to hear that several of the knitters attending the NSF knitting weekend bought the yarn kit for Balika at Hillesvåg Ullvarefabrikk, when we were there at the beginning of March.