Last Wednesday I had another wonderful photoshoot, this time at a Galleri Würth, just outside of Oslo, with photographer Eivind Røhne, Model Emmalin Williams, make-up & hair stylist Hina Suleman and my husband – the second photographer. It was a bright and sunny day, so Eivind had to use his large reflectors to create shadow for Emmalin. In the photo above you see Emmalin wearing the old design Cavallo, with Michael sitting in the window frame.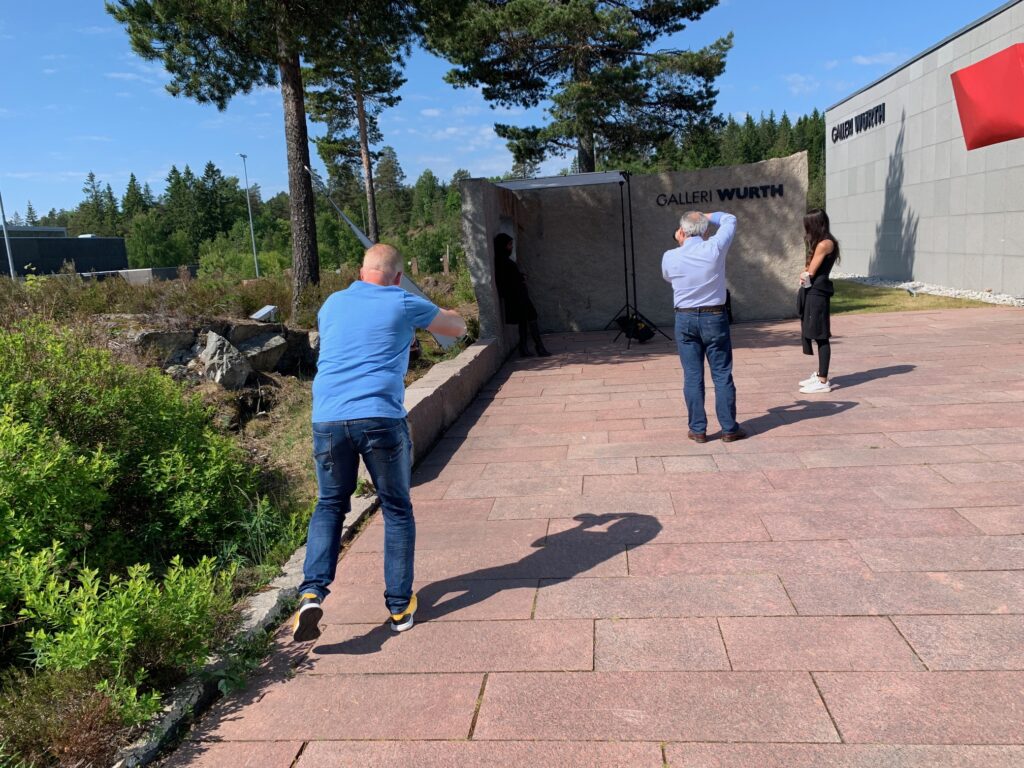 Here you see us in action and the shadows completely hiding Emmalin in the corner wearing a new design made for Hillesvåg Ullvarefabrikk. I also captured Eivind photographing Michael photographing Emmalin, see the photo below. Yes, as usual, we did have a lot of fun during the day!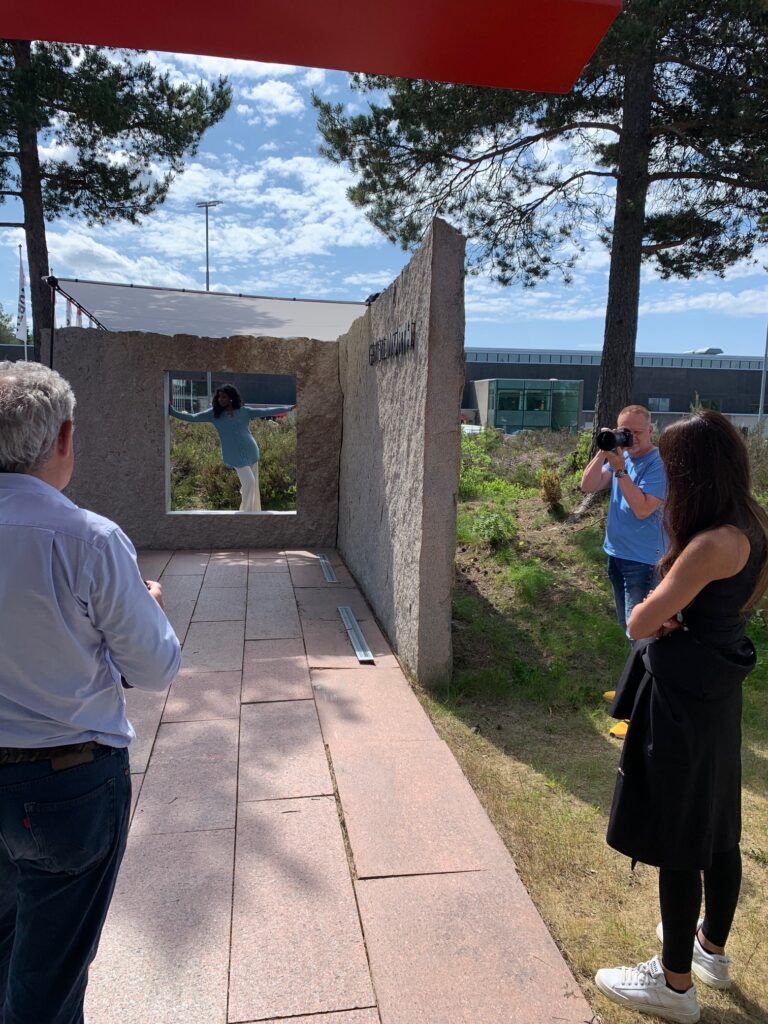 The Galleri Würth manager Bjarne Våga welcomed us and let us have the art school room for the day. In addition he offered to show us around in the exhibition space downstairs. We took him up on the offer after we had finished shooting all the 8 designs; 4 new designs for Hillesvåg Ullvarefabrikk, 1 new design + an accessory made in The Neighbourhood Fiber Co. yarn, the Fulla Cardigan made for The Knitter magazine and 2 old designs; Cavallo (seen above) and Irina Pullover.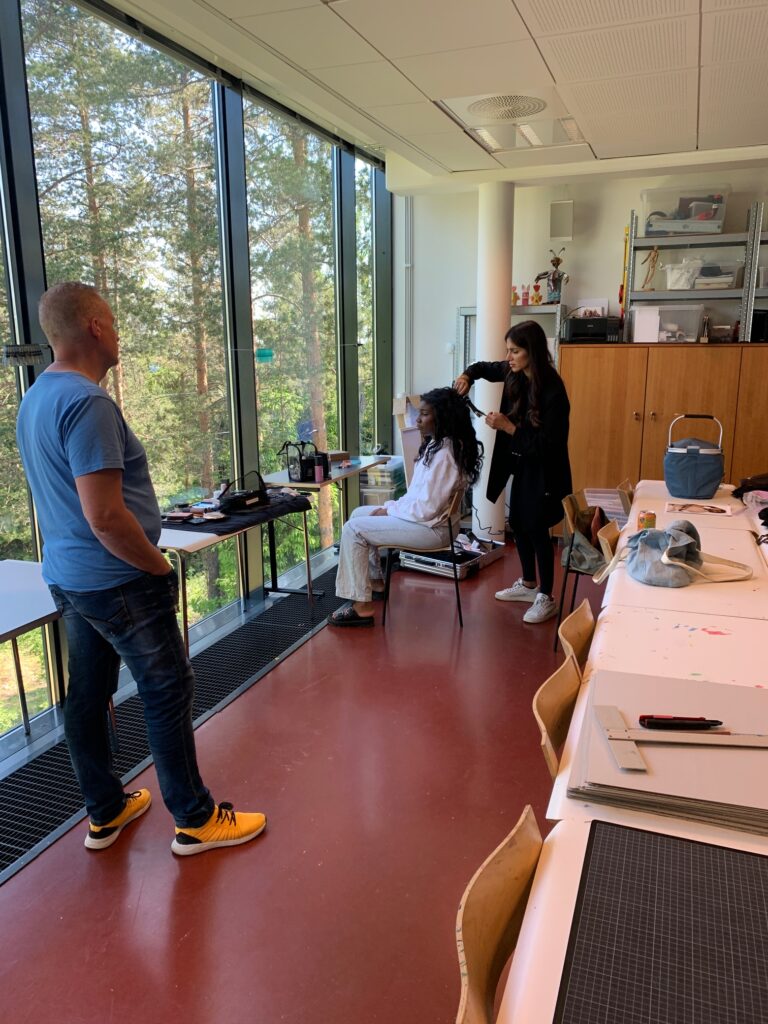 I met Hina for the first time and was immensely impressed by her work. In the photo above you can see her in action curling Emmalin's hair. We were impressed that we actually finished shooting all the garments before lunch – thanks to Hina's speedy work. Hence we ate our take away lunch in the Café – as it only offers waffles, apple cake, macaroons, chocolate and drinks. I had bought us delicious vegan salads from Happy Foods and juices from Eckers to keep us going during the day. Michael photographed the café with his wide angle lens, as you can see below.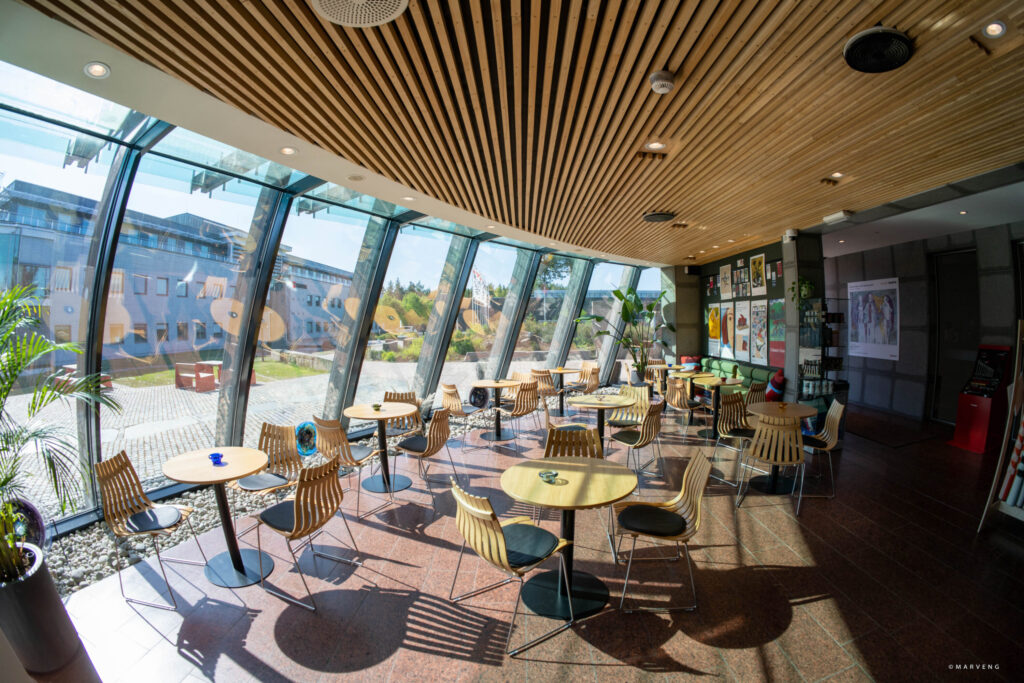 Opposite the gallery is the Norwegian HQ of Würth. I had not been here before and did wonder if we could use the pond as a backdrop. Just after we arrived and had unpacked, Eivind and I went for a walk-about to check out the location. Below you see me captured in the window opening.
Eivind showed me that we could not use the pond without including either the offices or the loading dock in the background.
I am wearing my Jacket in Cross design made for my Norwegian knitting book, now with an English pattern on Ravelry.
Here is another photo that Michael took of me, as we arrived early and had time to wonder before the gallery opened and the team arrived.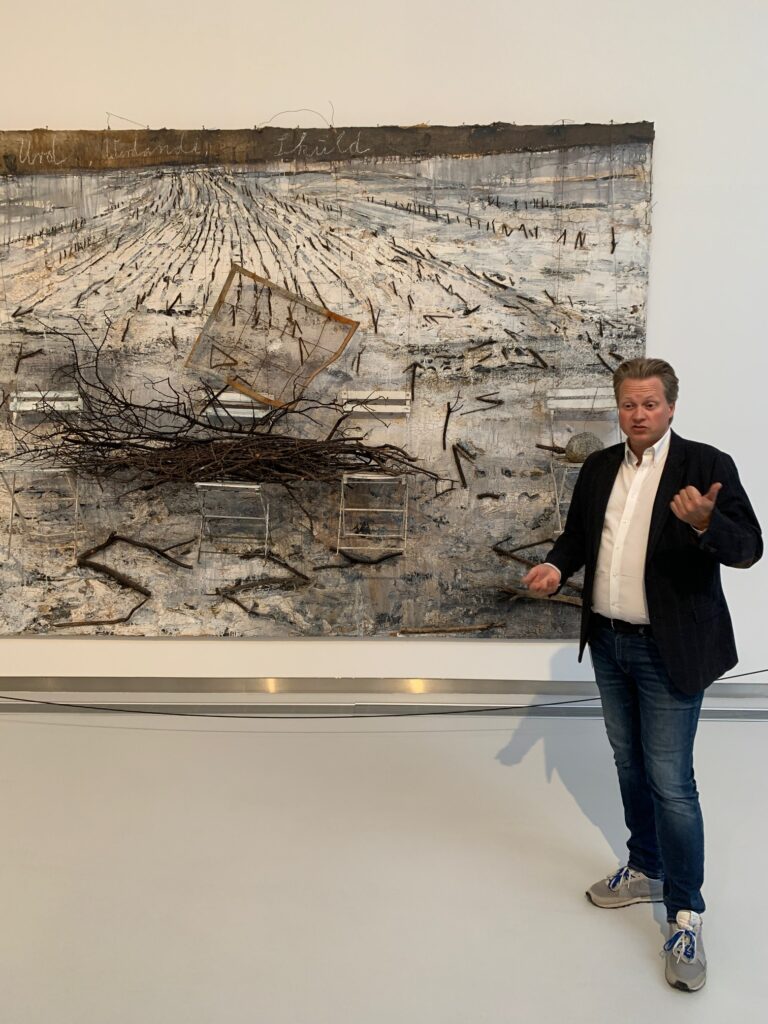 I was so excited that we had time for Bjarne Våga to show us around the exhibition. Here he is in front of a work by Anselm Kiefer; a painting with branches and fold up chairs among other items stuck onto it.Bjarne told us about the German tool company Würth, its cultural commitment and the extensive art collection amassed during the last 60 years by Reinhold Würth, who took over his father's company at the very young age of 19 back in 1954. The collection at the Galleri Würth in Norway, changes every year, so I look forward to coming back to this hidden gem of a gallery! I had a fantastic day with my brilliant team! Thank you so much and also to Galleri Würth for having us!