I just had to share the beautiful Oráiste dress and cowl that Erdmuthe Hettema, (aka erdmuthe), has knitted. In fact she has test knitted four of my dress designs and modified two other vests into dresses too. Erdmuthe made size L and chose to buy the original yarn; Hillesvåg Ullvarefabrikk, Ask in a lovely yellow called "Okergul"/Ocher Yellow from nearby Trollenwol in Utrecht. The dress is knitted using the recommended 3.5 mm/US 4 needle with a gauge of 22 stitches and 30 rows in stockinette stitch measuring 10 cm/4″ square.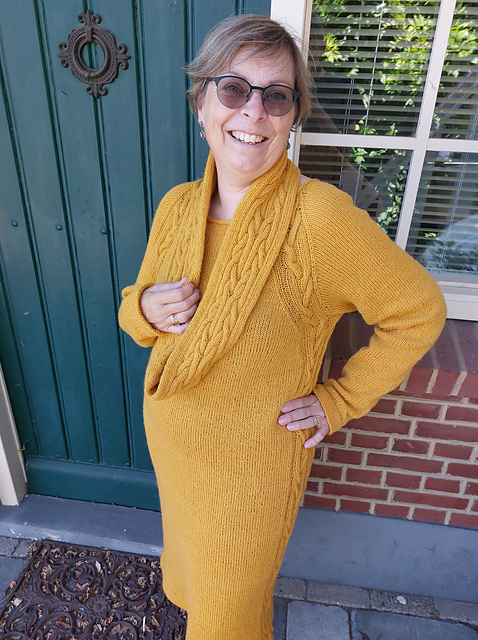 On her Ravelry project page she writes: "The beauty of this design is the side seam where you knit a lovely cable pattern and it goes up and shapes the raglan as well. While knitting this part you also decrease and I just love how a beautifully all is flowing."
I am ever so chuffed to hear it and love how well it suits her. Erdmuthe also tried the cowl as a belt and wrote on her project page: "I was struck when seeing the cowl worn as a belt.
After completing mine it was a bit too big and I will wear it as a cowl because I don't like a low neckline in wintertime." Thank you ever so much for taking part in the test knit and for these lovely modelled photos.
The Oráiste pattern is available in sizes XS to 5XL with a bust circumference of 99 to 175 cm/39 to 69″. You will find the pattern in both English and Norwegian in my Ravelry Store and soon on LoveCrafts. Yarn kits with either an English or a Norwegian pattern is available directly from Hillesvåg Ullvarefabrikk.