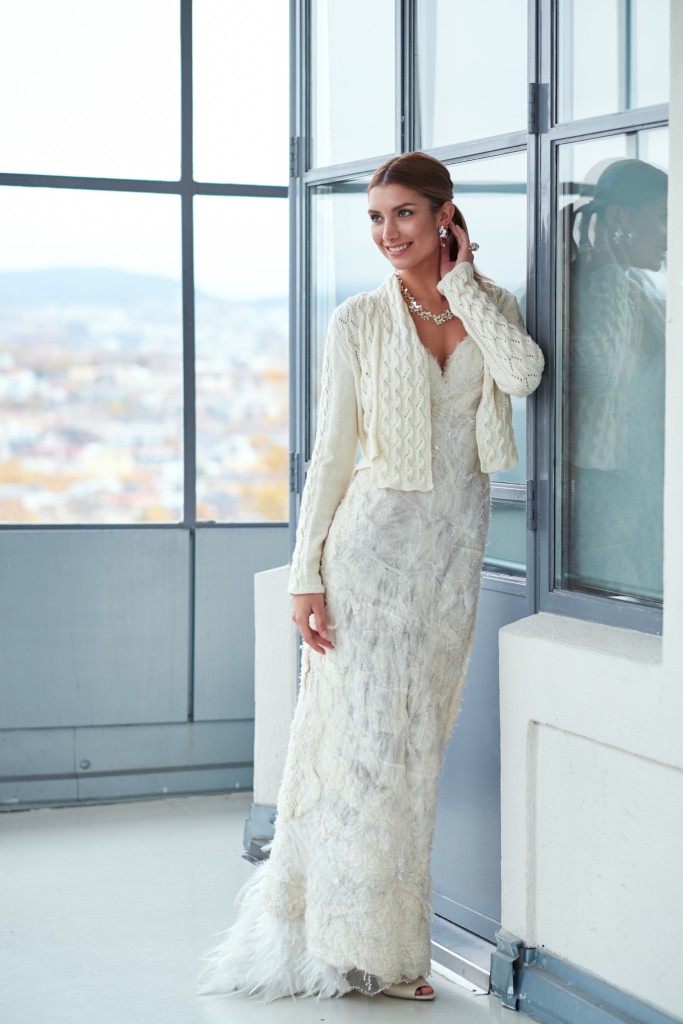 The bolero looked stunning worn by gorgeous Alexandria Eissinger on top of Judith Bech's "Secret" wedding gown. Alexandria's hair & make up is by Sissel Fylling and the jewelry is by Kaja Gjedebo Design. The beautiful photos are all taken by Eivind Røhne at the Ekeberg Restaurant last October. Elora and three other designs: Shinju, Adoe and Helka will be published in Norwegian in the special issue Familien Kreativ out on Monday 14th March. The English pattern to Elora will be test knitted in April in my Ravelry group before its release. Here is my introduction to the pattern: A beautiful reversible lace pattern adorns this bolero with a slightly longer scarf collar you can fold and pin as you desire. Garter stitches make up the edges of the bolero and divide the stitch pattern from the stocking stitch sides. Named after the giving of the laurel; the crown of victory and ideal for this garment made in a wool and cashmere mixture by Mondial. The bolero is worn over the wedding gown "Secret", designed by Judith Bech.
Mondial Gold is an exclusive mix of 80% wool and 20% cashmere on a 50 g skein with 175 m/191 yds. The sample is knitted in Cream 426, to show off the crisp stitch definition. The bolero is knitted using a 3 mm/US 2.5 needle with a gauge of 26 stitches and 34 rows in stocking stitch measures 10 cm/4″ square. The yarn was generously sponsored by Mondial's Scandinavian Agent: House of Hobbies. The sample was knitted by Grete Jenssen, aka ma9 on Ravelry, to my utter satisfaction.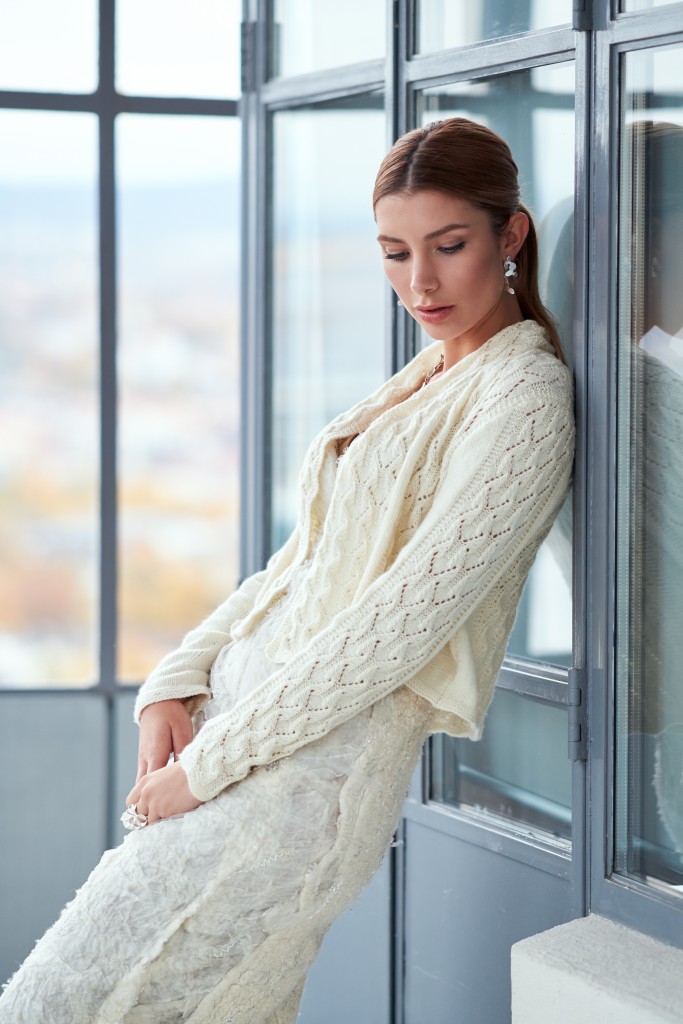 The body of the bolero is worked in pieces from the bottom up, and is sewn together, while the sleeves are worked in the round. The bolero is slightly tapered. The collar width is in additon to the front and bust circumference so that it can be folded and pinned as desired. It is knitted in two parts that are joined and then attached around the neck, with extra length to hang loose.
The bolero comes in sizes XS to 2XL with a bust circumference of 85 to 126 cm/33.5 to 49.5″, waist circumference of 82 to 123 cm/32.25 to 48.5″ and length from 47 to 52 cm/18.5 to 20.5″. The length of the bolero as well as the scarf is one that easily can be adjusted by removing or adding pattern repeats.
In the photos above you see the scarf collar folded in to create more volume to the neckline but it does look equally good just hanging flat or pinned together. The scarf collar width is in addition to the bust width so that it can hang loose as a scarf. The wedding gown with its feather mermaids tail had to be shown in all its glory, in my opinion.