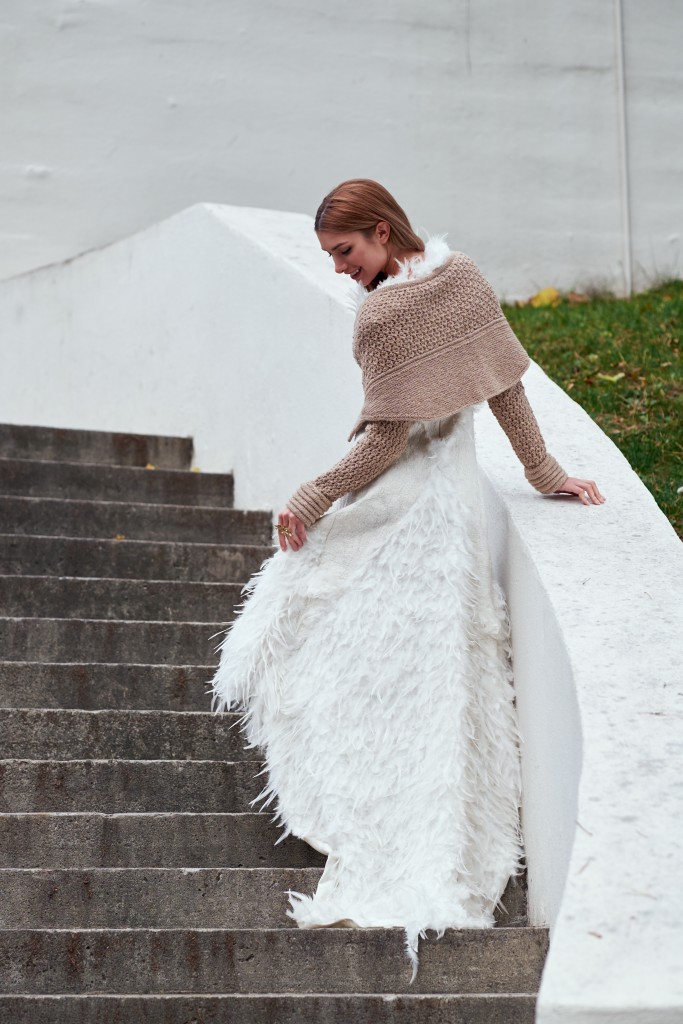 When I saw gorgeous model Alexandria Eissinger wearing the amazing wedding gown Swan Lake by Judith Bech with my Saqqara on top, I was gobsmacked. The gown fitted Alexandria as a glove and the sight of her was of a sacral kind; like a vision. Thankfully she was captured by brilliant photographer Eivind Røhne so I can share these photos. Sissel Fylling was in charge of Alexandrias hair & make up and much else, as usual. The statement gold brooch and ring are by Kaja Gjedebo Design. The Norwegian pattern will be released on Ravelry in the next few days on its own and as an e-book together with six other patterns, while the English pattern will be test knitted first.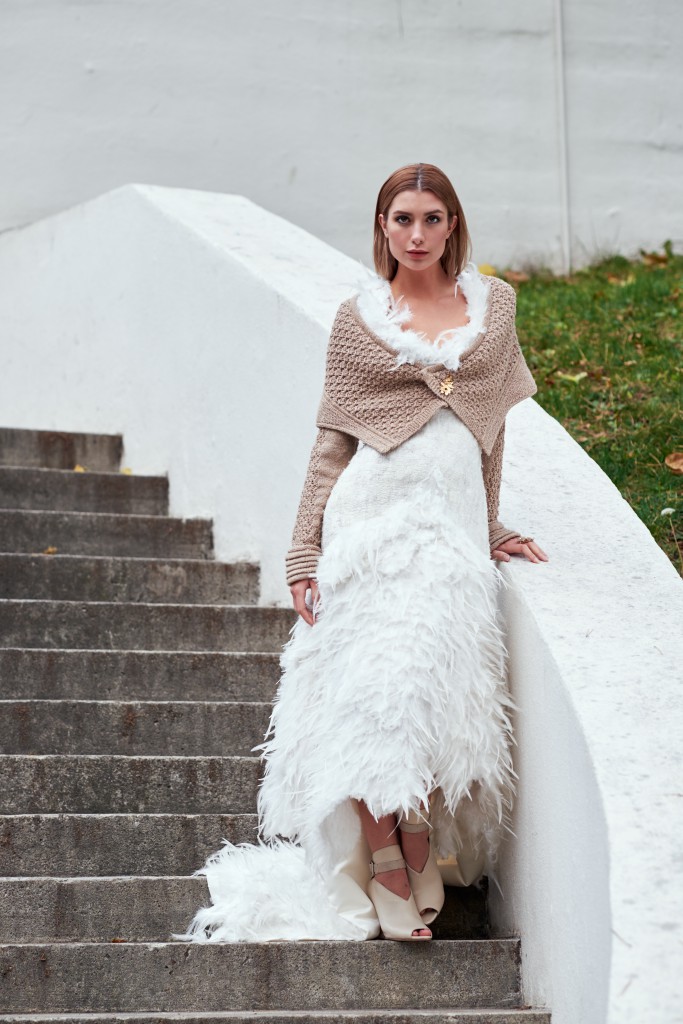 Here is my introduction to the pattern: Named after the step pyramid in Egypt, I have created my own Saqqara. A stunning reversable lace pattern with triangular shapes, adorn the rectangular shawl with a shawl collar and the matching loose sleeves. Like jewelry the tucks frame the hands on the loose sleeves and divide the patterns on the shawl. By combining a beautiful pure combed wool called Huldra from Hillesvåg Ullvarefabrikk with the luscious Dreamline Soul from Du Store Alpakka, I found my rich yarn shade and texture. Use the shawl with a shawl collar around your neck, shoulders, bust or upside down, just as you prefer, with or without the loose sleeves.
Huldra Kamgarn from Hillesvåg Ullvarefabrikk is a combed wool of a 3-ply thickness which comes on a 200 gram cone with 850 meters/929 yards, while Dreamline Soul from Du Store Alpakka is an alpaca and nylon mix of lace thickness with a chainette construction and with 177 meters/195 yards in each 25 g ball. Held together I used a 4 mm/US 6 and found a gauge of 20 stitches and 28 rows in Stockinette stitch to measure 10 cm square. The yarn was generously sponsored by both Hillesvåg Ullvarefabrikk and Du Store Alpakka.
Above you see the collar worn up which suited this dramatic gown perfectly but it can also be worn down as a shawl collar. Both the shawl and the loose sleeves come in three different sizes: XS/S (M/L, XL/2XL). The shawl lengths are: 113.5 (119.5, 125.5) cm/44.75 (47, 49.5)", while the widths (including the widest collar) are: 43 (44.5, 46) cm/17 (17.5, 18)". They can easily be adjusted to your perfect measurements if desired.
The loose sleeves have elastic inserted into the top hem to keep them in place. They are knitted in the round, unlike the shawl, with 2 circular needles held parallel to make the hem and tucks. The collar on the shawl is shaped by short rows, and ends in an i-cord bind off. One tuck divides the patterns before the collar on the shawl and a second one is worked on the wrong side to emphasize the reversible shawl.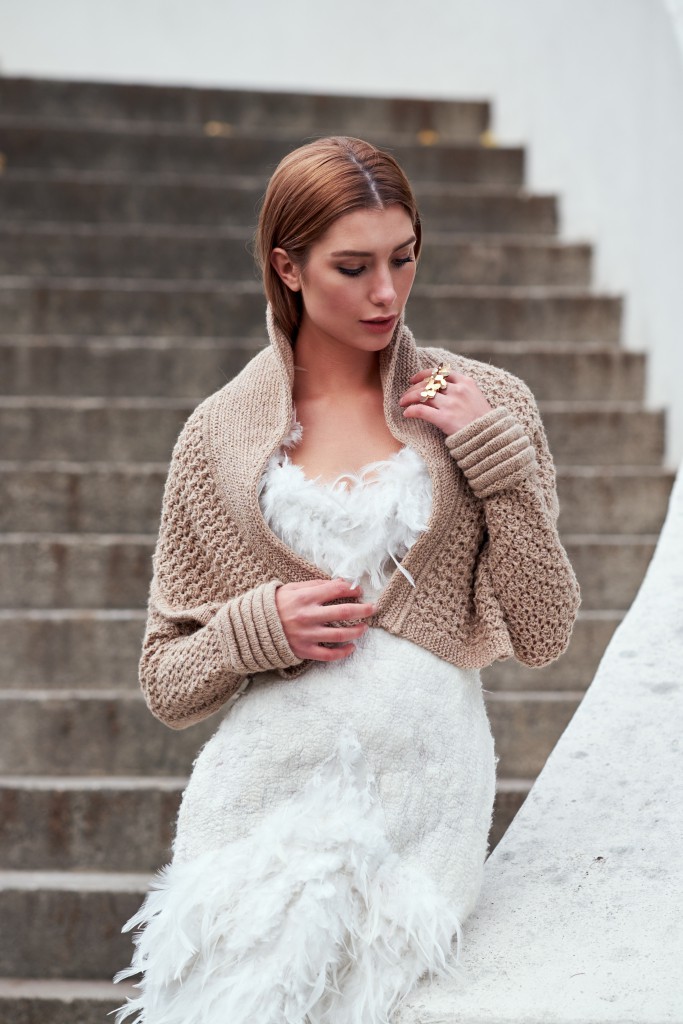 In days after the photoshoot we had feathers flying around from the wedding gown, and I felt as if I was blessed by Judiths angels. The wedding dresses were returned but I have wonderful memories of them and all these fantastic photos.
I have one more design photographed to show you for now; Adoe and it is coming next.