Last design and series of photos from our photoshoot is Adoe, worn by the gorgeous Alexandria Eissinger over a fringe skirt by Judith Bech, with hair and make up by Sissel Fylling and jewelry by Kaja Gjedebo Design. The scene was brilliantly captured by photographer Eivind Røhne. The jacket looked best with this amazing skirt with a train – yes, I have borrowed the black one previously – instead of the wedding gowns due to its color and style. The Norwegian pattern will be published in the special issue Familien Kreativ out on 14. March, while the English pattern will be test knitted in June in my Ravelry group before its release.
Here it my introduction to the pattern: Wavy lace with garter stitch edging is the focus of this delicate jacket. The deep v-neck is adorned with scallops made by the wavy lace pattern. It is knitted in the stunning chainette yarn; Truesilk by Rowan Yarns, and intended for those special times. Adoe means time, and it seemed entirely appropriate. The body of the jacket is straight and knitted in pieces, while the sleeves are knitted in the round. Close the jacket with a beautiful brooch.
Rowan Truesilk is made of 100% mulberry silk with 150 meters/164 yards on each 50 g ball. It is of a chainette type construction and holds its shape unlike silk yarns in general. The jacket is knitted using a 4 mm/US 6 with a gauge of 22 stitches and 32 rows in stocking stitch measuring 4″/10 cm after blocking. The yarn was generously sponsored by Permin, Rowan Yarns' Scandinavian agent.
The body is worked back and forth in parts, while the sleeves are worked in the round. The front band is the first part of the wavy lace pattern, and creates a scalloped end to it. Attach buttons and use the holes created by the lace as buttonholes if you prefer. The yarn is a chainette type construction which means the garment will hold it shape.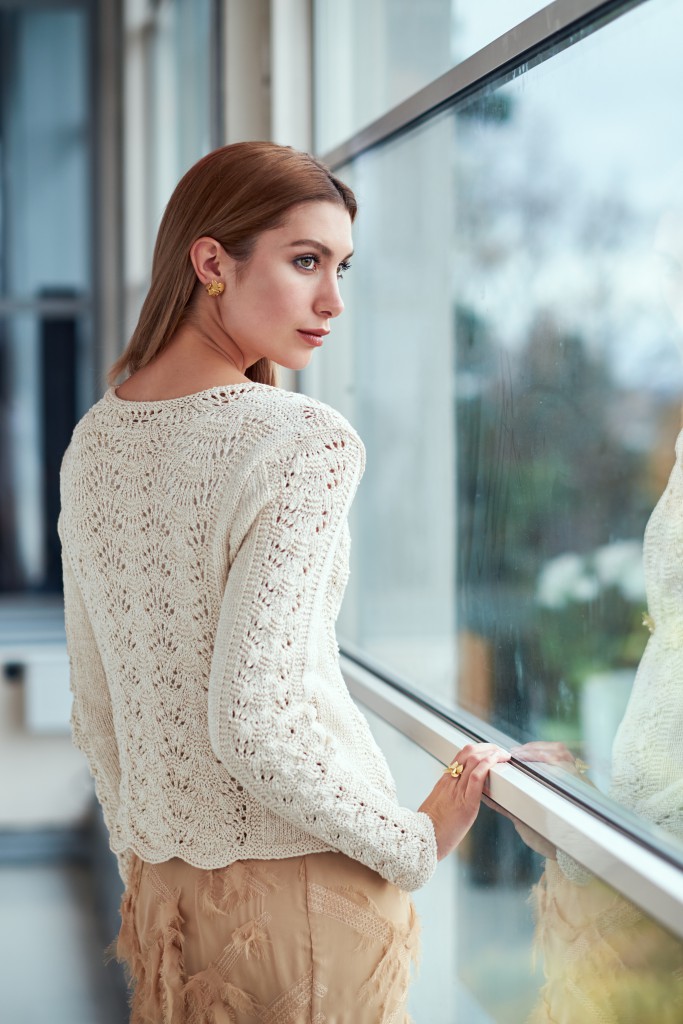 We tried out several backdrops for this garment including Alexandria standing on the high window sill in the Ball Room, sitting next to the window in a portrait style but this worked the best. She also tried to place her arm on the window but it appeared way too surreal through Eivind's lens. It just goes to show that we never run out of ideas!