Time flies, so much in fact that I have not only released one e-book but two in the last few months. The first one: Nordic Vintage Collection is in English and contains the 11 patterns that were published in Norwegian in Familien Trend last February, all photographed at Hvalstrand Bad. Below you can see a look book page of the introduction, bio and contents pages.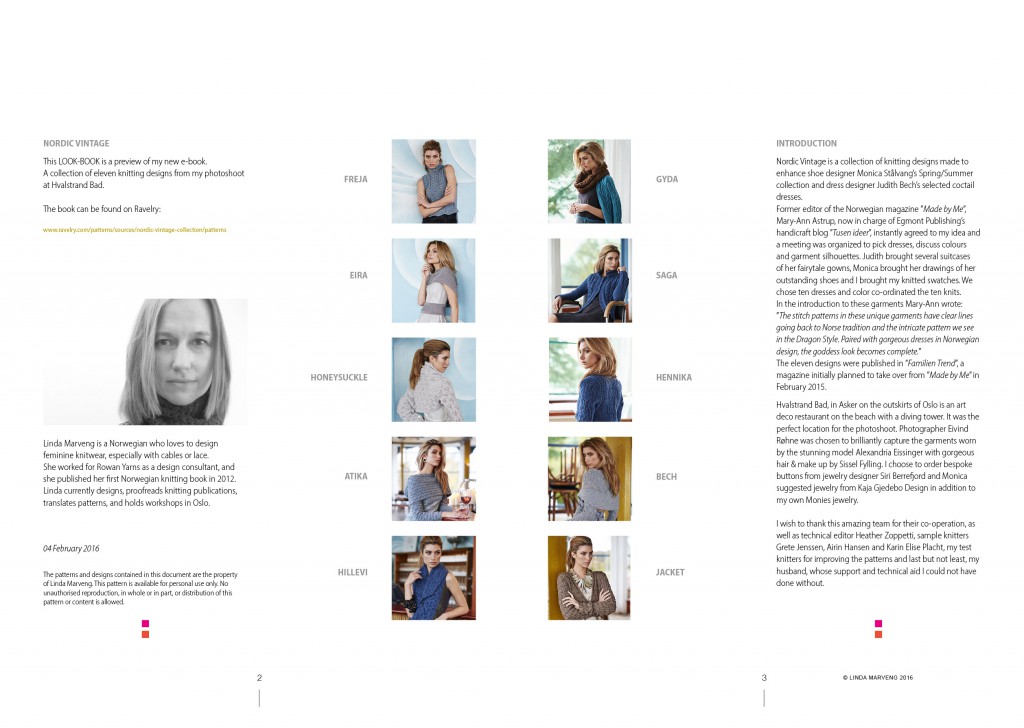 Here is my introduction: Nordic Vintage is a collection of knitting designs made to enhance shoe designer Monica Stålvang's Spring/Summer collection and dress designer Judith Bech's selected coctail dresses. Former editor of the Norwegian magazine "Made by Me", Mary-Ann Astrup, now in charge of Egmont Publishing's handicraft blog "Tusen ideer", instantly agreed to my idea and a meeting was organized to pick dresses, discuss colours and garment silhouettes. Judith brought several suitcases of her fairytale gowns, Monica brought her drawings of her outstanding shoes and I brought my knitted swatches. We chose ten dresses and color co-ordinated the ten knits.
In the introduction to these garments Mary-Ann wrote:
"The stitch patterns in these unique garments have clear lines going back to Norse tradition and the intricate pattern we see in the Dragon Style. Paired with gorgeous dresses in Norwegian design, the goddess look becomes complete."
The eleven designs were published in "Familien Trend", a magazine initially planned to take over from "Made by Me" in February 2015.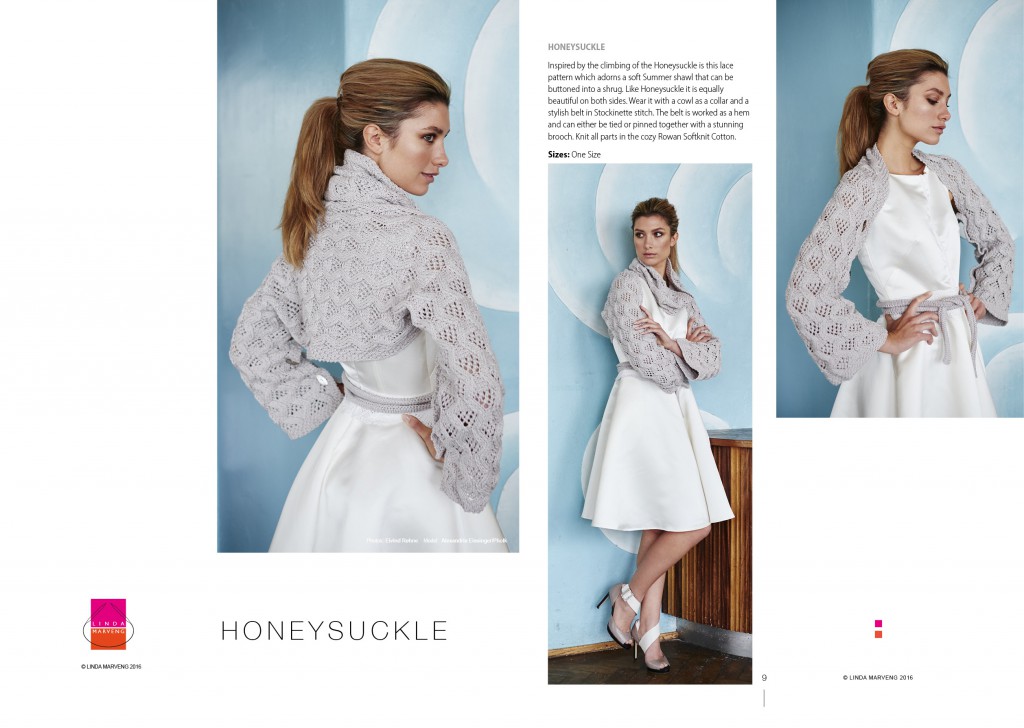 Hvalstrand Bad, an art deco restaurant on the beach with a diving tower, in Asker on the outskirts of Oslo, was the perfect location for the photoshoot. Photographer Eivind Røhne was chosen to brilliantly capture the garments worn by the stunning model Alexandria Eissinger with gorgeous hair & make up by Sissel Fylling. I choose to order bespoke buttons from jewelry designer Siri Berrefjord and Monica suggested jewelry from Kaja Gjedebo Design in addition to my own Monies jewelry.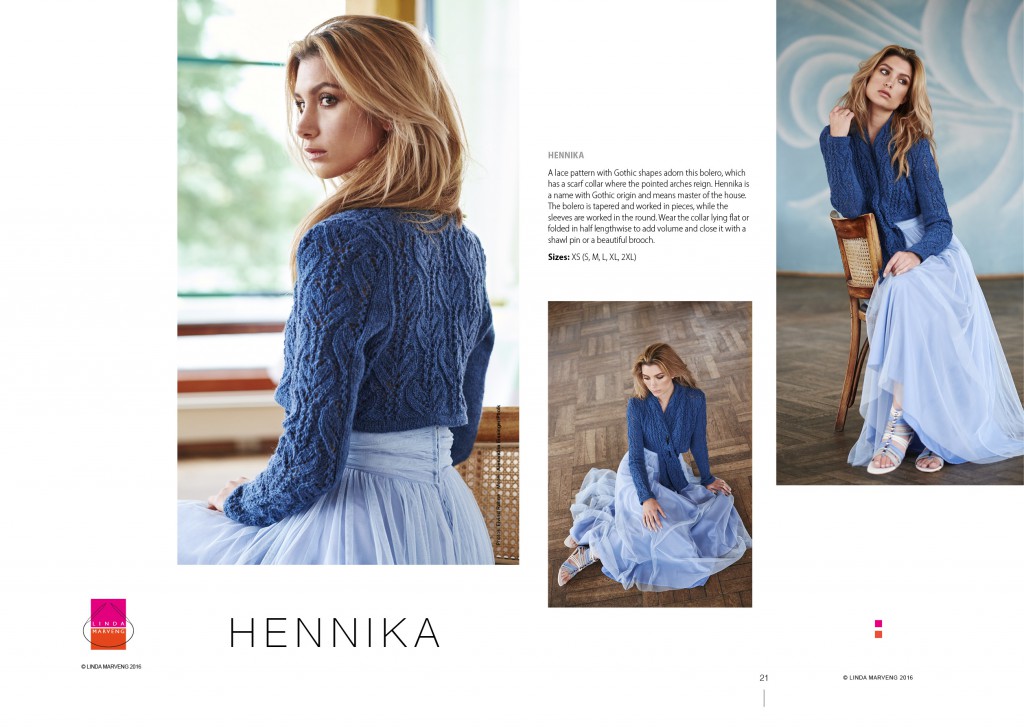 I wish to thank this amazing team for their co-operation, as well as technical editor Heather Zoppetti, sample knitters Grete Jenssen, Airin Hansen and Karin Elise Placht, my test knitters for improving the patterns and last but not least my husband, whose support and technical aid I could not have done without.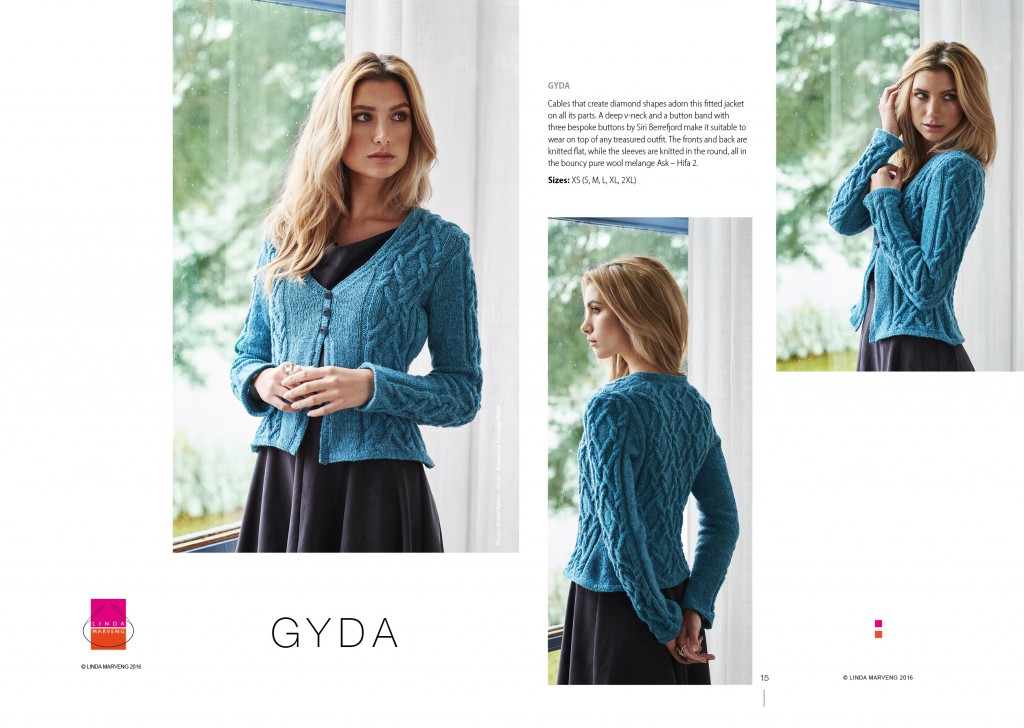 Gyda, cabled jacket is the most popular of these 11 designs, which are all available individually as well. My next task, as well as working on new patterns, is to make this e-book available in Norwegian. So if you are waiting for just that, keep knitting for now!