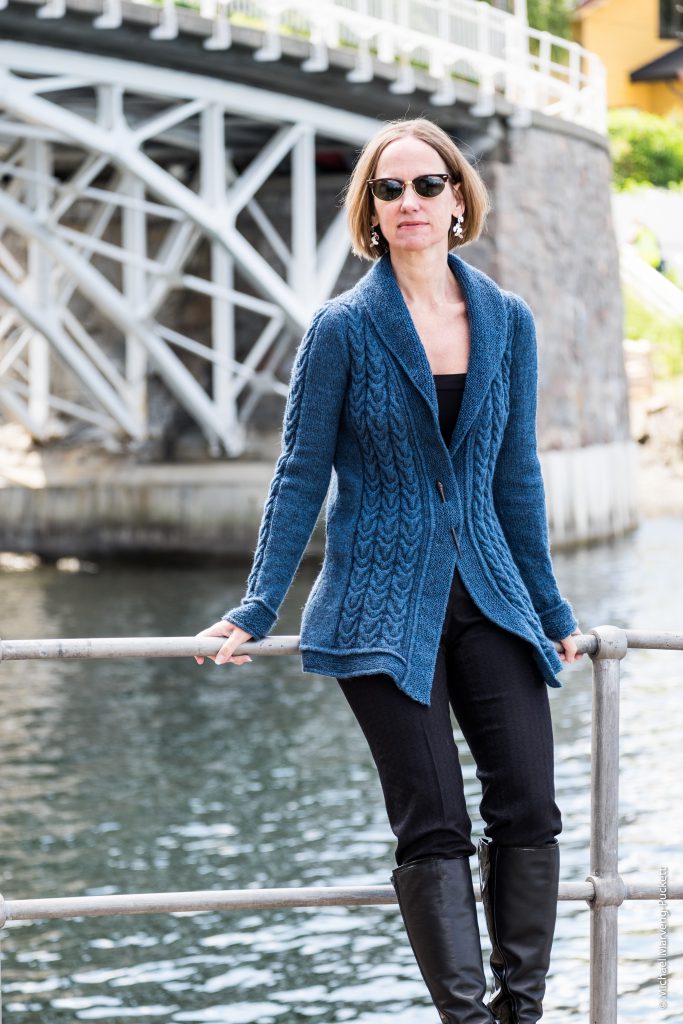 Elfa is the last of my new designs and the fourth garment made for yarn kits for Hillesvåg Ullvarefabrikk. The cables are the same one I used for Idunn, and I loved the idea of making a different but also a more feminine version this time. I decided upon an a-line long jacket as a contrast to the straight pullover. The yarn producer liked my idea, I am pleased to say. It was another project that skilled sample knitter Grete Jenssen, aka ma9, knitted with her usual turbo speed. All four designs with their yarn kits will be launched at Oslo Design Fair at the beginning of September.
Here is my presentation of it: Elfa is an a-line long jacket with central cables along all parts. Tucks divide the different patterns giving a slight flair and a softer touch to the jacket. A large shawl collar crowns the garment, hence the given name Elfa – after the Norse king and warrior. The body is worked in pieces while the sleeves are worked in the round to the underarm. It is knitted in the in the lustrous pelt yarn with a mohair feel, Sølje from Hifa.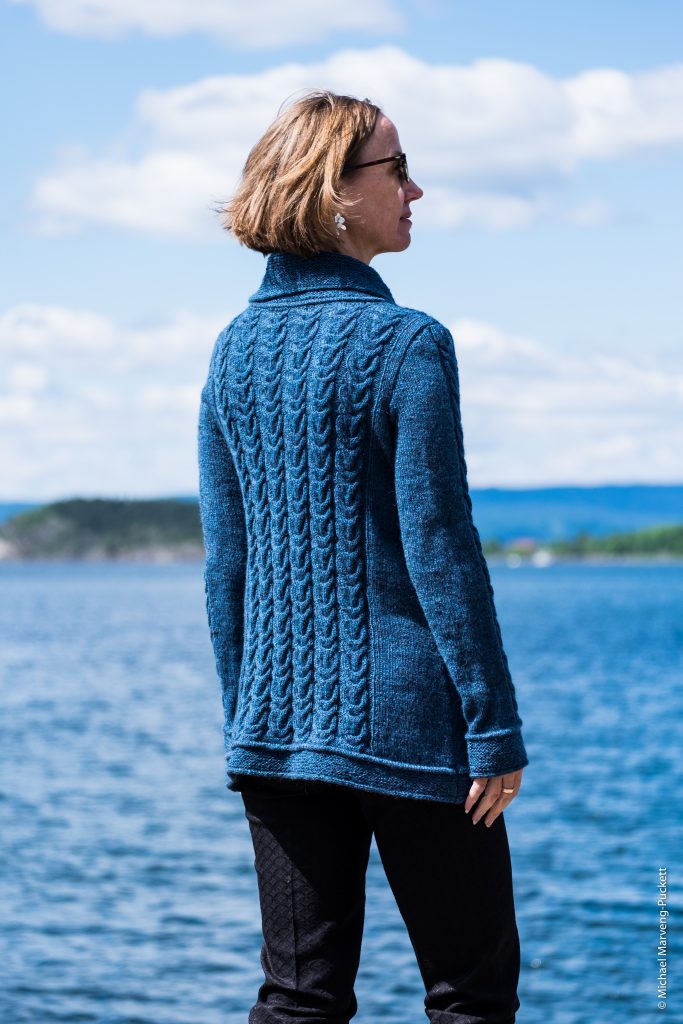 Elfa is knitted using 3 mm/US 2.5 needles with a gauge of 24 stitches and 34 rows in stocking stitch measures 10 cm/4″ square. The body is worked flat in pieces, unlike the long sleeves which are worked in the round to the armhole. The hem and the tuck are worked with 2 sets of circular needles held together. To make the bottom band and tuck to flare less choose needle size 2.5 mm/US 1.5. The number of stitches picked up for collar has been adjusted from the sample to avoid the flare. I have graded the jacket from size XS to 2XL, with a bust circumference from 84 to 126 cm/33 to 49.5″, and I am wearing size S above. Elfa was photographed by my husband at Ormøya a couple of weeks ago and by Eivind Røhne at Villa Malla on the 1. of June. Coming up are all the amazing professional photos and the garments worn by model Alexandria Eissinger/Nordic Model Agency.