I know some of you have waited years for a knitted dress from me, well, here it is: Sigyn. Now, I just hope that you do not feel you have waited in vain. The reason it took me so long time is that I had so many conceptions of how to design a dress that is comfortable, flattering and that will suit most body types. In the end I choose a classic look with ribbing, an a-line silhouette and with a central cable that makes a v-neck at the front but follows your spine at the back. Sigyn is Norse for victorious girl-friend and ideal for this a-line dress with a central swing cable, surrounded by ribbing to make it figure hugging. Decreases are made in the purl sections to emphasize the silhouette of Sigyn. The dress is beautifully knitted in the bouncy Sølje from Hillesvåg Ullvarefabrikk, by Grete Jenssen, in size S but with a tighter gauge 28 stitches instead of 24 stitches, hence it has the bust measurement of size XS 88 cm/34.75″. So I am wearing it with zero ease in these photographs taken by my husband at the beach in Ørje in a sweltering 26 degrees Celsius/78 degrees Fahrenheit.  Yes, there were a couple of women sunbathing next to us, wearing only their bikinis. They smiled at me wearing a woolly dress,  then even more as when I put on yet another woolly cardigan on top. Yes, a long cardigan that can be worn casually on top is the next new design. 
The swing cable is the same I used on the sweater Vaga and found in Norah Gaughan's inspiring Knitted Cable Sourcebook. I mirrored it and added 6 stitches in rib in between the two swing cables. The dress will be available in six sizes from XS to 2XL with a bust measurement of 88 to 130 cm/34.75 to 51.25″. The suggested length is 118 cm to 123 cm/46.5 to 48.5″. You can easily adjust the length of the dress if you prefer. I suggest shortening (or lengthening) it with up to 7 cm/2.75″ before the a-line shaping begins.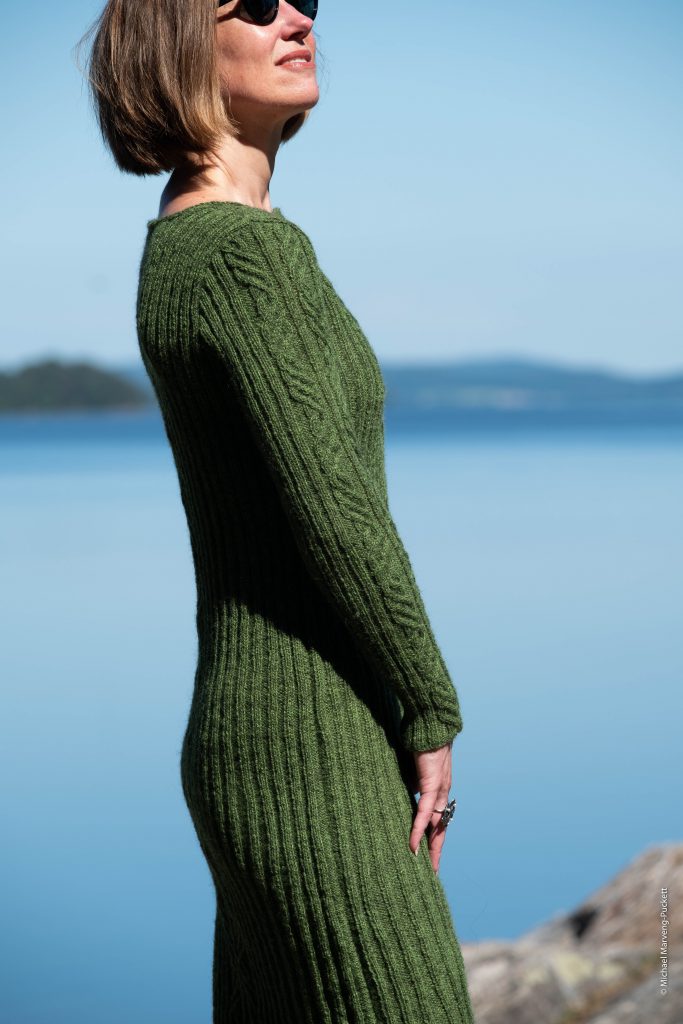 I decided to work the dress back and forth in pieces and then sew it together to make the fit even better. The reason I choose to move the cable towards the shoulder is that I did ponder on whether to make it a v-neck, but realised it is unpractical in Norway. The grass green colour of Sølje was ideal in my opinion and I knew it would suit the red-haired model Emma Ross well. Sølje is made of Norwegian pelt wool with 350 meters/383 yards per 100 gram skein and comes in 30 colours. The dress is knitted using 3 mm/US 2.5 needles and with a gauge of 24 stitches and 32 rows in stockinette stitch per 10 cm/4″ square.
The central cable continue straight up to the neckline unlike the front one. The neckline is lower at the front than at the back. And yes, the back of my legs are very white compared to my face and hands that has been in the sun these last weeks of Mediterranean summer temperatures in Ørje.
I like wearing a belt on my knitted dresses and picked a narrow leather one (read: not the same we used for the photo shoot). It is just hanging loosely around my waist. The English pattern will be test knitted in my Ravelry group in early September, before it is released. The Norwegian pattern and yarn kit will be available launched by Hillesvåg Ullvarefabrikk at Oslo Design Fair at the end of August. I will show you the dress looks with a long cardigan soon as well as how it looked on model Emma Ross at Villa Malla.
SaveSave
SaveSave
SaveSave
SaveSave
SaveSave
SaveSave
SaveSave
SaveSave
SaveSave
SaveSave
SaveSave
SaveSave
SaveSave
SaveSave
SaveSave
SaveSave