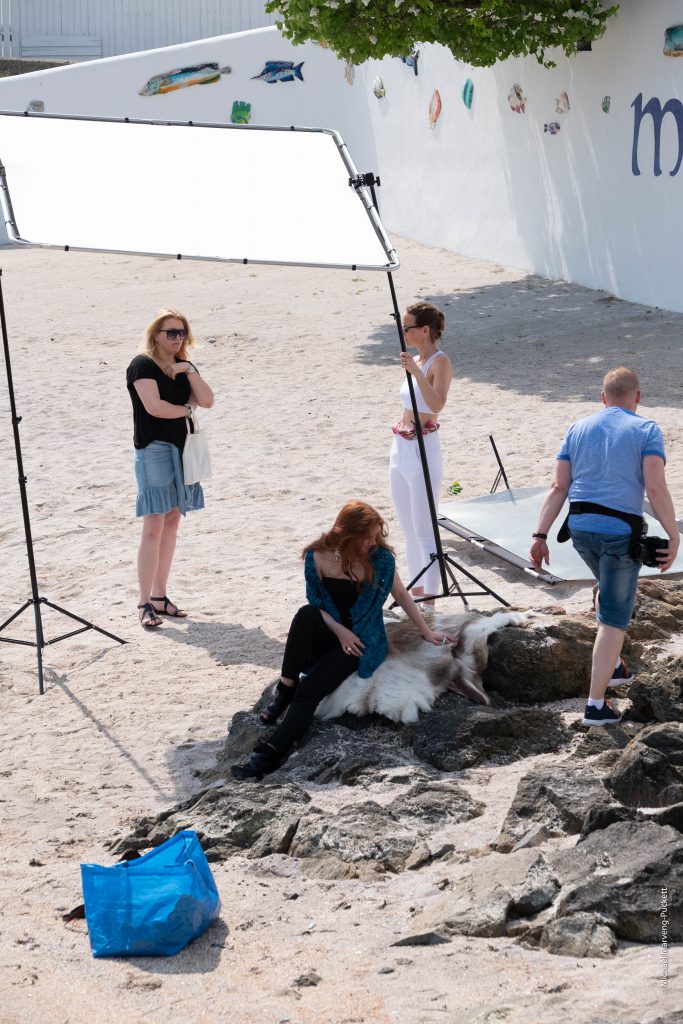 Villa Malla located by the Oslofjord is a real gem, with its beach and jetty. So I decided to have yet another photoshoot here. It feels like a holiday destination, despite the fact that you can not stay over, only have a meal, drinks or ice creams. We had heavy rain in the evening before, but it stopped by the time we picked up modell Emma Ross arriving after midnight from Manchester, UK in Oslo at the central train station. It was overcast with grey clouds when we left for Villa Malla early Tuesday morning. I had planned for the recent heath and summer temperatures we have had here in Ørje at around 26 to 30 Celsius/78 to 86 Fahrenheit – so we began photographing the long dress I have designed for Hillesvåg Ullvarefabrikk. Hair & Makeup Stylist Sissel Fylling wore a skirt for once and was cold until the skies cleared and the heath came back. Em did get a haircut, but none of us where surprised by this anymore, as I cannot recall Sissel not offering to do so. Above you see us in action on the beach, photographer Eivind Røhne is on his way to collect his sand bags so I do not have to hold onto his large reflectors while Em is ready, wearing an old design from my knitting book: Merino omslagsvest/Merino Wrap Vest. Michael captured this wonderful in action photo of us.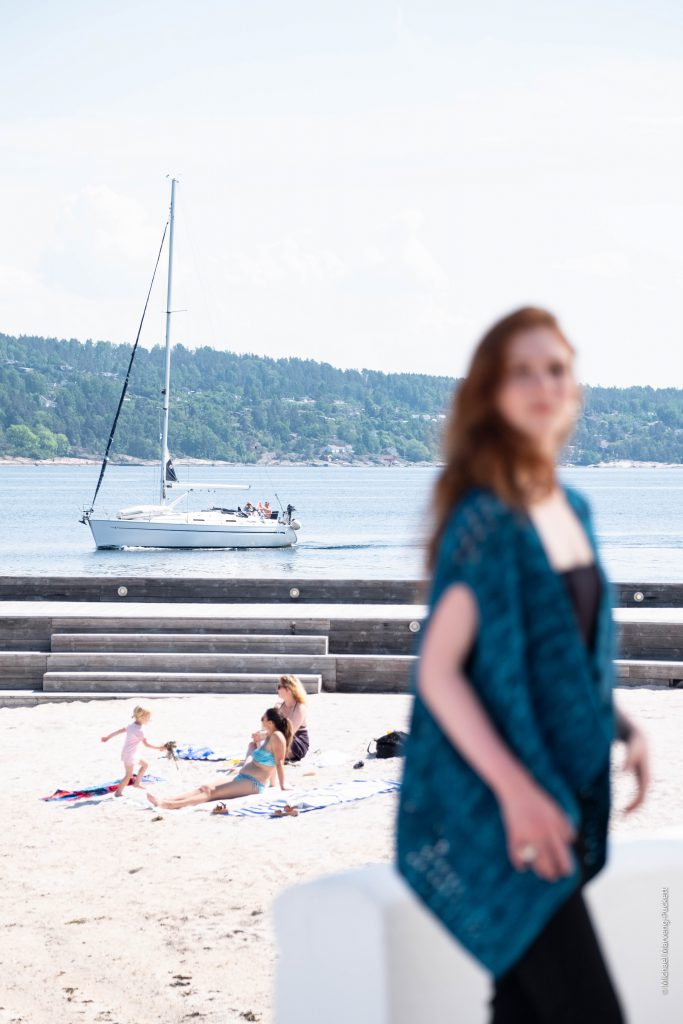 Eivind and I walked around at Villa Malla to find the best backgrounds after I had organised the rail with the ten garments to photograph, while Sissel was working on Em's hair and face. We choose two angles at the beach and the top of the staircase at the upper terrace. As you can see in the photo above, there were several families on the beach and in the water by the time we got down there. Em made several videos while she was visiting, and you can see them all at Instagram, so make sure you follow em450.
Four new designs are for Hillesvåg Ullvarefabrikk, and above you see Em wearing Var knitted in the lovely Tinde together with jewellery from Kaja Gjedebo Design. I am making sure the shoulder seams are where they should be. I loved seeing all my designs on the gorgeous Em. We photographed these in the same position as last time and with the same background that looked more like Santorini in Greece than the Oslofjord near Drøbak in Norway. Both Eivind and Michael made sure there were several sail boats as well as one police boat in the background as we started to photograph the garments.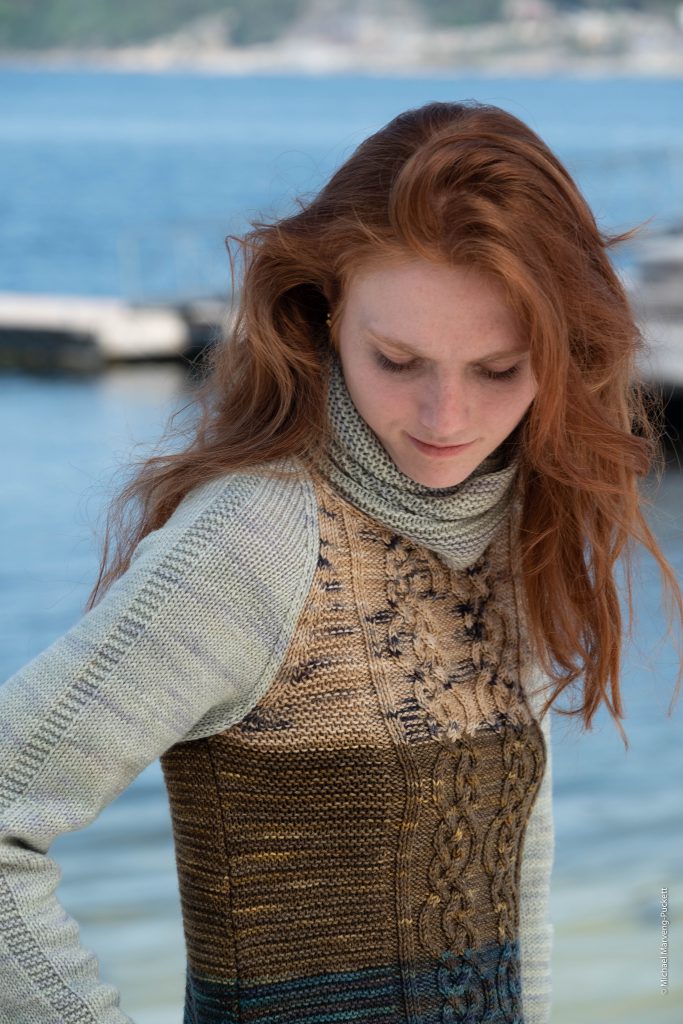 I finished the last garment the day before the photoshoot, but had a few hectic days waiting for packages sent with Next Day delivery in Norway. It only works if they are sent between addresses in the southern part of Norway, I have discovered. Luckily, the other three new designs were ready: Vaga, Ogma – see above – and Sirona. In addition we photographed the Tau scarf made for the Vienna Wool & Design Festival Magazine: Wool 2 Go vol 01 and Free Falling Pullover which has been returned from the US after being published in Interweave Knits Fall 2017. After photographing 5,5 garment – I decided that we needed some more photos of the Merino Omslagsvest – we had a delicious buffet lunch in the shadow on the terrace at Villa Malla. The divine hand dyed colours of The Blue Brick, Escarpment DK in Ogma was perfect on Em, as you can see in the photo above. It was the last of the garments to be photographed and the end of the photoshoot, I thought. But Eivind had other plans and made a couple of short videos, where Sissel had to act as a wind machine in one of them. Yes, we had fun as we always do on these photoshoots. Now, I am looking forward to seeing Eivind's brilliant photos and then sharing those. So stay tuned for more.
SaveSave
SaveSave
SaveSave
SaveSave
SaveSave
SaveSave
SaveSave
SaveSave
SaveSave
SaveSave
SaveSave
SaveSave
SaveSave
SaveSave
SaveSave
SaveSave
SaveSave