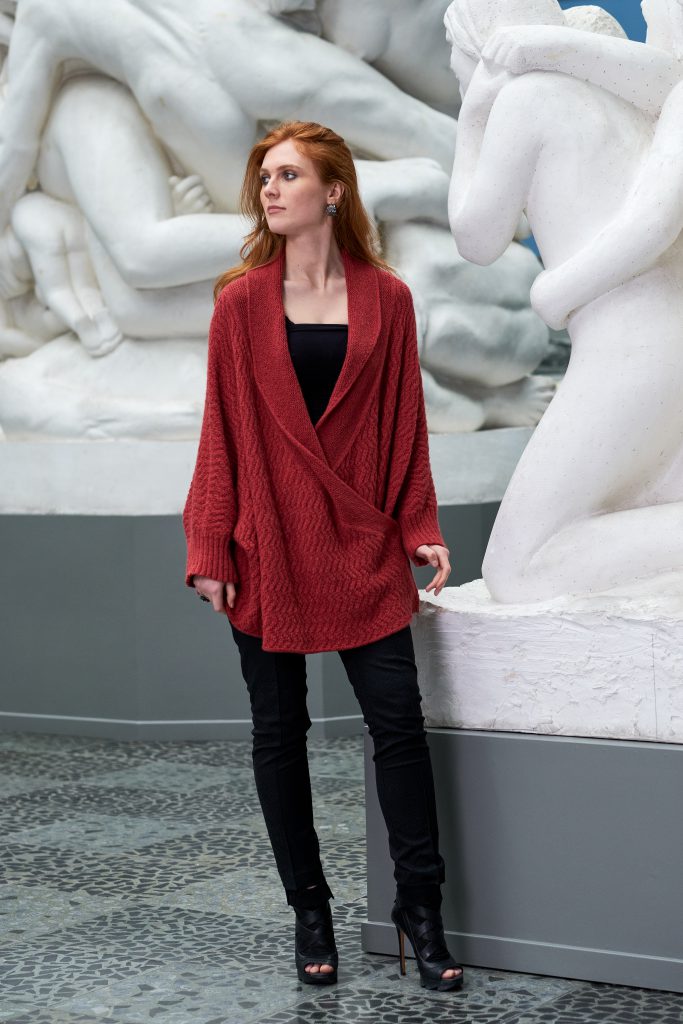 Next out is the White Mountain Ruana, worn by the gorgeous model Emma Ross, with Hair & Make up by Sissel Fylling and jewellery by Kaja Gjedebo Design, brilliantly captured by Eivind Røhne at the Vigeland Museum. The Ruana was an accepted design submission to Interweave Knits Winter 2018, knitted in the divine Shibui Knits Maai; a chainette yarn made of 70% superbaby alpaca, 30% fine merino, with 160 meters/175 yards on each 50 gram skein. I chose to style it with black pencil trousers, a black top and black sculptural shoes by Amanda Skovgaard so the lovely brick colour would stand out.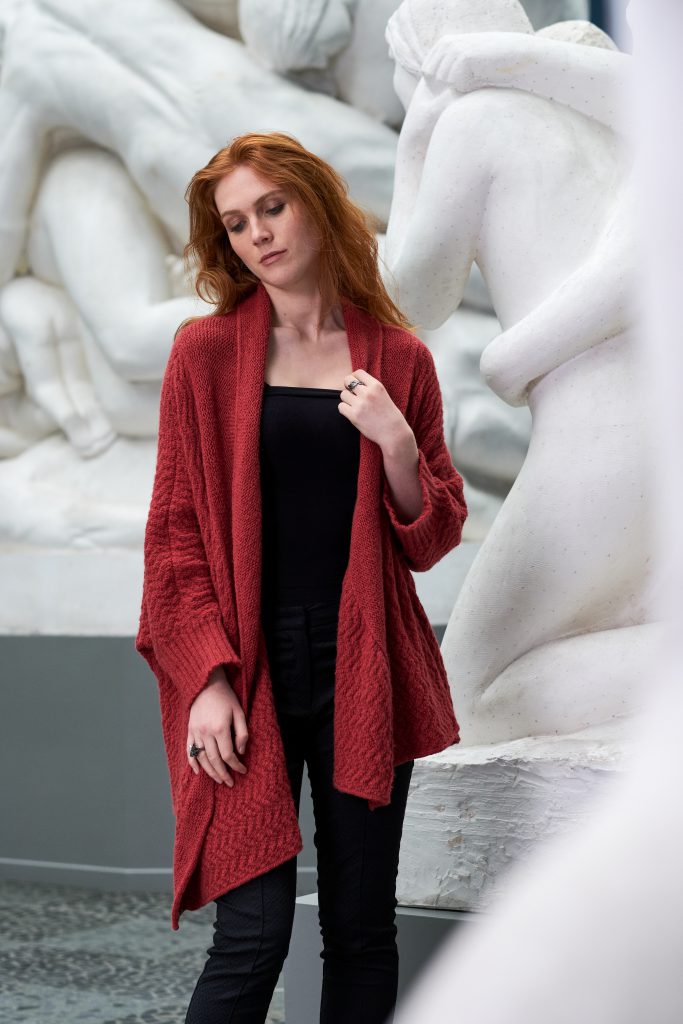 Voluptuous, luxurious, and enveloping, the White Mountain Ruana is a chic layer perfect for winter wanderings. The overlapping fronts can be worn loose or closed with snap fasteners and an I-cord tie. An easy-to-knit allover ripple rib pattern gives this ruana an elegant texture; garter stitch on the collar offers contrast to the body. I love the contrast in texture and colour to the plaster sculptures in the Monolith Hall. You can see Em in front of the finished granite Monolith sculpture in the Vigeland Park in this blogpost: Behind the Scenes: Photoshoot at Vigeland Museum.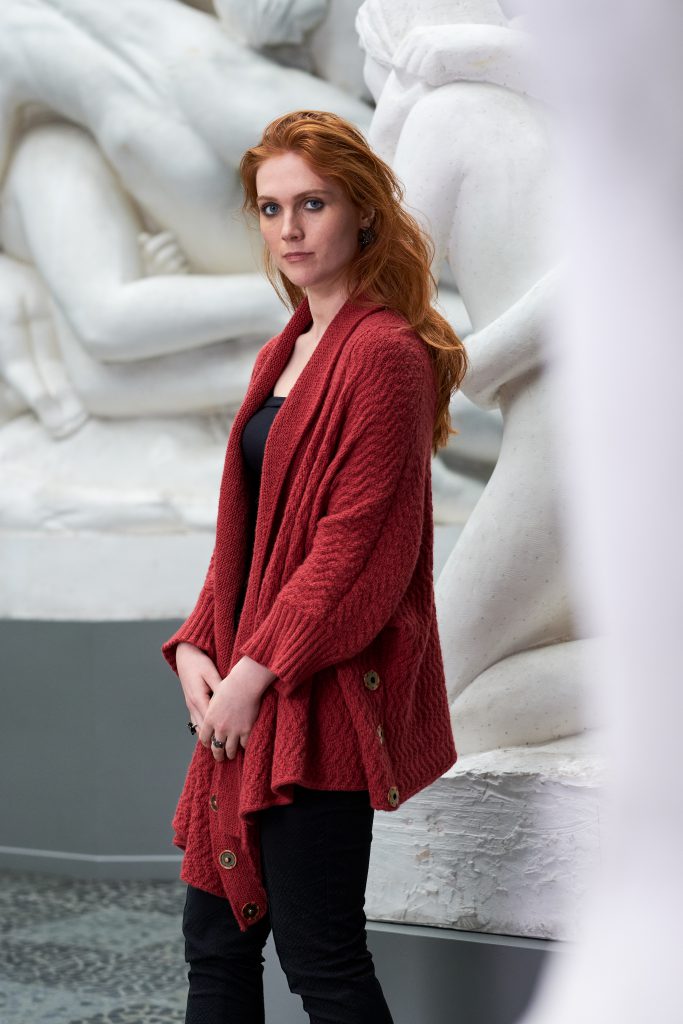 The Ruana is worked back and forth in pieces and seamed. A provisional cast on is replaced by an I-cord bind off, at the end. Stitches are cast-on for the width of the sleeve parts. The sleeve parts are identical for all sizes but the larger sizes end in a shorter rib that are picked up and knitted at the end. Two I-cords are made for a tie; one part is attached to the collar and the other to the inside seam. Three snap fasteners are sewed on along seam under arm on Right Front with the corresponding parts on the inside of the collar.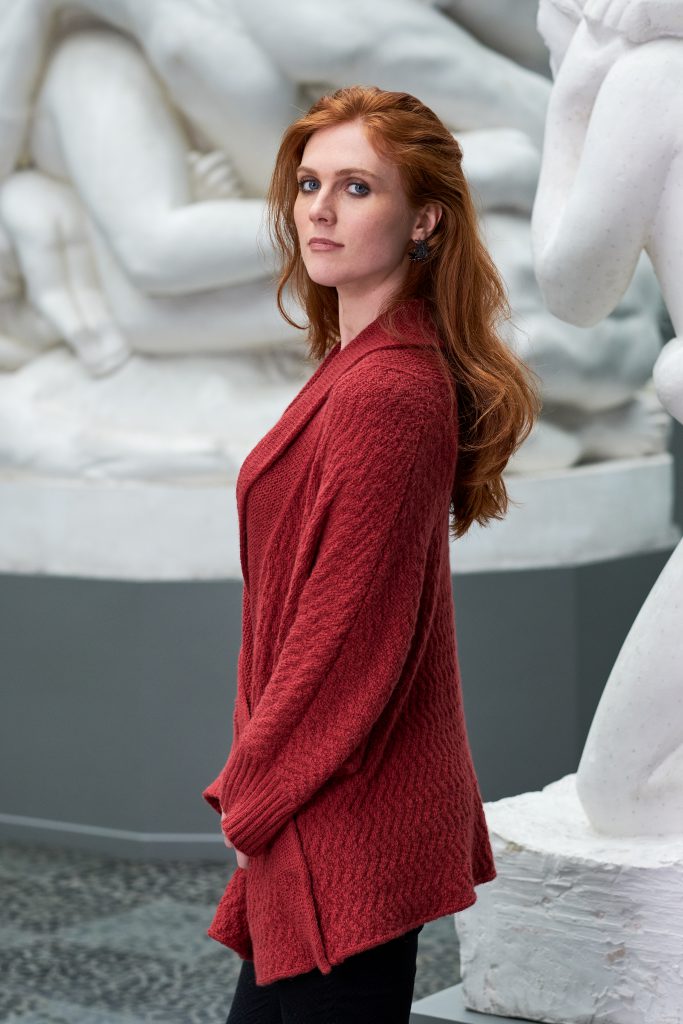 I chose this second side photo since it shows the ruana closed and the first one since you can see the snap fasteners. The White Mountain Ruana is knitted with a 25 stitch and 32 rows in Ripple Rib gauge measuring 10 cm/4" square using a 4 mm/US 6 needle. It was the first time I tried a Shibui Knits yarn and definitely not the last, since they have an impressive selection of luxurious yarns.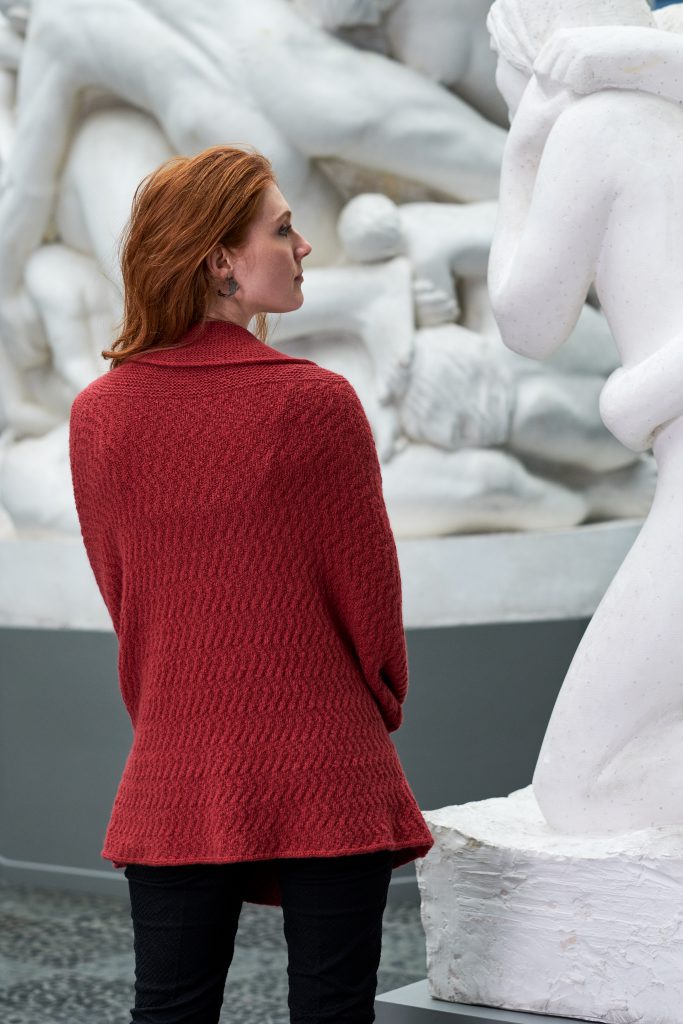 Em is wearing size Extra Small/Small, but the pattern is also available in sizes M/L and XL/2XL with a bust measurement (including sleeveparts) of 217 (234, 250) cm/85.5 (92.25, 98.5)" and a lower circumference: 151 (167.5, 184) cm/59.5 (66, 72.5)". The English pattern is available on Ravelry and on Loveknitting. The Norwegian pattern will be printed in the magazine Familien at a later date. These photos convey the casual stylish look I was aiming for! So thank you to my fabulous team!