Let me present Corra worn by model Emma Ross, with hair & makeup by Sissel Fylling and jewellery by Kaja Gjedebo Design, brilliantly captured by photographer Eivind Røhne at the Vigeland Museum in November last year. Corra is made for Hillesvåg Ullvarefabrikk and knitted in their divine Tinde pelt wool yarn in the blue turquoise colour 2129. The colour does look gorgeous on Em, I think. I choose to style it with black pencil pants and Benedetta high wedge boots from Monica Stålvang.
Named after the Prophecy Goddess is this elaborate cabled pullover with slightly fitted waist. Two large cable panels are divided by a small cable that ends in a Henley neck, framed with an I-cord. Unlike the body the sleeves only have two small cables surrounded by stockinette stitch, so all the focus is on the body. Corra is knitted in pieces and seamed.
Em is wearing size S, but I have graded the pattern in sizes XS to 2XL, with a bust circumference of 86 cm to 126 cm/33.75 to 49.5″. The pullover is knitted with a 21 stitches and 30 rows gauge in stockinette stitch using 3.5 mm/US 4 needles, measures 10 cm/4″ square. Corra is photographed in the Monolith Hall, with the plaster models made by Gustav Vigeland as casts in parts for the granite 17.3 meter tall/56 feet and 9.1″ Monolith (the center piece of the Vigeland Park in Oslo); a column consisting of 121 figures. The figurine part is 14.2 meter/46 feet and 7″ tall, excluding the plinth. Carved from one single granite block, hence the name (mono: one, litho: stone). Take a look at Em in front of the Monolith in this blogpost: Behind the Scenes Photoshoot at Vigeland Museum.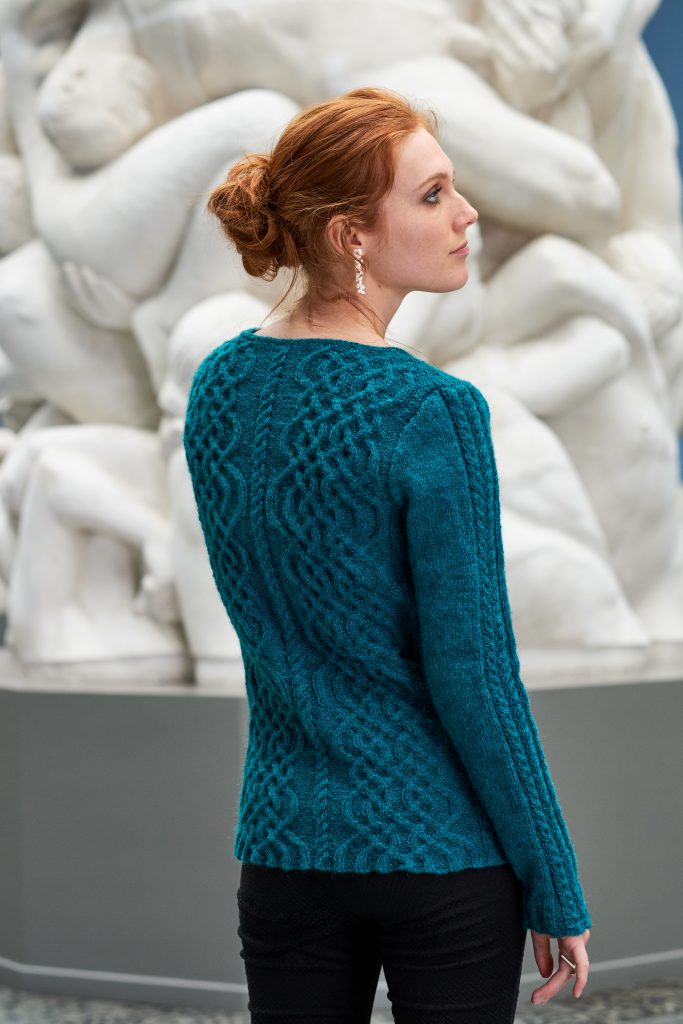 The Norwegian pattern and yarn kit will be launched at "Fagstrikk (Knits trade fair)" in Oslo in April, while the English pattern will be test knitted in my Ravelry group beginning on 18th of March before its release. It was like a dream to spend the whole day, surrounded by all these amazing sculptures, in the company of only the curators and my crew! Thank you!