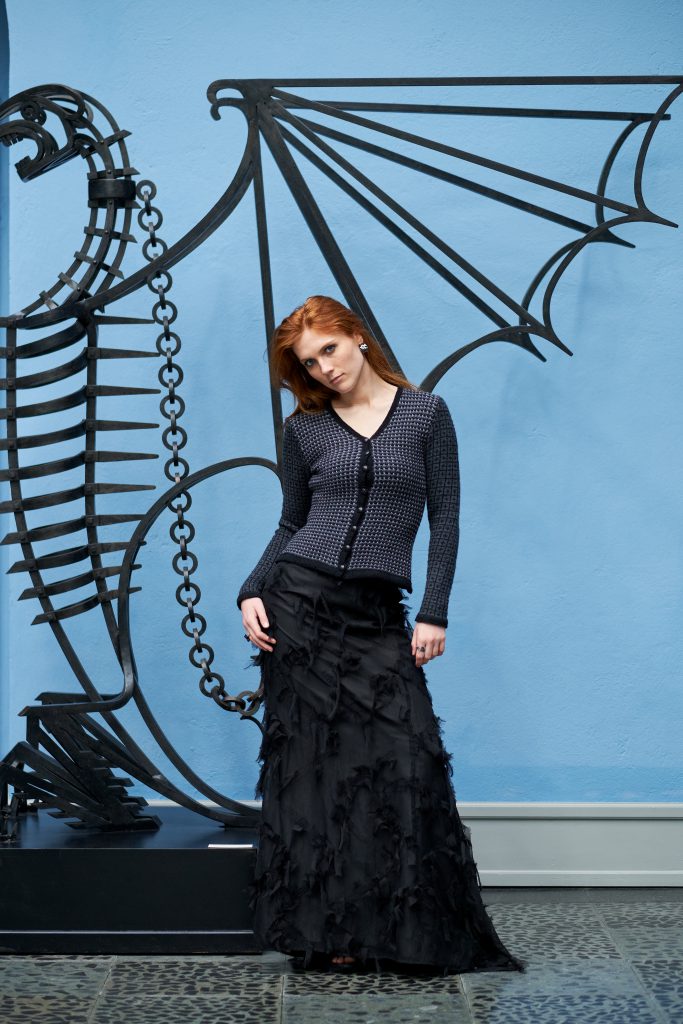 I am delighted to show you the fantastic new photos of my old design Tweed Jacket and Dewdrop Cowl, both from my Norwegian knitting book that was published in 2012: "To rett, en vrang. Designstrikk" (only translated into Finnish). I do love the old photos of ballerina Cristiane Sá, but she is wearing a tutu so I thought some new ones would be good and I had room for one more garment in our photoshoot at the Vigeland Museum in November. Gorgeous model Emma Ross looks stunning in the jacket with the Dewdrop Cowl, worn together with Judith Bech's stunning skirt. Em's make up and hair is by Sissel Fylling and jewellery is by Kaja Gjedebo Design. Em is captured by Eivind Røhne in front of the impressive cast iron dragon, a sample for the Vigeland Park Gates.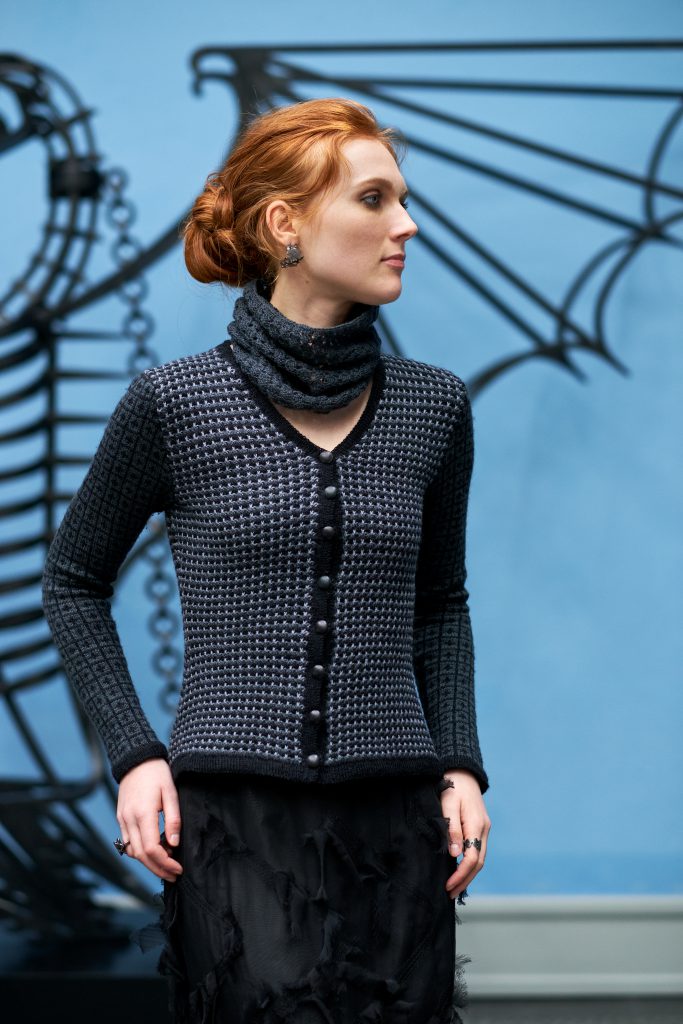 Eivind and I agreed that the dragon added the drama we wanted to the photos. The Tweed Jacket is inspired by Christopher Kane's elegant tweed version. Mine has sleeves in stranded colour work in stockinette stitch as a contrast to the tweed pattern, made with slipped stitches on the body and a fitted waist. The tweed jacket has been given a vintage look by using the fine lace weight Hillesvåg Ullvarefabrikk Alv combed yarn held double.
The Dewdrop Cowl is made of left over yarn from the jacket and I also choose to make a larger Cowl, which can be worn on top of each other and with wrist warmers, in the fingering Hillesvåg Ullvarefabrikk, Huldra in a beautiful dark rose red colour. I wanted to add some colour to the outfit and thought this was a magnificent solution. I love the way Sissel knotted Em's hair in some of these photos!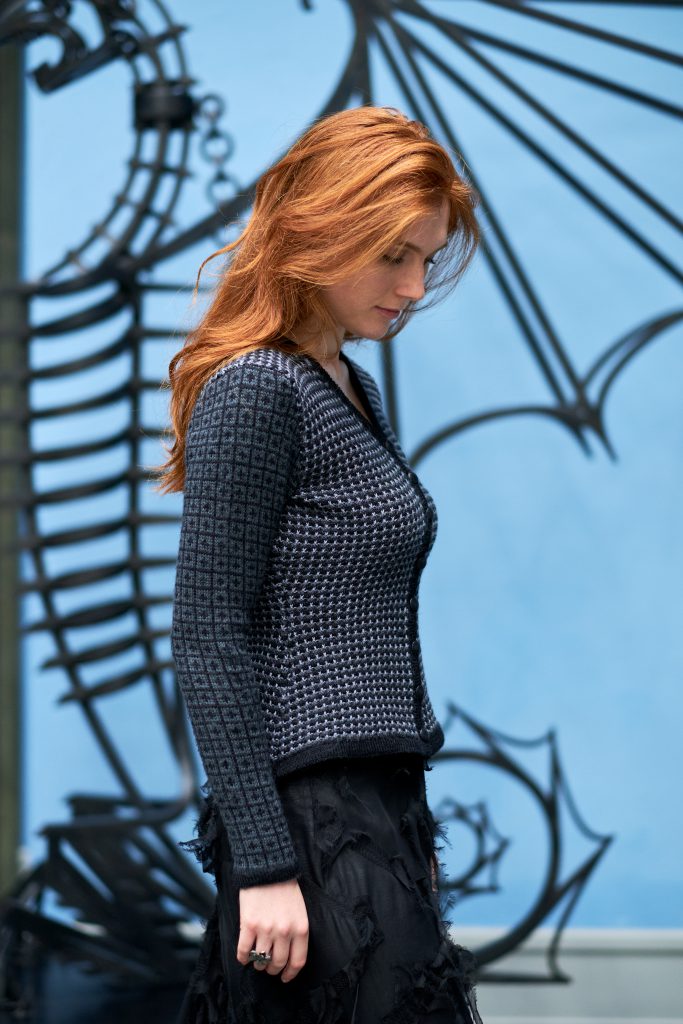 Hillesvåg Ullvarefabrikk Alv is a laceweight yarn made in 100% combed wool on a 200 gram cone with 1400 meters/1532 yards, which I held double for a machine knitted effect.  The gauge is 30 stitches and 31 rounds/rows in the sleeve pattern in stranded colourwork in stockinette stitch and 27 stitches and 60 rows in Tweed pattern, both with 2 strands held together using 3 mm/US 2.5 needles. The tweed pattern takes 3 colours: 2 greys and 1 black, while the stranded colour work is done in the darkest grey and black.
The body of the jacket is worked in parts and sewed together, while the sleeves are knitted in in the round up to the armholes. The double hems are worked in 2.5 mm/US 1.5 needle, while the other parts are made in 3 mm/US 2.5 needles.
Em is wearing size small with a bust and hip circumference of 90 cm/35.5″, but I have revised the English pattern, made the sleeves wider at the top and added an XL size with these measurements: 106 cm/43″. I also sent the revised pattern to my technical editor Barbara Khouri. It will be added to Ravelry and Loveknitting shortly, together with the Dewdrop Cowl pattern.
The Norwegian pattern will be printed in the magazine Familien at a later date. I am ever so thrilled with these new photos, so thank you to my amazing team!