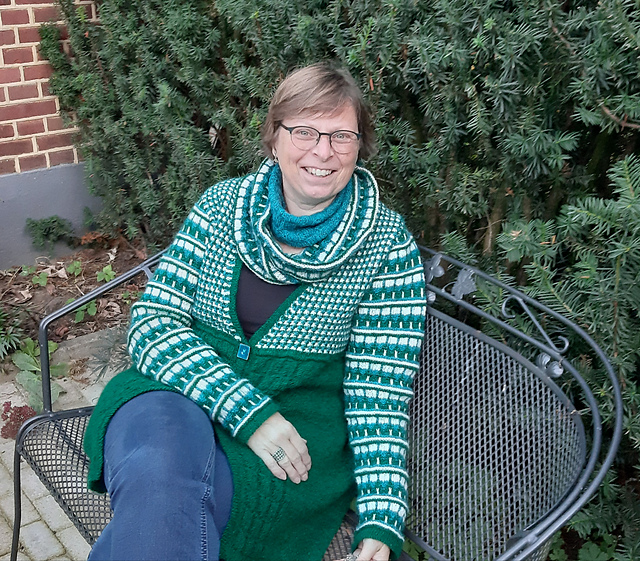 I want to share the beautiful Macha Jacket including the cable cowl and Macha Cowl that Erdmuthe made during the test knit back in September last year. She went yarn shopping at Trollenwol in Driebergen in The Netherlands and writes on her Ravelry project page: "I still prefer going to a "real" shop, seeing the colors and feeling the yarns. It took me quite a while before I was satisfied about the combination of colors". Erdmuthe chose Hillesvåg Ullvarefabrikk Sølje in 2126 Grønn as the main colour, 2106 Turkis as the contrast colour 1 and Vilje in Hvit (read: Natural) as the contrast colour 2. The yarn is the same as I used for the sample the pelt wool Sølje and the lambswool Vilje. The size she adjusted to fit her and began working an XL decreasing down to a L, as well as adding extra length to it. Erdmuthe also decided to work the body in one piece. You can read more on her detailed project page on Ravelry and follow her as erdmuthe9977 on Instagram.
"It's a great design, lots of interesting features that will keep you busy for some time.
The finished Jacket is going to be worn a lot this coming winter".
Erdmuthe ends her project page notes with: "I forgot about the cable cowl. A very quick knit in the round. Chose to work it in color C as I loved the "Türkis" and wanted to give it some "attention" and opportunity to show a bit off." Finally she chose to use only 3 buttons from Luena, that she discovered at the Hannover fair. Thank you so much for making this stunning version, Erdmuthe!
Here is my introduction to the Macha Jacket pattern – the Macha Cowl  (the stranded colorwork one) is a separate pattern, both are available in my Ravelry Store: Macha is the Celtic protectress in peace as well as the name of this heavily textured jacket with cable and tweed body and stranded colorwork sleeves. A tuck marks the end of the cable pattern, the beginning of both the tweed pattern and the deep v-neck shaping. The Macha body is worked in pieces but the sleeves are knitted in the round to the armhole in stranded colourwork with purl stitches and garter stitch stripes in three contrasting colors in both Hillesvåg Ullvarefabrikk Vilje Lamull and Sølje Pelsull. A cable cowl completes the jacket which can also be worn together with the Macha Cowl.