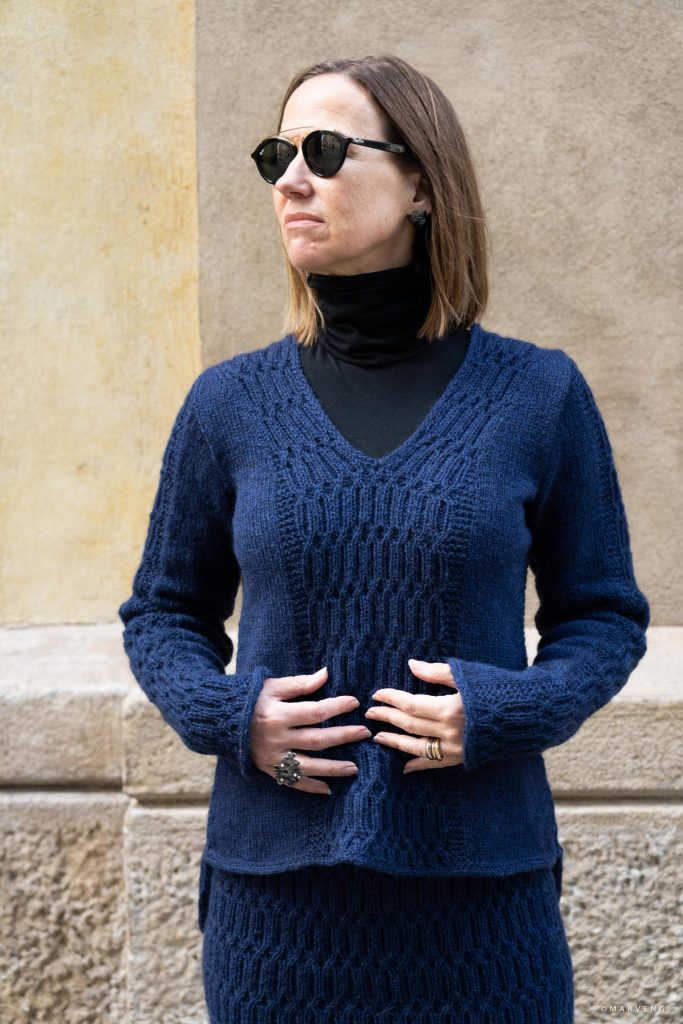 Next out in the series of new designs for Hillesvåg Ullvarefabrikk is the Jendine pullover. It was made to go together with the Rebine skirt as a set, but works equally well with trousers. I chose a narrow cable that looks like a more advanced rib to adorn the center and wanted a high low effect for the pullover. Jendine and Rebine are both knitted in Tinde pelt wool, using a 3.5 mm/US 4 and a 3 mm/US 2.5 for the sleeve band by my skilled sample knitter Kristin Nygård, aka quiltefeen! Michael took these photos of me, wearing size S with a 90 cm/35.5″ bust, in Barcelona, when I was teaching at Barcelona Knits 2019 back in November last year.
Jendine is an a-line pullover with a panel of elegant cable ribbing at the center, longer rounded hem at the back and a shorter front. The v-neck splits the cable panel into two parts each framed with an I-cord. Jendine is an old historic Norwegian name that fitted this flowing pullover, that can be worn together with the Rebine skirt. Jendine is worked in the beautiful Tinde pelt wool by Hillesvåg Ullvarefabrikk.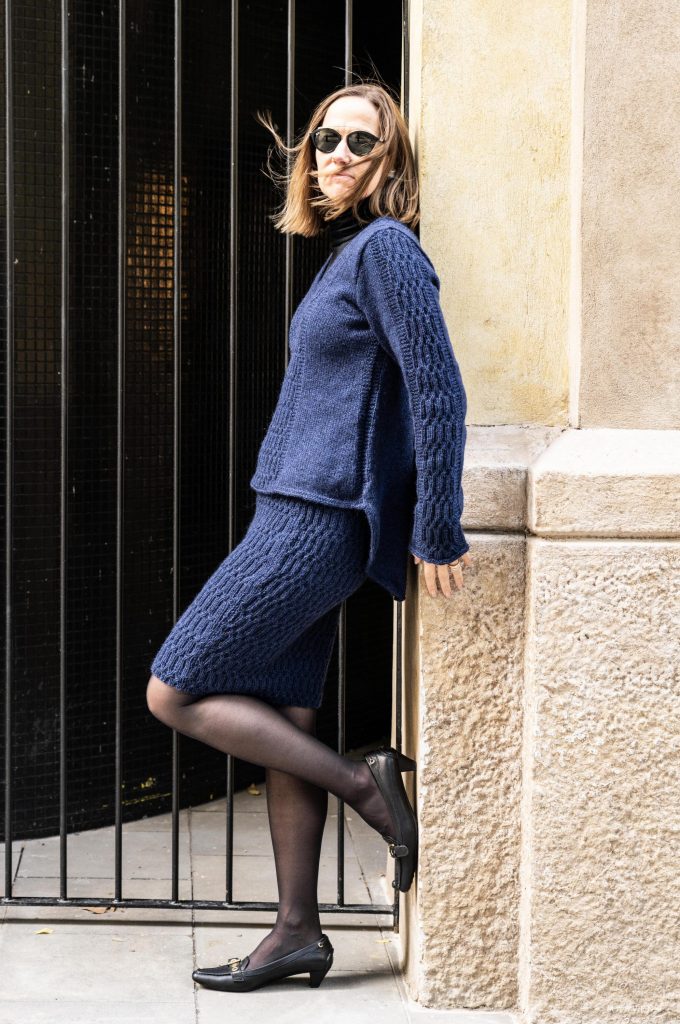 I have graded Jendine and Rebine (I will make a separate post with more photos of the skirt, especially the top of it) in sizes XS to 3XL with finished bust measurements of 84 to 136 cm/33 to 53.5″.
The test knit of Jendine begins on the 16th of March and it is followed by a test knit for Rebine on the 6th of April, both in my Ravelry group. I look forward to showing you how this set looked on my model Olivia Lindtein!
For more details on the design, become a patron and receive rewards like monthly newsletter, sneak peeks, free pattern(s), monthly video, all depending on the level chosen, see more details here: www.patreon.com/lindamarveng