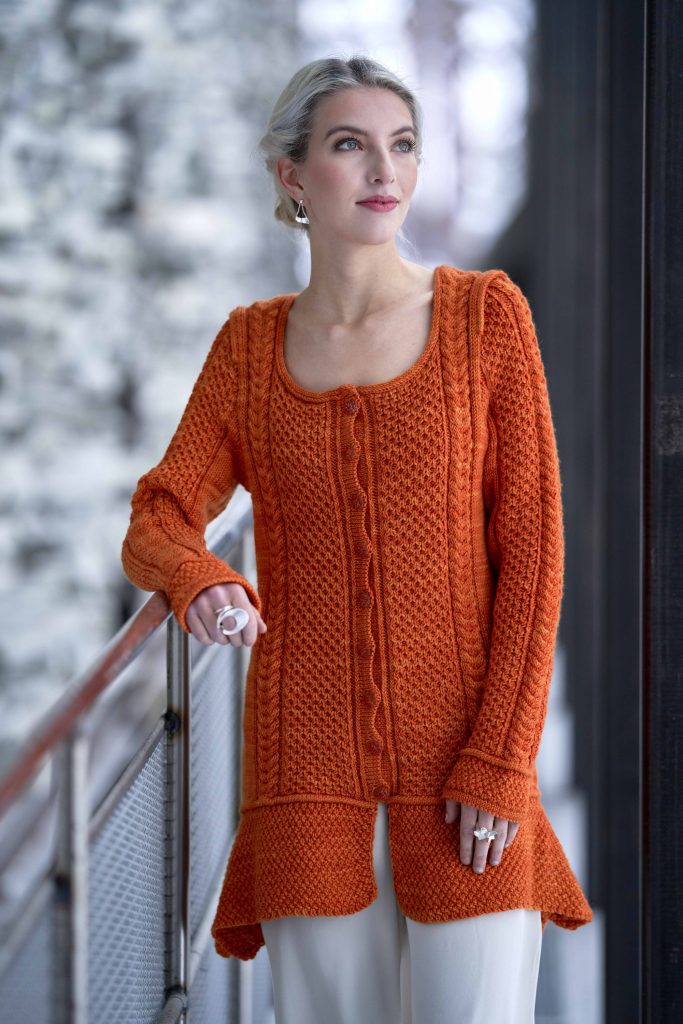 I am thrilled to show you the first two sets of photos of Ataraxia brilliantly taken by Eivind Røhne at Mortensrud Church in Oslo in November last year. Ataraxia was designed for Pom Pom Quarterly, Issue 27: Winter 2018 and the sample I knitted in SweetGeorgia Yarns Mohair Silk DK in Pumpkin was returned to me together with the sample Pom Pom had knitted up to fit better with the remaining collection in the magazine in The Copper Corgi Fiber Studio, Jones Street Worsted in Goldenrod, which I borrowed for the photoshoot and then returned. The rights have reverted to me, so these new photos were taken for my individual pattern release. Both colours suited the gorgeous Olivia Lindtein, with make-up & hair by Erica Poppe and jewellery by Kaja Gjedebo Design.
I decided to style the pumpkin coloured cardigan with cream coloured silk slacks and the goldenrod coloured one with a long black silk skirt since I prefer to style my designs up, but it looks equally well with jeans or skinny trouser, see how it looks on me here: Ataraxia Again. We decided to photograph the bright one upstairs next to the windows, where the heavy snowfall gave us what felt like a divine light, while the other one was photographed at the top of the stairs.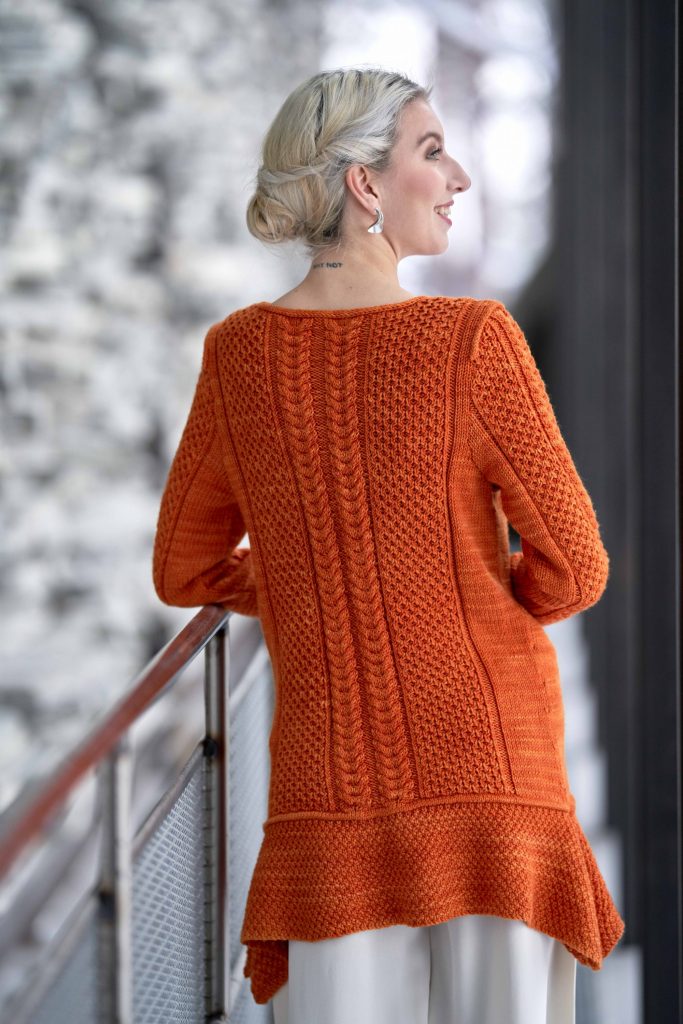 Ataraxia is named after one of Caroline Norton's poems, to give you a sense of calm, sheltering you from whatever storms you bravely weather. She was known for her drive to establish basic legal rights for women. The long jacket's fitted shape is achieved through a careful arrangement of vertical texture panels and I-cord highlights. Finished with a tucked asymmetrical peoplum. Designed with a mythic shield maiden in mind, not unlike Caroline Norton.
The handmade buttons on pumpin colored sample are made by Siri Berrefjord in Norway, see www.fredenshavn.no and can be ordered from siri@fredenshavn.no. You can see them close-up, photographed by Siri herself, in this blogpost: Ataraxia Buttons by Siri Berrefjord.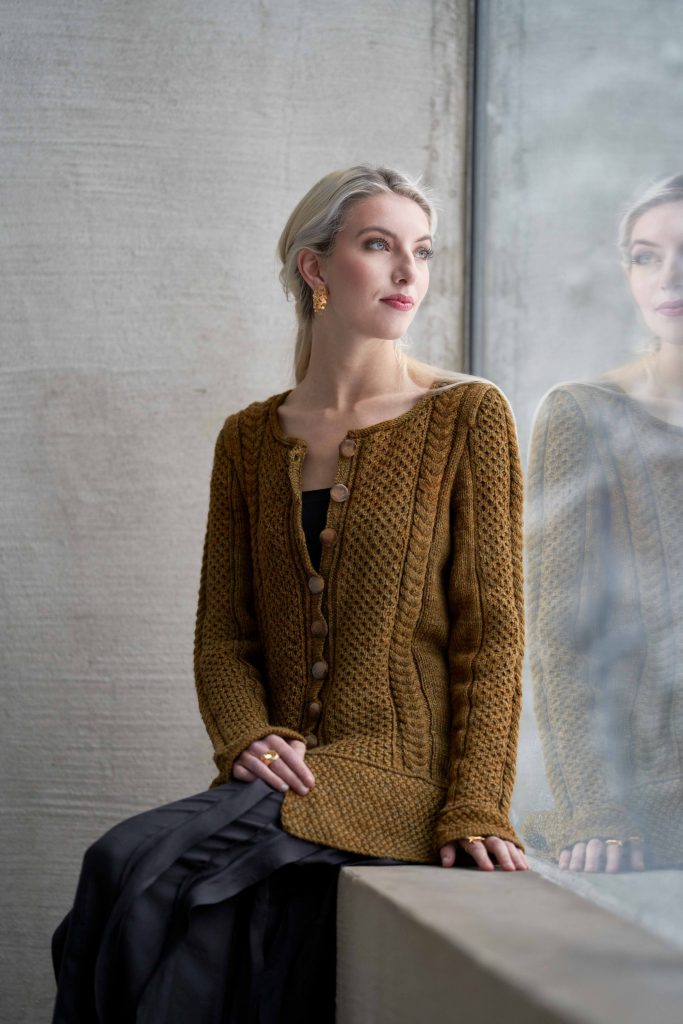 The pumpkin yarn is SweetGeorgia Yarns Mohair Silk DK made of 90% superwash merino, 9% super kid mohair, 5% silk with 200 meters/218 yards on each 100 gram skein. While the Goldenrod yarn is The Copper Corgi Fiber Studio, Jones Street Worsted made of 60% merino, 30% alpaca, 10% silk with 192 meters/210 yards on each 113 gram skein.
Ataraxia is knitted flat, in pieces, from bottom up, and seamed. The asymmetric lower body has extra width in each side that will be bound off before the tuck is made. Waist shaping is worked at the sides and the shoulders are shaped using short-rows. The collar is picked up and completed using an I-cord bind off.
Olivia is wearing size S with + 14 cm/5.5″ ease and stands 167 cm/5'6″ tall. I have graded the jacket from size XS to 2XL with a bust circumference of 91 to 132.5 cm/35.75 to 52.25″.  Both samples are knitted using 4 mm/US 6 needles and a gauge of 21 stitches and 28 rows in stockinette stitch measuring 10 cm/4″ square.
The English pattern is now available in my Ravelry store and will soon be available on LoveCrafts. The Norwegian pattern has been sold to Familien and will be printed at a later date. I was so incredibly lucky that Erica Poppe could do the make-up & hair, since both Sissel Fylling and Jens Wiker were booked on other jobs, and that Olivia Lindtein could step in two days before the photoshoot. Thank you to my amazing team!