I decided to photograph the Japanese Vest again, it was first photographed for my Norwegian knitting book "To rett, en vrang. Designstrikk" published by Cappelen Damm back in 2012, by Kim Müller. I decided to style the vest over a black machine knitted dress. Model Olivia Lindtein looked stunning in the vest! Her hair & make-up is by Sissel Fylling, the jewellery is borrowed from Kaja Gjedebo Design and brilliant photographer Eivind Røhne captured it all!
The pattern has been revised and I have added three more sizes to it. My technical editor Barbara Khouri has made a very smart chart and a schematic as well as editing the pattern for me. The pattern will be released in my Ravelry Store next week in both English and Norwegian. It will also be added to LoveCrafts.
A vest inspired by Japan, with only one large armhole, to drape, fold and fasten as you please with a shawl pin or two. You can also use the Japanese Vest as a scarf if you like. The all over reversible dropped stitch pattern is by Lynne Barr. The vest is knitted in one piece, in the beautiful Huldra kamgarn from Hillesvåg Ullvarefabrikk, with double hem bands all around.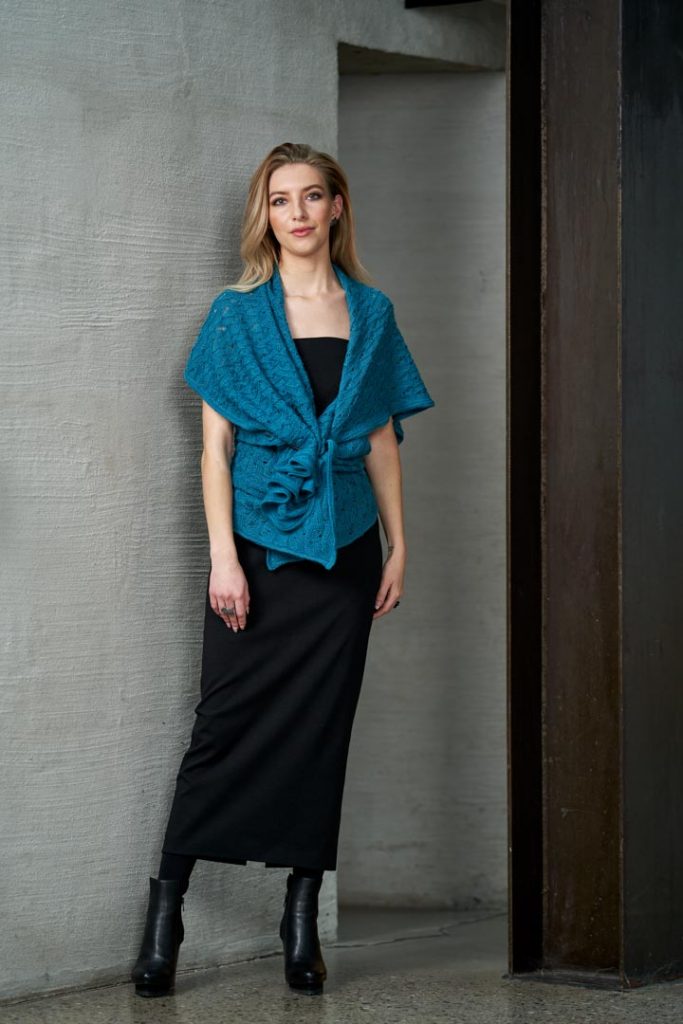 I knitted the vest is knitted using 3 mm/US 2.5 needles with a 28 stitches and 36 rows in stockinette stitch measuring 10 cm/4″ square. Olivia is wearing the smallest size.
The vest is seamless and worked in one piece with one large armhole. A circular needle is used to accommodate the large number of stitches. The side double band hem is picked up and worked at the end with 2 circular needles held parallel. If you prefer, add for instance 3 stitches in garter stitch in each end instead, or skip the side double band.
I look forward to showing you more of the photos from the photoshoot! I am so thrilled with these new photos of the Japanese Vest. Thank you to my wonderful team!