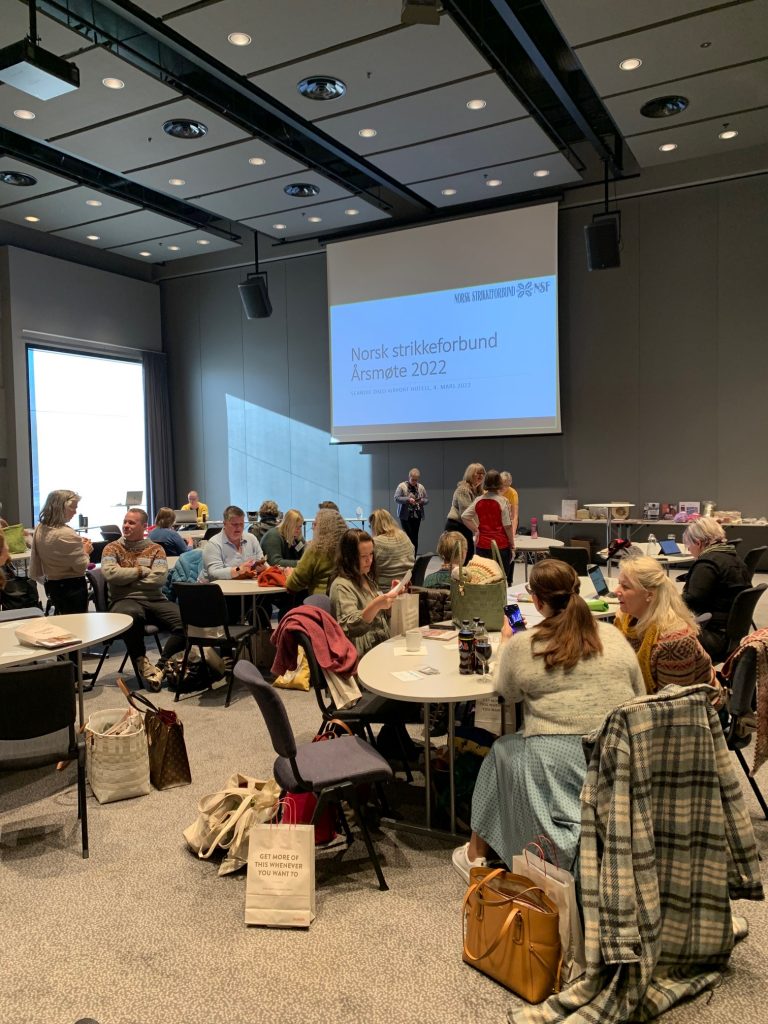 Every weekend is a knitting weekend for me, but the last one was special since I was at the annual meeting for the Norwegian Knitting Association – Norsk Strikkeforbund – at Scandic Oslo Airport Hotel at Gardermoen. I am not a member of the board but I am the editorial "team" for the digital membership magazine called "På pinnen"/On the Needle and work with editor designer & author Tove Fevang (standing talking to a new board member). We were about 60 knitters attending. It was a perfect opportunity to meet known and unknown knitters and I took the opportunity to have a stand to sell my printed patterns. The program for the weekend was filled with annual meeting, talks, workshops, knitting and chatting as well as delicious meals! Below you see part of my stand, next to Margrete Slettan, Villull aka britstrikkenerd shop &  instagram and Jeanette & Jeanine Førland (with the ponytail), aka knitknotnine.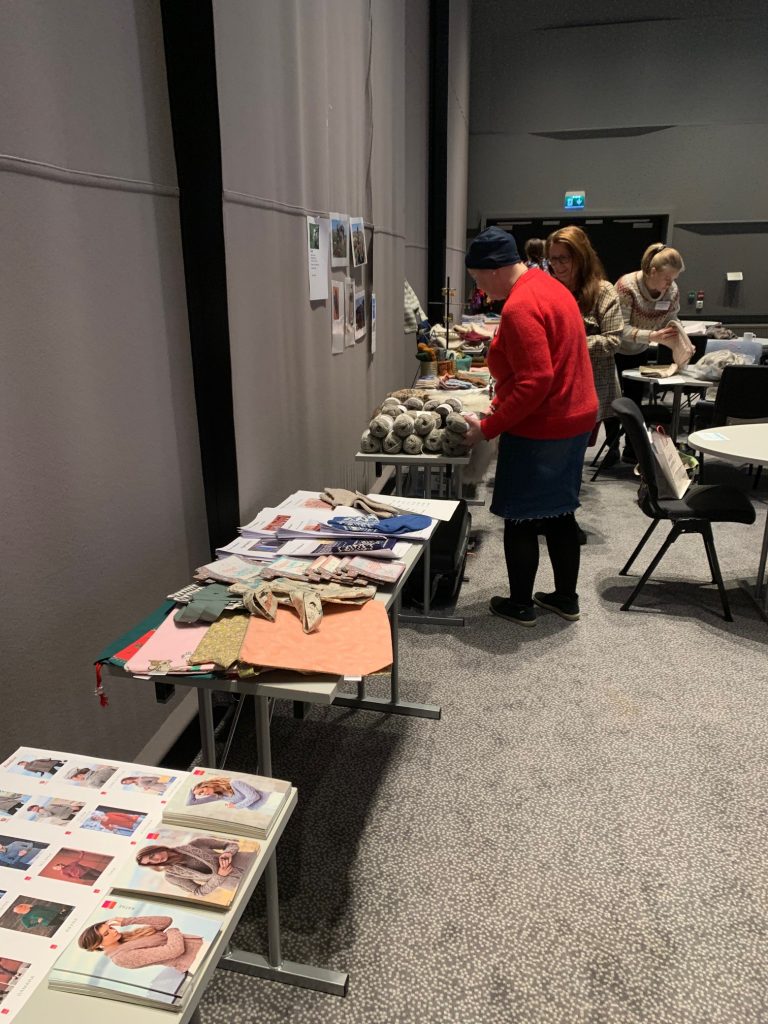 I did not hold any workshops or talks, but was asked to be on stand-by in case anyone had to cancel due to Covid-19. The event started on Friday 4th of March with the leader Margrete Slettan welcoming us. Just as she was about to introduce the first talker & podcaster Kristin Nesterud, aka "Frøken K", we heard that no knitting nor mobile phone use was allowed and after being totally stunned for a few seconds we started to laugh. It was not Margrete who spoke but the voice came through from the meeting in the room next door. We did turn off the sound on our mobile phones but did knit throughout the weekend – some also in the restaurant between the courses. Kristin talked about how to use Ravelry and gave a thorough introduction of it. You can spot her wearing black in the photo below. The table at the end displayed all the prizes for the lottery and there was a fantastic selection of books, yarns, patterns, yarn kits, notions and so on to win. The winners were ecstatic, as you can imagine!
The first stand above is by designer Terje Tjelle, aka strikketerje, now a board member of the association.
The next stand belonged to Veronika Glitsch a designer and tailor, whom I had not met before. Yes, I had to buy her book on how to sew skirts, leaflet on bodice and several of her knitting patterns.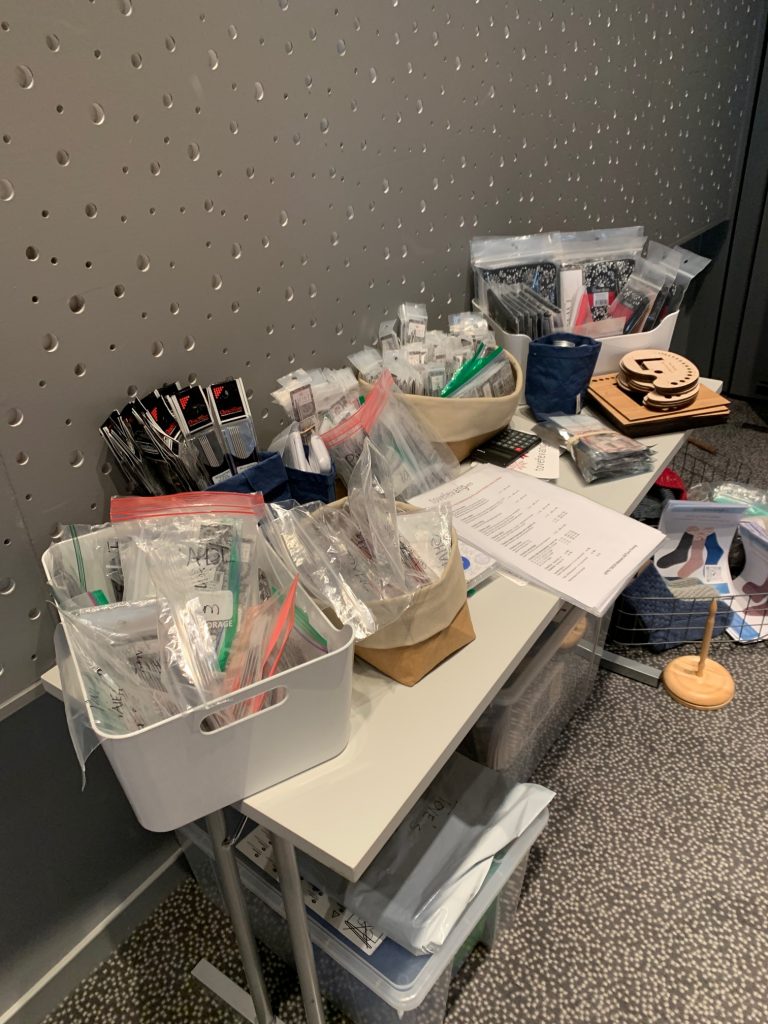 A very popular stand was Tove Fevang's with her ChiaoGoo needles, notions, patterns and yarn kits.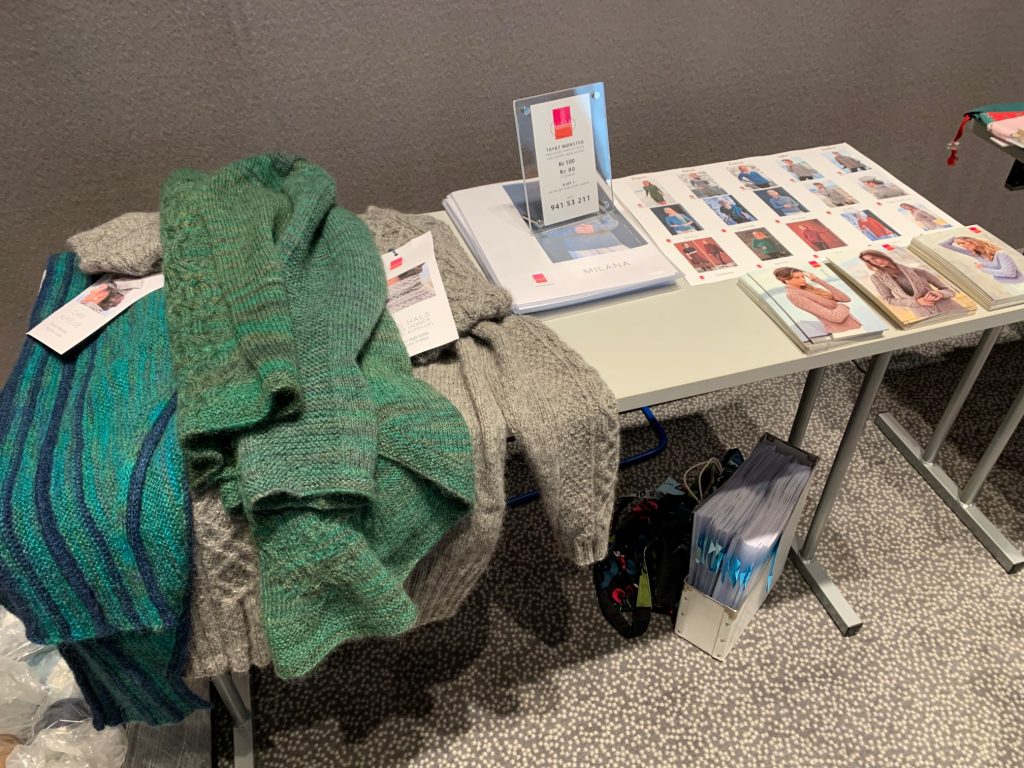 Here you can see my stand, which shows the selection I had brought of printed patterns and some of my sample designs. On Saturday morning it was time for the annual meeting; see top photo, while in the afternoon there were two workshops available to all participants: Steeking without a sewing machine with former Deputy Leader Janne Wie and Ladderback Jacquard with Anne Lau Revil.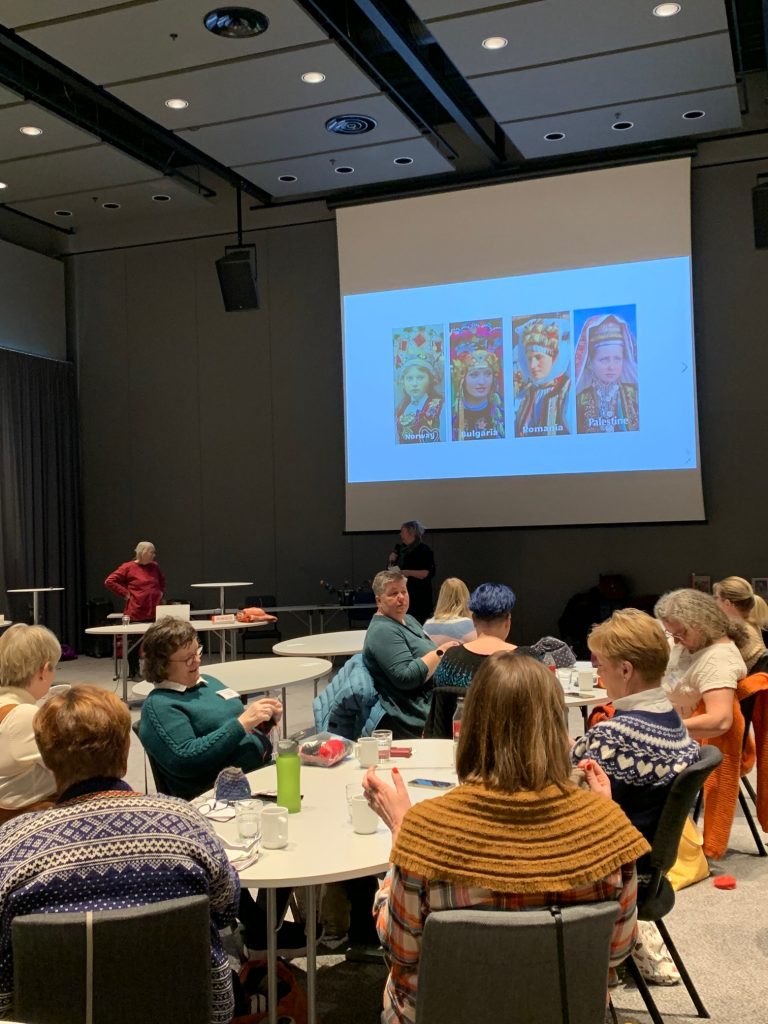 First on Sunday morning was a historic talk by Torridal Tweed – Shoddy factory owner – and author Annemor Sundbø on universal Norwegian knitting patterns. On the screen above you can see the similarities in national costumes from Norway, Bulgaria, Romania and Pakistan. Second was a workshop on Italian cast on and cast off by Tove Fevang.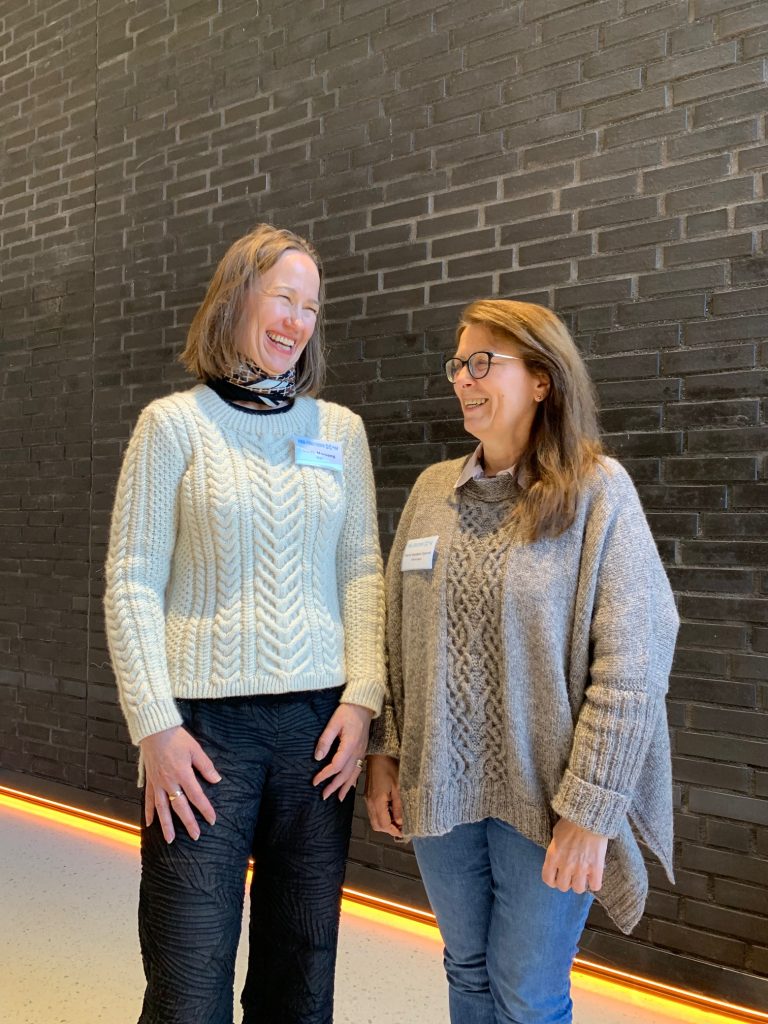 Last but not least I want to share a photo of a Sigrid Gendem Fjørtoft wearing her Iglu and me wearing Nemetona, both my designs. Photographer Geir Arnesen instructed us how to pose and as you can see we had fun. I had a fabulous weekend and want to thank NSF and everyone I met!