Another post on Pelsullgarn just to let you know how serious this addiction has become! And yet I am still knitting on my first design project in it which I have already showed you a photo of (see norwegian-pelsullgarnfurwoolyarn) but what I have not showed you is the Aran Mansjetter/Cuffs from my book "To Rette En Vrang. Designstrikk" knitted in Pelsullgarn by Anette Toft. The yarn is an excellent substitute for Mostly Merino Light Sportweight, used when I knitted the first pair because it has the same feel – without containing mohair – and even more lustre. Here is Anette's fabulous result and photo.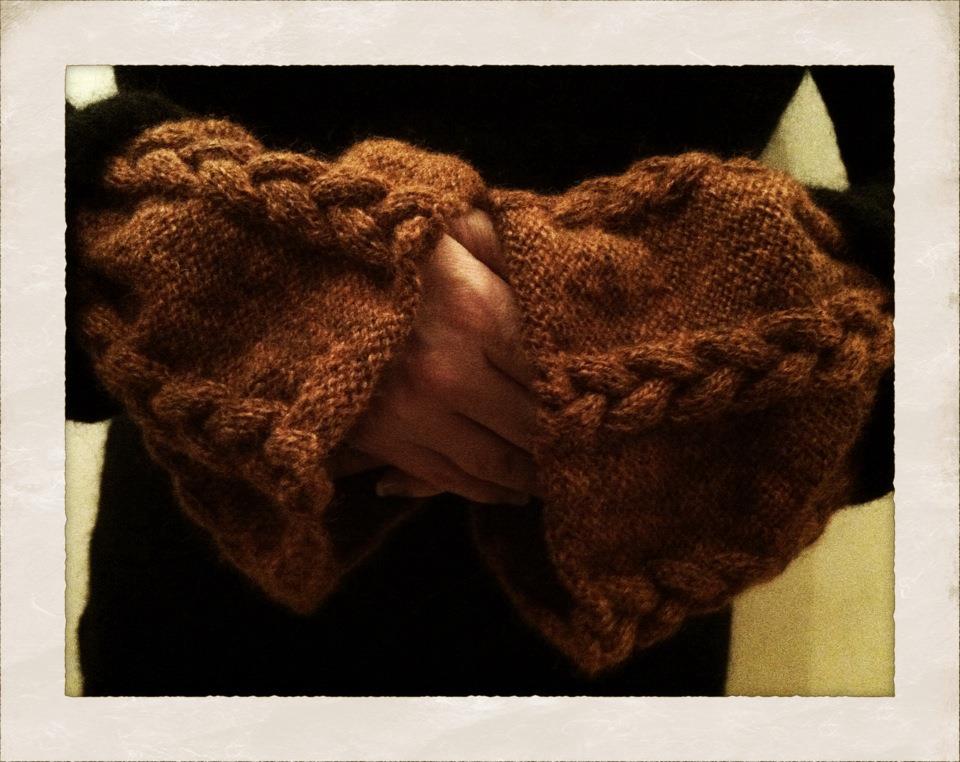 So that you can compare I wanted to show you the photograph from the book. Dancer Cristiane Sa is modelling the large cuffs, inspired by Yamamoto's even larger cuffs, see below. I am afraid there is a mistake in pattern and I apologise; do check my Norwegian book page; the chart shows only the beginning of the round and not the repeat. Mostly Merino Light-Sport is made of 77% merino/fine wool and 23% mohair, 55g/2 oz, 228m/250 yds while Pelsullgarn/Furwoolyarn is 100% Norwegian Furwool, 100 g/3.5 oz, 260m/284 yds both  use a 3mm/US 2.5 or 3.5mm/US 4 knitting needle. Even though the yarn is heavier – it does not contain mohair even though it feels and looks like it does – Pelsullgarn actually knits to the same tension/guage so it can used as a replacement even though you need a larger amount of it.
I know it has been a long wait for some of you, but it is now available online from Hillesvåg Ullvarefabrikk, here is the link ull.no. I have more in my stash and I think you are beginning to understand how excited I am to design a garment in this magnificent colour – not an easy choice since I loved all 12 colours! I will keep you posted on my progress!