Yes, it is finally finished (= FO: finished object) and I am pleased with the result. A straight vest inspired by Haider Ackermann's strict architectonic style and jewel colors. Arcades made by twists and cables, framed by double moss/seed stitch and outlined by an I-cord edge around neck and armholes. The double front adds volume and shape. You can close it as you wish; with a shawl pin, brooch or a belt. Stylish when closed at the top for an asymmetrical look. Using a 3.5mm/US 4, it has been a delight to knit in the newly launched Norsk Pelsull/Norwegian Furwool, a pure wool with a subtle sheen available in stunning melange shades here: ull.no. I am pleased to announce that the pattern has been sold to the Norwegian magazine Familien/The Family and will be published shortly – before the autumn, date to be confirmed. The pattern will be available in English in my Ravelry store (ravelry) a year after magazine publication – in the mean time you can queue it…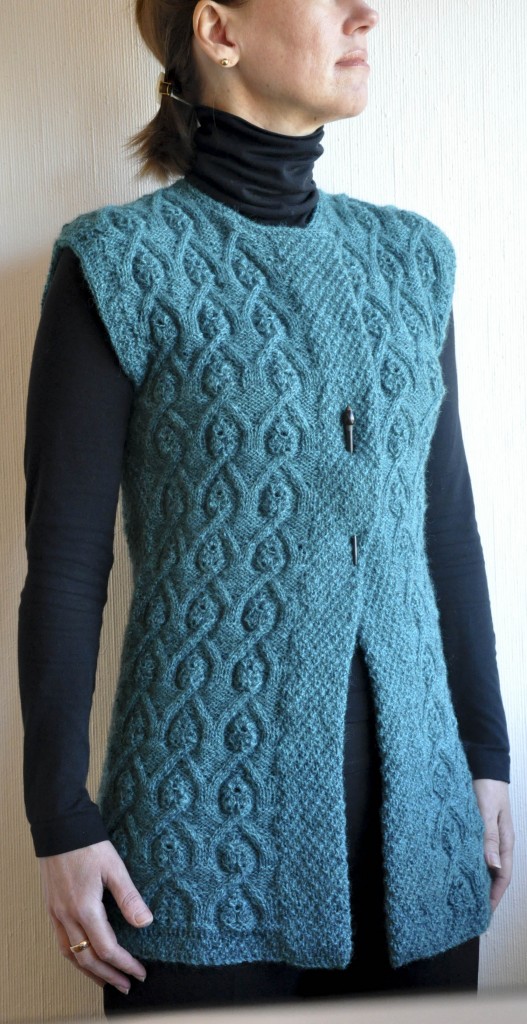 I needed time to consider what type of edge I should chose on this project – see my work-in-progress-wip post. In the end, it was trial and error. Making an edge on a swatch does not always solve the edging issue. I found the double moss/seed stitch edging at the front too flimsy and folded it completely – one of the options I had considered from the outset. The neck, I decided was perfect with an I-cord cast/bind off, for definition and a bit of added volume. I tried the same at the armhole but realised that the armhole needed a bit of shaping in addition so I chose to knit several rounds of moss/seed stitch first with a few decreases and then an I-cord cast/bind off. I considered adding buttons to the front, but prefer to wear it asymmetrical hence I made no buttonholes. A good option would be to add a decorative button – or more – with a snap fastener at the back, I believe.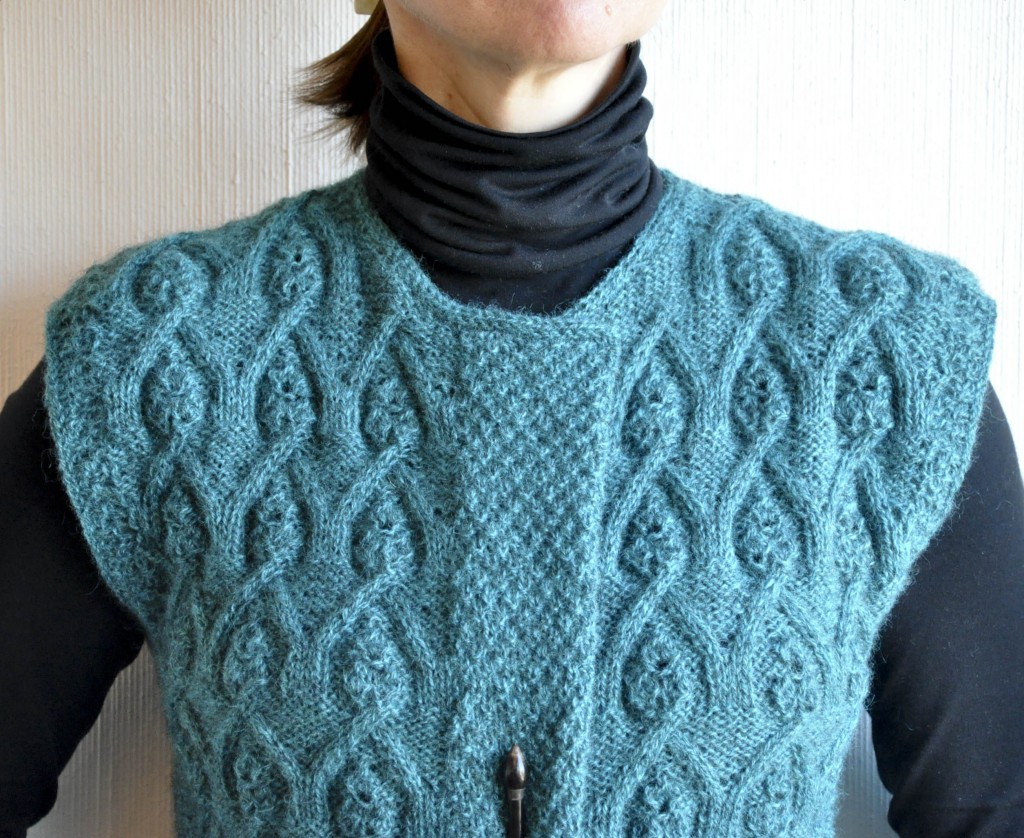 The vest is knitted in one piece, half of each moss/seed stitch panel is folded back as interfacing – knitted together at the top and sewn in place along the WS. The neck stitches are picked up and cast/bind off with an I-cord. While the armholes are similar but worked in the round with a few rows of moss/seed stitch first before the cast/bind off. The arcade pattern – yes, it is from Barbara Walker's second-treasury-of-knitting-patterns – consists of twists, increased and decreased stitches in the middle and is quite difficult to read but does feel like working with lego project: building arcades. It did not take long until I learned the stitch pattern by heart. That is my type of stitch pattern!