I am thrilled to show you how gorgeous Alexandria Eissinger at Pholk looked in my design Saga, a result of my obsession with cross chain link cables with beautiful bespoke buttons by Siri Berrefjord, hair and make up by Sissel Fylling, the stunning faux suede dress is by Judith Bech, the magnificent shoes are by Monica Stålvang, all captured brilliantly by Eivind Røhne at Hvalstrand Bad last October. The Norwegian pattern was part of my Nordic Vintage series printed in Familien Trend in February.
This is my introduction to the pattern: Inspired by the ancient sagas, I have designed a warm jacket with cross chain link cables that prepares you for the battle of the winter or for a cold Northern summer day. The jacket is straight and closed with three large bespoke buttons at the top, with cross chain link cables continuing across the saddle shoulders. The standing collar is a cable knitted separately and attached at the end. I knitted a second loose collar you can use as a belt if you prefer. The vivid melange color and lovely texture is created by holding Rowan Lima and Hifa Norsk Pelsull/Pelt wool together.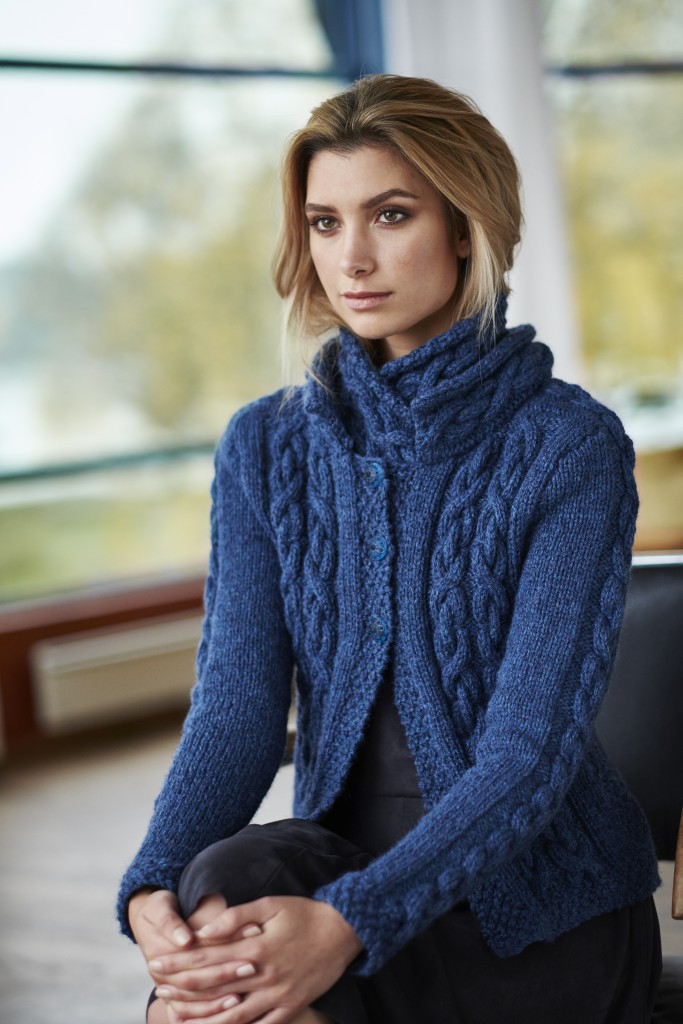 The body of the jacket is knitted flat, while the sleeves are worked in the round with increases in st st. Each cable has been gathered to keep its texture to the end. The Belt/Extra Collar is made in one size but can easily be adjusted to required length and with added snap fastners if desired. I had intended it as a belt but soon discovered I preferred wearing it as an extra collar instead.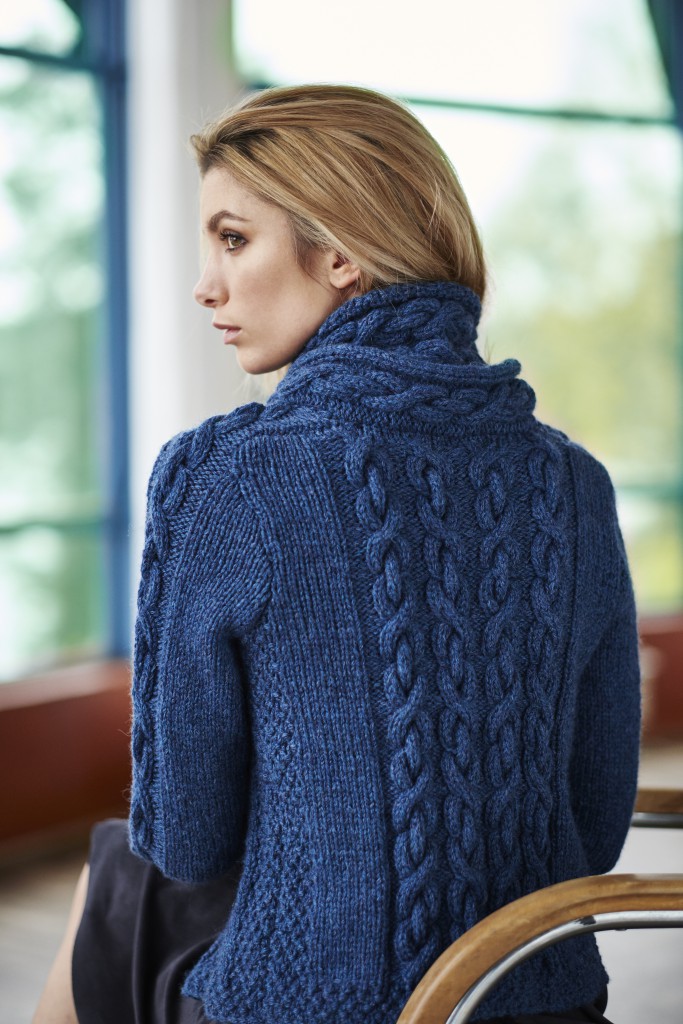 The cables are in three parts and hence requires 2 cable needles, while they are highly addictive they do require a bit of practice before they become easy to make. I love how they pop in this yarn mixture of Rowan Lima and Hifa Norsk Pelsull worked on a tight gauge using 5.5 mm/US 9 the recommended needle size for Lima on its own.
This last photo is one that is not part of the Familien Trend magazine but another one I requested from Eivind. It illustrates the vivid blue color of the combined yarns, as well as showing of the saddle shoulder in all its textured glory. The English pattern will be released after the test knit, which is the next one to start in my Ravelry group. I am so delighted that I have a list of testers who have expressed their interest in taking part.