On Monday, I had a photoshoot at Mortensrud Church in Oslo. Yes, it was the day with heavy snow in Oslo (read: it felt like a whiteout) where the traffic was at a standstill. Only the make-up & hair stylist Erica Poppe, recommended by Jens J. Wiker since both he and Sissel Fylling where busy on other jobs, made it on time arriving by the tube. The gorgeous model Olivia Lindtein, hired on Saturday due to a cancellation, joined Erica shortly afterwards. While the photographer Eivind Røhne, Michael and I came last and one hour late. Anyway, we made it in time and managed to photograph all the ten garments I had brought. No, they are not all new designs; only six are new, three are returned from the UK (Ataraxia in two colours) and the US (Euler Cardigan) plus one old design (Harding Cardigan). Above you can glimpse one of the new pullovers that has a matching pencil skirt made for Hillesvåg Ullvarefabrikk.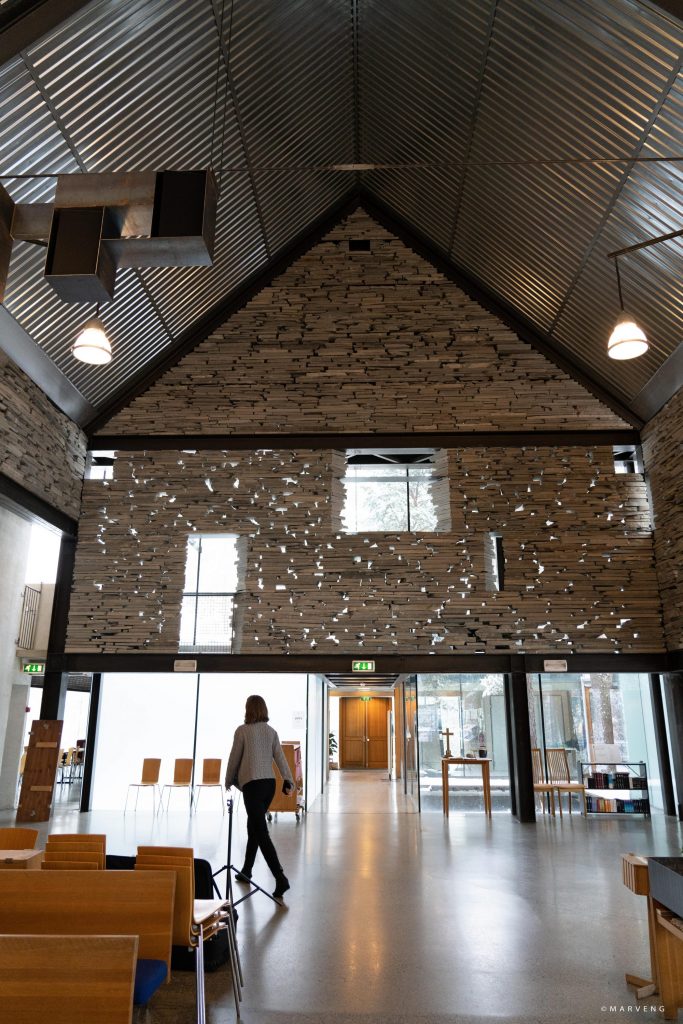 If you are Norwegian reading this and recognise Olivia's surname, I can tell you that her mother is Tove Lindtein and that her Norwegian knitting book "Lindteinstrikk med stil" has recently been published by Cappelen Damm. Olivia and her sister Louise are models in the book and they feature on the cover of the book together with Tove. So I had seen a number of photos of Olivia before I sent the request via Tove. Olivia looked divine in my designs and I loved seeing them coming alive on her!
Michael and I were married in Mortensrud Church back in 2003 and we have been there for concerts as well as for my father's burial in 2005. My mother still lives in the area and had planned to visit us during the photoshoot, but due to the heavy snow she stayed at home.
After I had placed all the designs and clothing on the clothes rail, Eivind and I walked around in the church to discover possible backgrounds. Further above you see us testing one, we did not use in the end. As we found several better than that, while Erica was preparing Olivia's hair and then her make-up. I was wearing my Brewster Cardigan, in case you were wondering. Despite the delay, we took time to sit down for lunch, I had ordered catering from Eckers with juices and smoothies to keep us going, and we finished as we had planned at 3.30 PM, just as the daylight started to go away.
Michael made a behind the scenes video which will be available for all my patrons on Patreon only, after he has edited it and we are back from Barcelona Knits. So if you are interested in learning more about my life as a designer and want to support me, choose your level based on the rewards here: www.patreon.com/lindamarveng.
We had a wonderful day and it was a magnificent photoshoot! Thanks to my brilliant team! I look forward to showing you the new designs – I still need to finish off those patterns – as well as selecting from Eivind's photos!