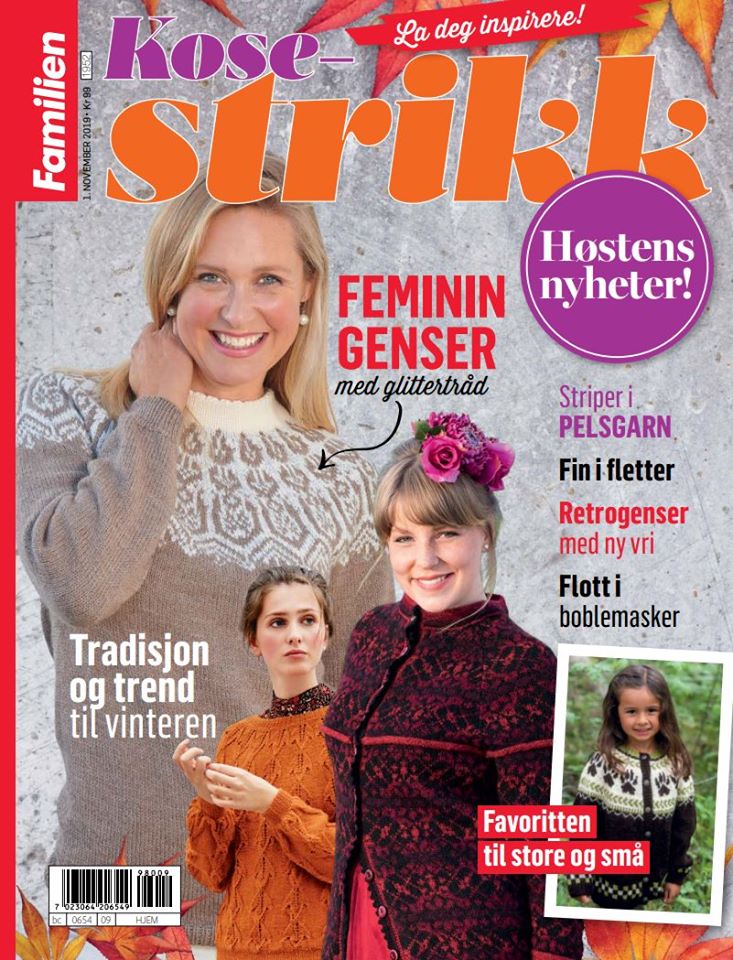 The Norwegian magazine Familien has just published another special issue on knitting called "Kosestrikk"/Cosy Knitting and it landed in my postbox the day before we went to Geilo for the Knitting Weekend! That was perfect timing since it has one of my designs featured in it and I had planned to wear my Ena going to the mountains. The pattern pages have two full page photos of Emma Ross, with hair & make-up by Sissel Fylling and jewellery by Kaja Gjedebo Design, taken by brilliant photographer Eivind Røhne at Bøler Kirke/Church in Oslo.
Ena is Celtic for fiery. As you need to be passionate about cables to make this jacket. The woven cables lean towards the left and the right hence the spine has been accentuated with a twisted stitch at the center back and along front opening. Ribbing in the sides make the jacket appear casually fitted. The collar in rib can be worn open or closed and folded over. Ena is knitted in the rustic Acadia with silk noil from The Fibre Co.
The jacket is made in pieces and seamed for the best possible fit. I have graded the jacket in sizes XS to 2XL with a finished bust circumference of 84 to 124 cm/33 to 48.75″ circumference. Em is wearing size Small which measures 92 cm/36.25″ with 6 cm/2.25″ positive ease. The gauge is 21 stitches and 30 rows in stockinette stitch using 4 mm/US 6 needles measures 10 cm/4" square.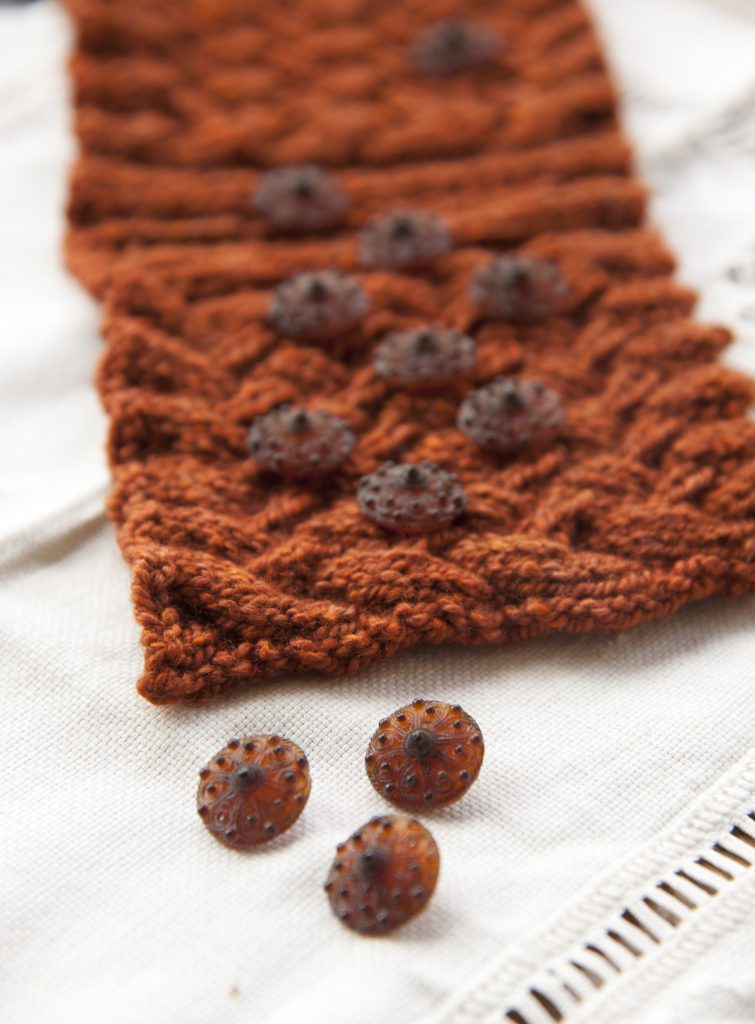 The bespoke buttons are like small pieces of jewellery and hand-made by Siri Berrefjord. Above you see one of the photographs of them, taken by Siri herself. See more details about those buttons in this blogpost: Ena Buttons By Siri Berrefjord.
The English pattern is available on LoveCrafts and on Ravelry to download, while the Norwegian pattern is only available, printed in "Familien Kosestrikk". The special issue Familien magazine is available at selected news agents and super markets. If you are in Norway you can buy a digital version for iPad, see www.klikk.no. If you live abroad you can order the Norwegian special magazine by e-mailing kari.bachke@egmont.com and then transfer payment into their bank account.