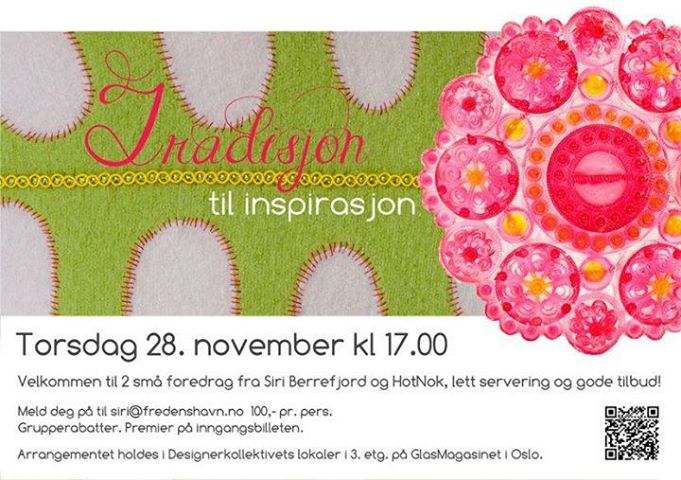 Such a perfect way to spend an evening! I was encouraged by Makeløs/Remarkable stylist Kristin Elise Halkjelsvik, see bakketunet, to attend an evening with two small presentations by talented jewelry designer Siri Berrefjord of Fredenshavn and knitwear designer Thea Glimsdal Temte of HotNok/Hot Enough tailored clothing in colorful felt. Their topic was how tradition, folk costumes in particular, had inspired them to design the marvelous items they do. We were a small but dedicated group that had turned up at the Designerkollektivet/Designer Collective at Glasmagasinet in Oslo, accompanied by two fiddle players to transcend us into the right mood, we were seated among rails of discounted clothes by HotNok and discounted jewelry by Siri Berrefjord. The temptations proved too large for some, including my friend Kristin… After two talks both we were all filled with inspiration, and the need to create ourselves. While we chatted and studied all the offers, delicious home made cinnamon swirls, fruit, gingerbread cookies – Christmas is coming – chocolate and drinks were presented to us. The entrance fee ticket resulted in a magnificent draw with the possibility to win a pair of stunning earrings or a mixed bag of felted wool remnants. Two lucky winners went home even happier. I had to ask if Siri had considered making buttons, and to my delight she has already done so and would gladly special make some to order for me, all she needed was a yarn sample. At that point I lost my bearings and my head started spinning with ideas!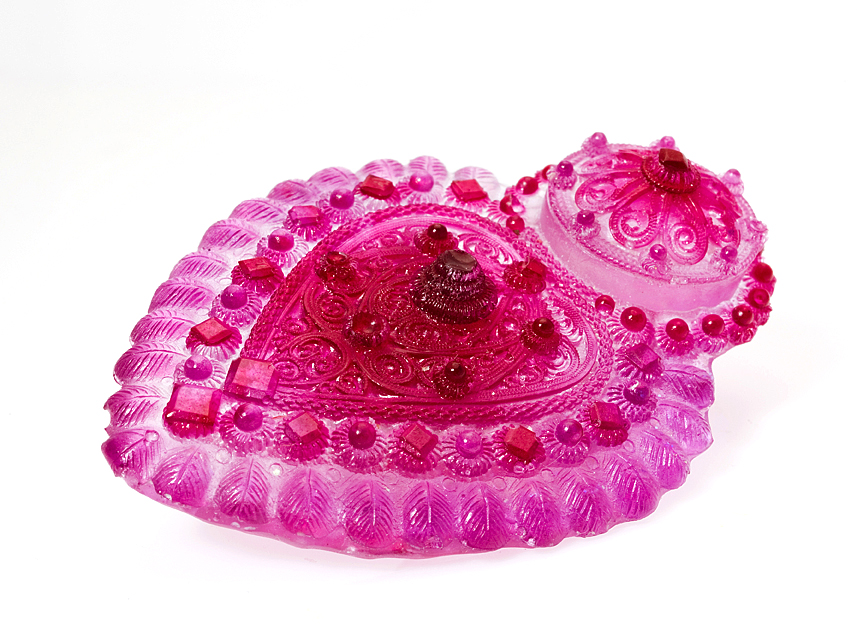 First out was Siri who talked about her changing career from a photographer of antiques to a jewelry designer inspired by the very same antiques she used to photograph but with a very modern and trendy touch cast in colorful plastic. Siri transforms the traditional brooches and earrings into playful everyday accessories taking them into the future. See above, photographed by Siri herself, for an example of her brilliance, none are identical to each other of the brooches, as she paints with the different layers of colors on top of each other. Not exactly knowing what the outcome will be, but willing to leave it to chance with a strong gut feeling it will be magnificent. And of course she is right! You will find her jewelry for sale at Designerkollektivet and at her Norwegian online shop here: epla.no or contact her by e-mail: siri@fredenshavn.no.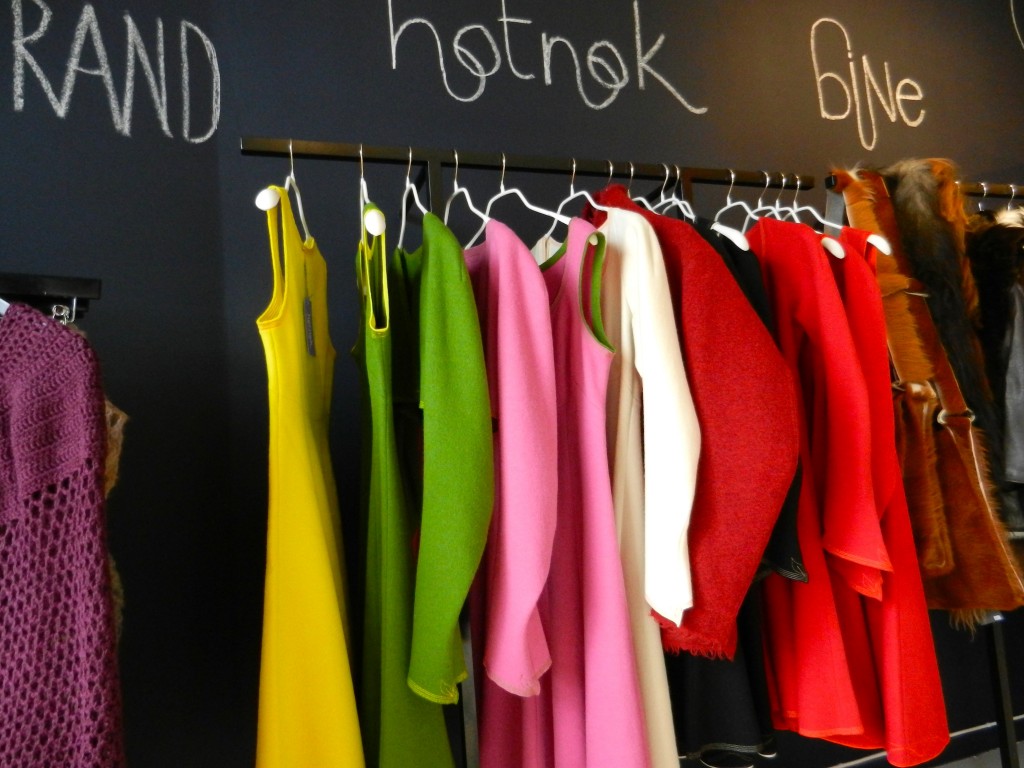 Then Thea Glimsdal Temte continued and showed us photographs of folk costumes, and talked about how they have inspired her. She is a tailor by trade who has become more relaxed in her approach to design than her education allowed her to be. Felted wool in bright colors is her material, with a good cut, and small playful finishing details like a seam in a contrast color or an edging in a contrast material, see photo above from the Designer Kollektivet. Thea has specialist knowledge on historic textiles used in folk costumes, and is often contacted by the Norsk Folkemuseum/Norwegian Folk Museum who needs her expertise in fabric restoration. In addition to her collections, for sale at Designer Kollektivet and Norwegian online shop: miinto.no or contact: thea@hotnok.no, Thea custom makes dresses. One woman had seen her Huldra Dress – after the seductive forest creature in Scandinavian Folklore with a long tail, see wikipedia – a long cream coloured long A-line dress with buttons at the front and a tail, and wanted one. The customer did not want Thea to make her a new one, but was happy with the photographed one, since she wanted to use it the very next day for ice-skating so bought the very dress with that purpose in mind. Fairytales do come alive in all senses of the word.