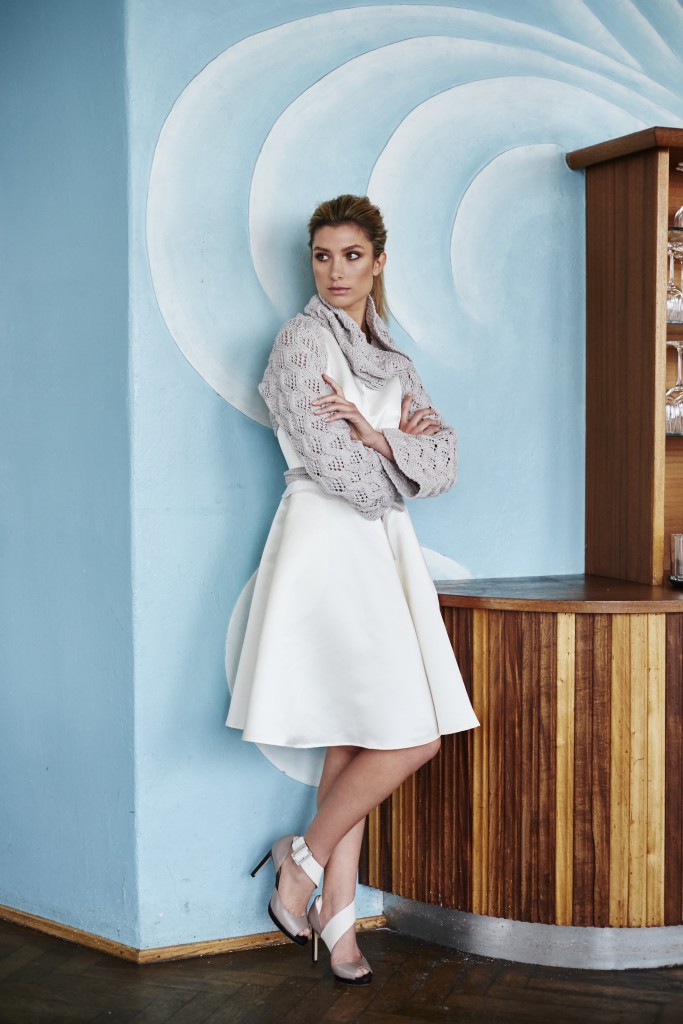 I loved this silk dress by Judith Bech the moment I lay my eyes on it at the Designer-kollektivet in Oslo. So I had to include it in our Nordic Vintage series. I designed a shawl, a cowl and a belt knitted as a hem, and called the pattern Honeysuckle after its lacy stitch pattern. It still felt like a revelation seeing the dress, with Honeysuckle and fantastic shoes by Monica Stålvang, worn by gorgeous Alexandria Eissinger at Pholk with hair and make up by Sissel Fylling, brilliantly captured by Eivind Røhne at Hvalstrand Bad. The Norwegian pattern was published in Familien Trend in February.
Honeysuckle is knitted in Rowan Softknit Cotton, a very well fitting name indeed, since it is made of 92% cotton and 8% polyamide and of a cable structure in 50 grams balls with 105 meters/115 yards put up, using a 4.5 mm/US 7 needle. The shawl can be buttoned into a shrug. Like Honeysuckle the shawl is equally beautiful on both sides. Wear it with a cowl as a collar and a stylish belt in Stockinette stitch. The belt can either be tied or pinned together with a stunning brooch.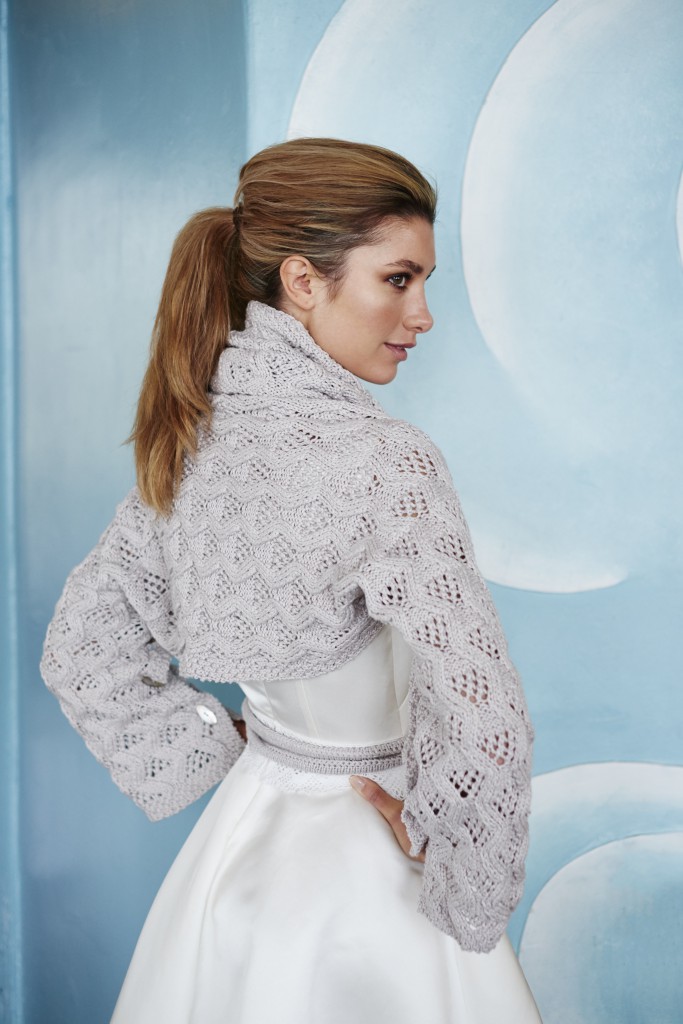 The shawl is knit flat and the cowl is knit in the round. You can easily adjust the width of the shawl and the circumference of the cowl by removing or adding pattern repeats of 16-sts. Eyelets in the lace pattern is used as buttonholes. The belt is designed to wrap twice around the waist and then be tied. It is worked like a hem in Stockinette stitch and cast on using two circular needles held parallel. Adjust the length of the belt by measuring your waist and add preferred tying length. The English pattern is currently being test knitted in my group on Ravelry and will be released when it is complete. Now, there is only one more design you have not seen professionally photographed and that is Hennika, coming up next.