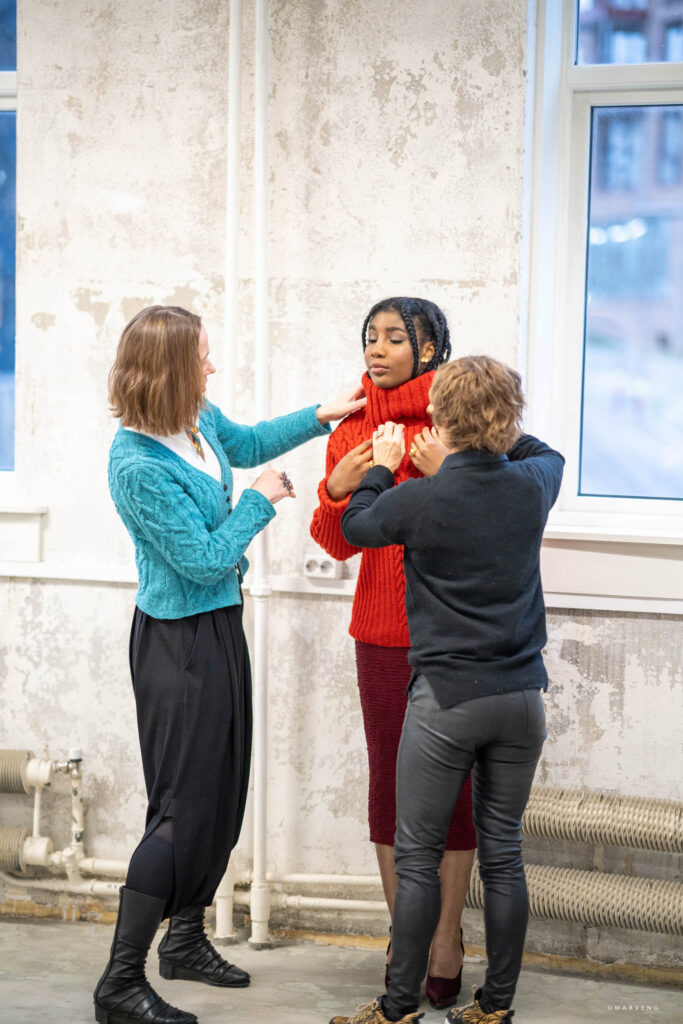 Yesterday, I had another fantastic photoshoot this time at photographer Wenche Hoel-Knai's old studio at Ensjø in Oslo. The plan was to photograph six new designs and two old designs, in addition I also wanted Make-up & Hair Stylist Janne Skarpeid Hermansen to work her magic on me as I need new portrait photos. It was a very cold morning when Michael and I left Ørje and drove to Oslo, early in the morning. Model Emmalin Williams, who lives in Oslo, came shortly after us. Above you see us in action, I am wearing my Gyda sample knitted in Hillesvåg Ullvarefabrikk, Ask, while Emmalin is wearing the new Ime design also knitted in Ask and Janne is helping adjusting the cowl.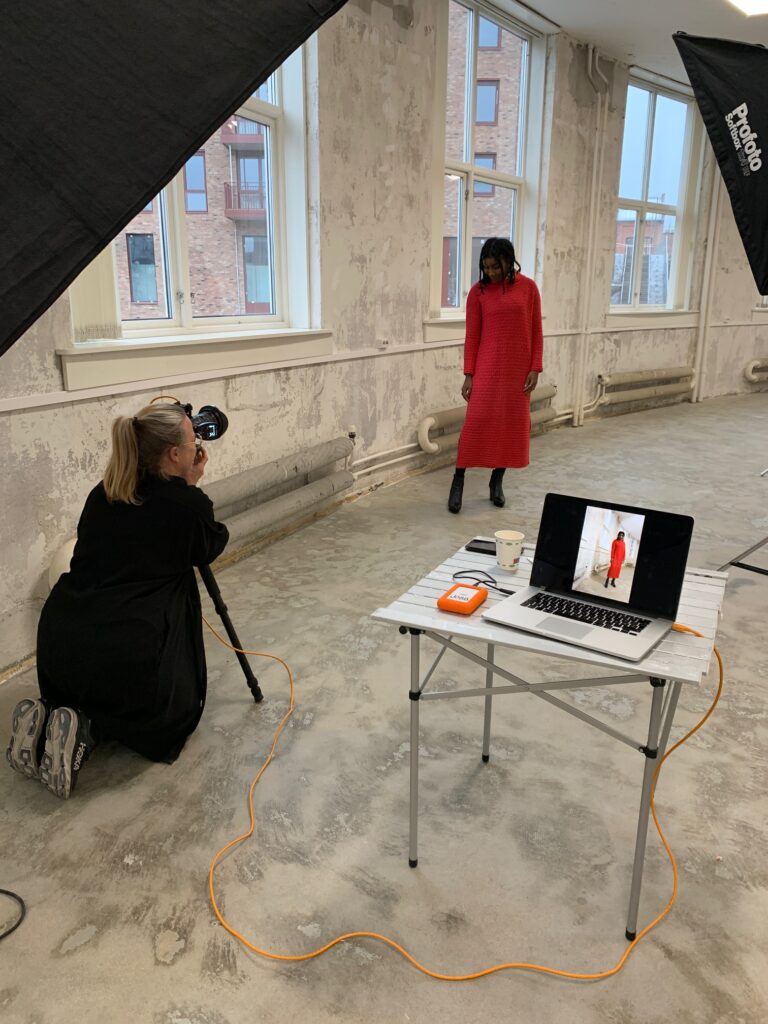 Wenche's old studio was huge with rough walls and flooring finish. She moved out at the beginning of November but was able to rent it for a day for our shoot. Wenche had to bring tables, chairs and a sofa as the room was completely empty. Above you see Emmalin wearing the new dress – Celie – also made in Ask for Hillesvåg Ullvarefabrikk. Wenche had connected her camera to the laptop so that we could see the photos as she took them in the Adobe Lightroom program. Perfect for Janne and me so that we could check the details of both the garment and the make-up.
The two old designs I want new photos of were the Lattice Back Jacket and the Arcade Vest. Above you see a fun photo of Emmalin wearing the Arcade Vest knitted in the gorgeous Tinde pelt wool by Hillesvåg Ullvarefabrikk, that my husband took! It was photographed for the first time back in 2013 on dancer Francesca Golfetto by Kim Müller.
This time I had ordered lunch from Happy Foods at Majorstuen in Oslo and the delivery van driver found us just in time for our break. We had another five designs to photograph after lunch so we continued using the sofa that Wenche had been able to rent for a day from a second hand shop. Above you see Janne changing Emmalin's hairstyle and make-up for the third new design for Hillesvåg Ullvarefabrikk, the vest Balika. I look forward to showing you the new designs and more photos from this shoot! I want to say thank you to my brilliant team!