The next and the last in the series of new designs is Grian made in The Fibre Co. Cumbria in their new colour Threlkeld. Named after the Faery Goddess from County Tipperary, is this pullover with heavy cabled texture. Grian means sunny, from her days as a regional sun deity, perfectly suited for this pullover. Honeycomb and stag horn cables adorn the body, while only honeycomb rule on the sleeves. Grian is slightly fitted with a crew neck and has a high cowl as a collar. The Fibre Co. Cumbria make the cables pop and allow the texture to shine in all its glory.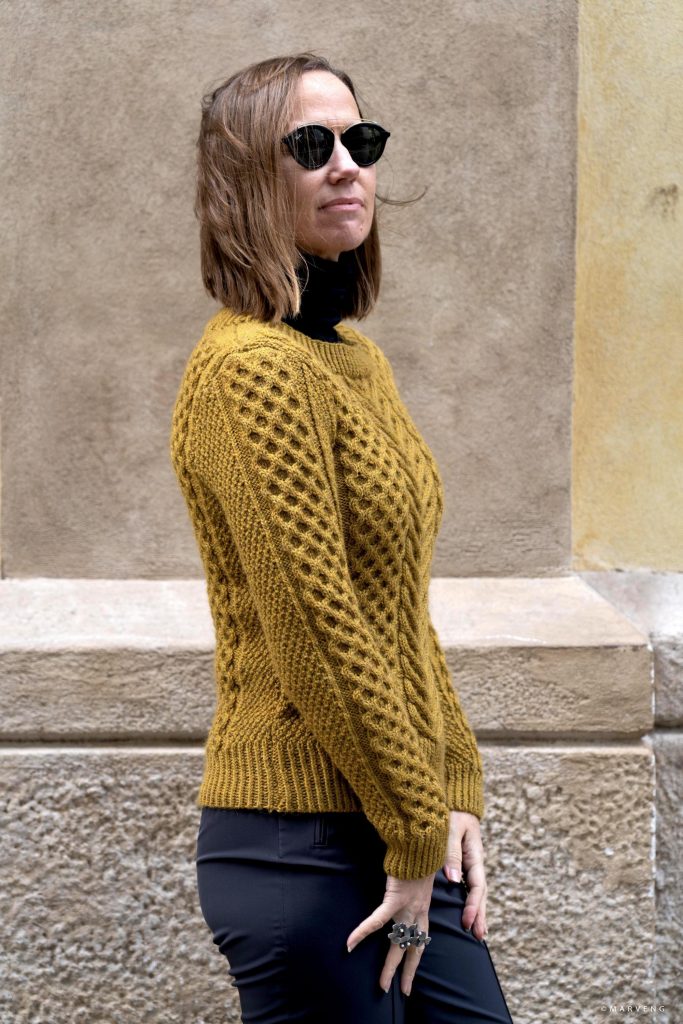 I had the idea for a fitted pullover with Honeycomb and stag horn cable, so I sent a yarn support request to The Fibre Co. which they approved. I knitted the pullover back and forth in separate pieces and crocheted it together. The sample is knitted in size Small, measuring 92 cm/36.25″ and in these photos taken by Michael in Barcelona you can see me wearing it with 4 cm/1.5″ positive ease. I have graded the pattern in sizes XS to 3XL, with a bust & hip circumference of 84 to 132 cm/33 to 52″.
The Fibre Co. Cumbria is made of 60% merino wool, 30% masham wool, 10% mohair and comes in 100 gram skeins with 218 meters/238 yards. I knitted it with the gauge of 20 stitches and 28 rows in stockinette stitch using 4 mm/US 6 measures 10 cm/4″ square.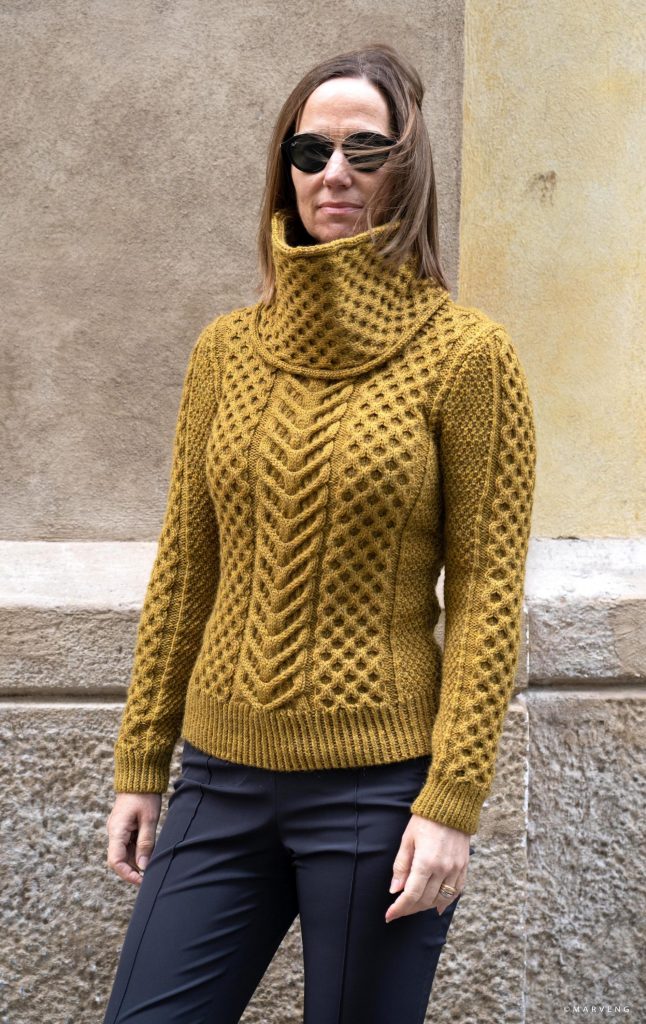 I also wanted a large cowl to go with the pullover. Especially since I could not decide want collar I wanted for the pullover.
Before I release the English pattern of Grian I will have a test knit in my Ravelry group, beginning on the 20th of April. I look forward to showing you the photos Eivind Røhne took of this pullover worn by Olivia Lindtein.