My mum asked if I wanted to come with her on holiday to Southern Europe, and I could not refuse. After speaking to our friend at Ving, we decided it had to be Parga, North West Greece this time around. I had a long list of potential places I would like to go and Parga, was quite high on that list. In my youth, nearly thirty years ago I worked as a tour leader at Crete. So much has changed but some things are reassuringly the same like the good service and the food. The beach promenade view is breath taking. We are staying at a small family run apartment hotel called Sandras Studio's in the centre. Parga has approximately 3 000 inhabitants and numerous tourists in the summer season. Yet, the number of Greeks holidaying here and the Greek inhabitants make it a charming and idyllic place to visit.
The large beach in the centre is quite crowded and I had been recommended to take a boat to a nearby beach, by my hairdresser. She is one of several friends that keeps coming back to Parga. N0w, I know why. I have got used to travelling by taxi boat, and must say I wish I could continue to do so.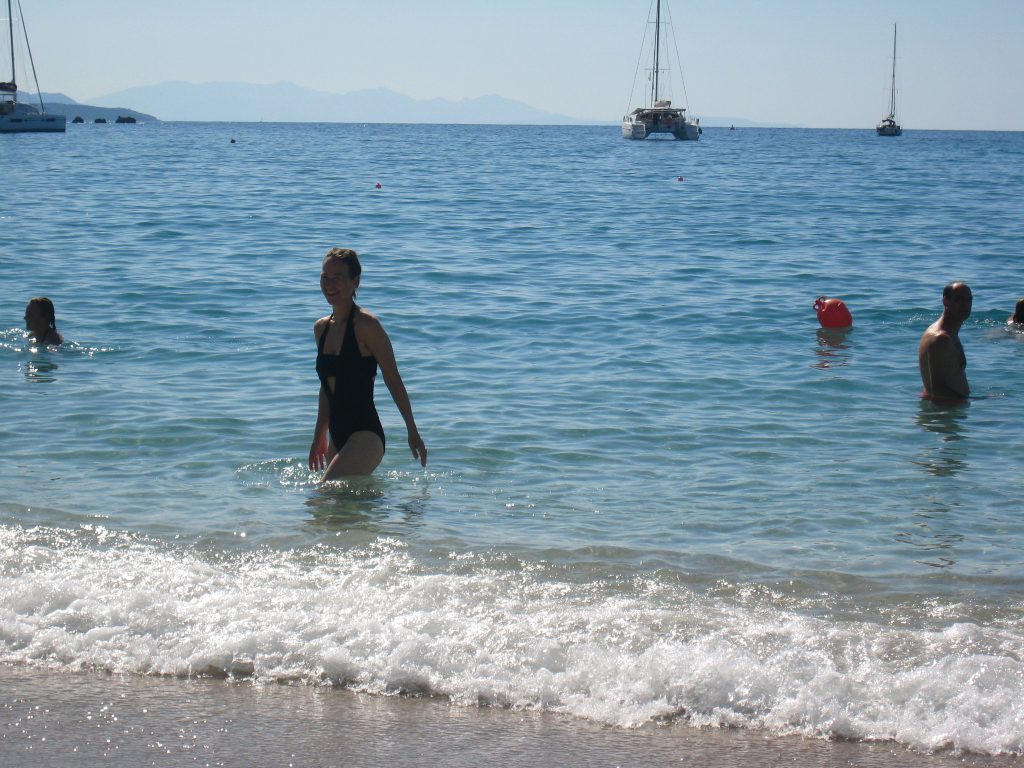 We chose the closest and longest beach, called Valtos Beach, which is in walking distance but due to the climb, we choose the taxi boat. A very good choice, indeed! Here I am photographed by my mum at the beach. The water is lovely, both in temperature and clarity.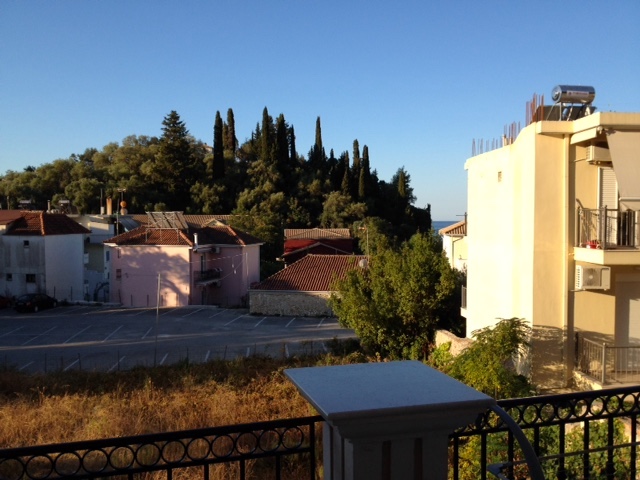 Our flat had a terrace with shadow in the morning and the late afternoon, which was perfect for us. Ideal for our breakfast and recovery after the beach. It also had what seemed a very Greek view with a very limited sea view. The family running the hotel was lovely and came to meet us as we arrived by coach from the airport.
On our first day in Parga we went on a town walk and received a number of tips what do do and where to go. We decided to take the small tourist train to the Ali Pasha Castle, 400 meters above sea level with a fantastic view of the town. The view was magnificent from ruins of the old castle. Even the trip up the hill was worth the one hour  journey from the town centre.
Here is the view towards the island of Corfu. As you can see we went up on a fairly cloudy day, the weather forecasted was rain but we did not have any rain during the day. It started raining late in the evening.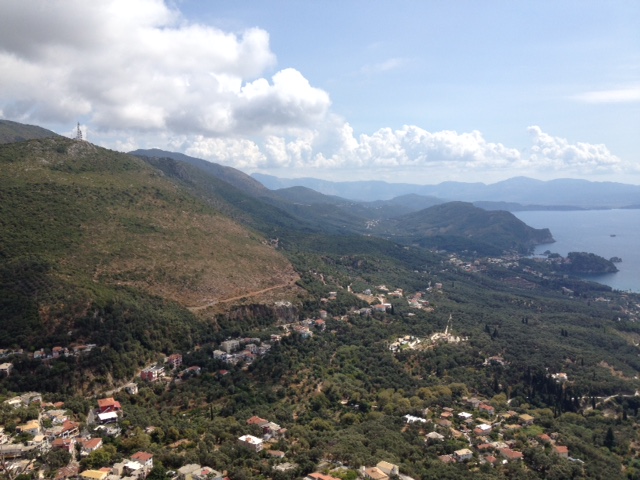 It was hard to capture the amazing views from the castle, but here is another view showing some of the hills. This train ride was just one of several exciting excursions. I was tempted by all of them: Albania (Sarandë), Corfu, Paxos & Anti Paxos, Meteora Monasteries. I think I just have to come back. 
We found a Spa at Bacoli and guess what, the Spa Manager was Norwegian. She spends the summer here and the winters on vacation (read: a very smart woman). While my mum had her Deep Tissue Massage and Pedicure I waited in the Pool Bar – I know it is a hard life! Before it was my turn to become realigned and reassembled, at least that is what it felt like. The new versions went happily back to our apartment. I have to keep wearing my sandals when I get home, together with my woollen sweaters! We are having a great time in Parga and enjoying our holiday! Greetings from Parga, Greece!