Yes, I am excited to tell you that Elsebeth Lavold and her husband Anders Rydell came to visit us last week. They were going on holiday, driving from Stockholm and past our house to Kongsberg. Elsebeth wrote me a message on Facebook saying it was an opportunity for us to meet in real life. I could not let this opportunity pass me by since I have been admiring Elsebeth ever since she published her first Viking Knits book back in 1998 (see below). I did ask her to bring me a few balls of Elsebeth Lavold Yarns, actually the two most popular yarns: Hempathy and Silky Wool if possible. Guess what, she brought me four whole bags of yarn, one in each colour plus a skein of a new yarn. Thank you so much, Elsebeth! I have been in yarn heaven since then, and wanting to do nothing else than try out those new yarns. Only my work commitments have stopped my from doing just that. Elsebeth knew too well that a few balls would not take me very far… In the picture above she is wearing Grainne knitted in LinSilk.
If you, like me, have wondered what nationality Elsebeth is and indeed what country she lives in, I can reveal the following: Elsebeth is half Norwegian, half Danish and lives in Sweden. Yes, she has also lived a number of years in the US and is a Norwegian citizen. Elsebeth spoke fluent Norwegian, Swedish and American-English so I could not guess her mother tongue from our conversation. It all made sense when she told me that she studied linguistics at University. Anders Rydell is the Swede. He is a former musician and song writer turned graphic designer & photographer to assist Elsebeth in her design work.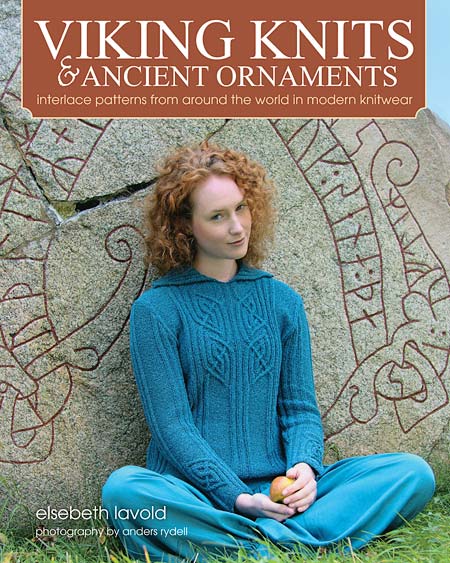 Now, back to the Elsebeth Lavold Yarns. They are distributed by Knitting Fever in the US and will soon be coming to Europe. Who will be your Scandinavian agent, I asked and was not surprised to hear that Thomas Kvist and his company House of Hobbies will distribute her yarns. You know I used to design for him and have also done translations for some of the other yarn companies he now represent. It is a small world at times. Elsebeth presents herself like this online: "I'm absolutely passionate about all aspects of knitting. My claim to fame is having translated Viking Age interlace patterns into cable knitting and
documented them in a travelling exhibition and five books. This has led to my own
yarn line, Elsebeth Lavold Designer's Choice, supported by pattern books. All in
collaboration with my husband, co-worker and playmate, Anders Rydell." Above you see her latest hard cover book, which I wrote about on my blog: Viking Knits & Ancient Ornaments. Elsebeth has written another 26 books with her designs, so do take a look at her impressive designs here on Ravelry and follow her blog. I am thrilled that Elsebeth admires my work, especially since I find hers unique. Michael and I had such a fantastic time together with Elsebeth and Anders. We hope to see them again!
SaveSave
SaveSave
SaveSave
SaveSave
SaveSave
SaveSave
SaveSave
SaveSave
SaveSave
SaveSave
SaveSave
SaveSave
SaveSave