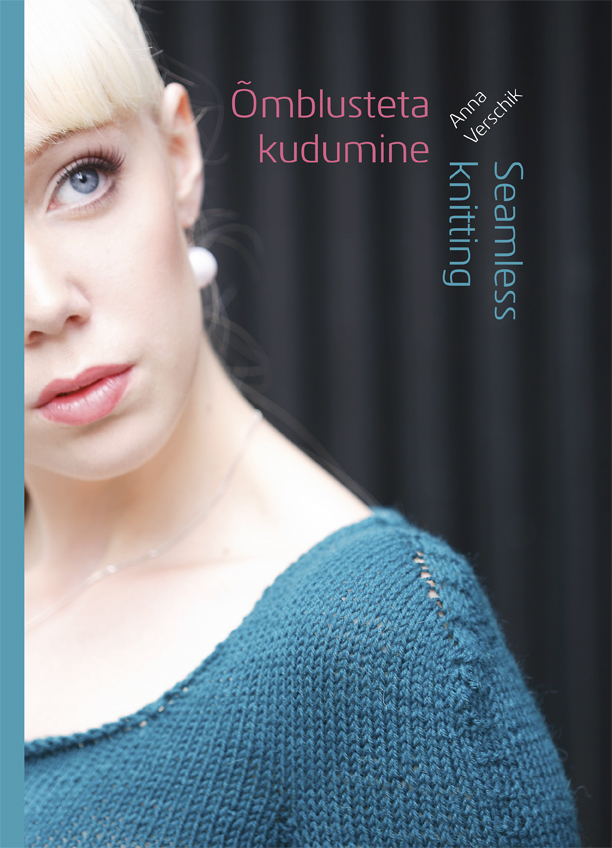 I have been waiting impatiently for this beautiful book to arrive from the Apollo Bookstore in Tallinn, Estonia. Anna Verschik is a linguistics professor, and an avid designer with her own blog; "kuduja" which means knitter in Estonian. It is fascinating reading, as you can imagine. Well, finally her book arrived: and I am ever so pleased to be able to study it in detail, especially the brilliant chapter on constructions. As Anna says in her introduction: "My knitting is guided by three keywords – construction, proportion, intuition." She favors top down but also works sideways, or even combines the two. When it comes to proportion everyone knows what suits them, and what a suitable length is, especially easy to test when knitting top down, claims Anna. Quite often our intuition prompts whether a garment is suitable for you or not or whether a style is worth trying. "Quite naturally the knits in the book reflect my taste because I have created them. My style balances on the edge of minimalism, stitch patterns and adornments are not plentiful – I am always careful not to overdo it. However, if you like colourwork, busy patterns and rich style, this does not prevent you from trying out the constructions described here. The patterns in this book are meant as an illustration, and not a goal in itself. You can immediately pick a knit you like and make it. But before that I recommend that you read the read the overview of constructions that I have used." There are 14 trendy patterns, all in size S to XL with generous charts, knitted using from a 3 mm/US 2.5 to a 5.5 mm/US 9, some with negative ease that stretches when worn while others with positive ease. See all of Anna's gorgeous designs here: Ravelry.com/designers/anna-kuduja.
I was keen to see the rest of the pullover on the cover, and was very pleased to look at all the artistic photos on this website: siimvahur. Real Green is a sweater with a large neck opening and a central lace panel, knitted to be worn with negative ease. The pullover is knitted top-down and the pattern is easily divided into steps with clear instructions. The yarn used is Jil from G-B Wolle, 100% wool, 50 g/125 m, using 3.5 mm needles. Anna recommends "using several pairs of circular needles so that you can try on the garment as you go."
Black glitter is a mohair and cotton-rayon blend top with positive ease, and a perfect example of how Anna's minimalistic yet trendy style. Three yarns are used, but only two are held together at the same time to make up the strips: Rowan Kidsilk Haze (70% kid mohair, 30% silk, 25 g/210 m), Glitter (thin glittering thread suitable for embroidery or sewing) and Katia Brisa (60% cotton, 40% rayon, 50 g/125 m). The top is knitted using 4 mm, several pairs of circular needles are recommended for trying on, as it is knitted top-down.
Two in one. "Knits with the same construction and stitch pattern but made from different yarns. Gauge in width is the same in both yarns, which yields two-in-one effect." Both the sweater and the top (sleeveless) are knitted sideways. Photographed here is the sweater knitted in a multicolored Aade Long 8/2 (100% wool, 100 g/400 m), using 3.5 mm needles. Anna is one of four designers in the Artemis Adornments Group on Ravelry, where she runs her test knits and knit alongs. You will find her there as "kuduja", do join her!