Does the name sound familiar? Yes, Nina is nearly ready to start on project no 4 from my book and this is her Milanese Lace Shawl knitted in the original yarn Wollmeise Lace in beautiful shades of brown called "Tollkirsche". The tension is looser than the original making the shawl wider, covering her back which she is exactly what she wanted and with lesser repeats. Again, Nina knitted a small piece in stocking stitch to make covered buttons to match the shawl. She prefers wearing the rectangular shawl buttoned up as a shrug, see above. You can find more photos on her blog: fiberandart. The pattern is available in Norwegian in my knitting book "To rett, en vrang. Designstrikk" (and Finnish: "Nyt neulomann!") but also in English to download from Ravelry: stores/linda-marveng.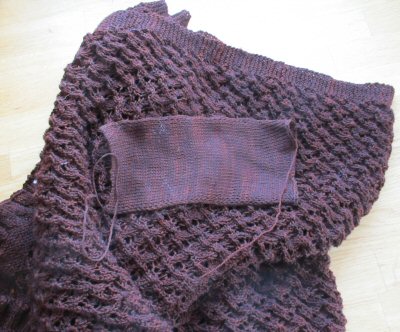 Nina, aka FiberAndArt on Ravelry, is one of my two group moderators together with Jane Brindley, aka JanieB, and she is currently test knitting Summer Leaves Sweater (here are work in progress photos: fiberandart), so I can promise you more photos to come. If you want to join us on Ravelry, we are here: groups/linda-marveng. Another Milanese Lace Shawl I am excited to see, is Karen's, aka Sweaty Knitter who is using Anzula's "Cloud" in a divine blue (100 g, 575 yds/525 m). Cloud is one of the alternative yarns I suggest in the pattern and is made of 80% superwash merino, 10% cashmere and 10% nylon. Do read Karen's blog post: marvengs-milanese-shawl-road-trip-project. I was thrilled: "Not only do her patterns evidence careful attention to detail, but her designs make sophisticated garments that are equally at home with a pair of jeans or the favorite outfit you put on when you need a bit of a boost." Below is the stunning Anna Pfeifer photographed by Kim Müller illustrating the different ways you can wear the shawl.
I also wanted to share crime writer Val McDermod's posting on The Guardian: "Don't disrespect Julia Gillard – knitters are not to be messed with. We knitters wield a lot of power with our needles and yarn. My own knitting career began with an act of defiance and now I have graduated on to the hard stuff… My latest adventures in knitting involve translating patterns from Norwegian. Because knitting in English is for wimps." Read the full article here and enjoy: guardian!