Last Friday, I went to the Crafts Market in Oslo. There were ads in the national newspaper stating the 3 days, opening times and location. But I had already received first hand information here on my blog, from the two designers; Rita Nylander and Anne Grut Sørum behind the brand Duodu, whose book I reviewed and love! Here is my post, if you missed it: duodu. I could not miss the opportunity to meet the talented duo from Trondheim – they were lovely – and see more of their collection close up. Obviously, it did not disappoint, and received a lot of attention from visitors to the market.
The yearly market, established in 1970, represents designers and artists who work with Glass, Ceramics, Metal and Textiles. For a full list of deltagere/participants and more photos, see here: kunsthandverksmarkedet. The number of participants has increased from 20 to 100, in addition to the permanent studios at the back which you can visit. The central and historic location, behind Oslo Cathedral, in an area called the Bazaar Halls built in the years 1841-58 by famous Norwegian architect Grosch has contributed to the growth. Out of view are the restaurant and cafes inside the Bazaar Halls, do look at these photos: visit Oslo.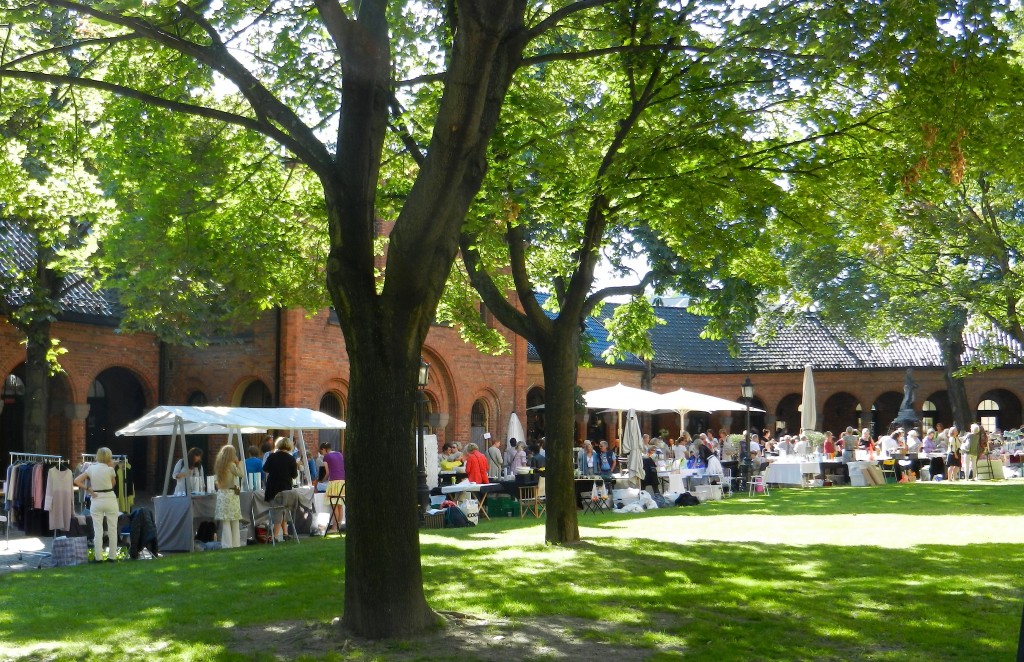 The weather was perfect as you can see, and a lot of people came to see, admire, talk to the artists themselves and to buy. I, on the other hand, only had a brief look after meeting Duodu, because I was delighted to have the chance to meet Sandra, one of my Ravelry friends, who flies for a living at the Radisson Blu Airport Hotel at Oslo Gardermoen. Meeting a fellow knitter, especially one with the same design and project preferences, is always a treat! I had a marvelous lunch there, thank you Sandra!