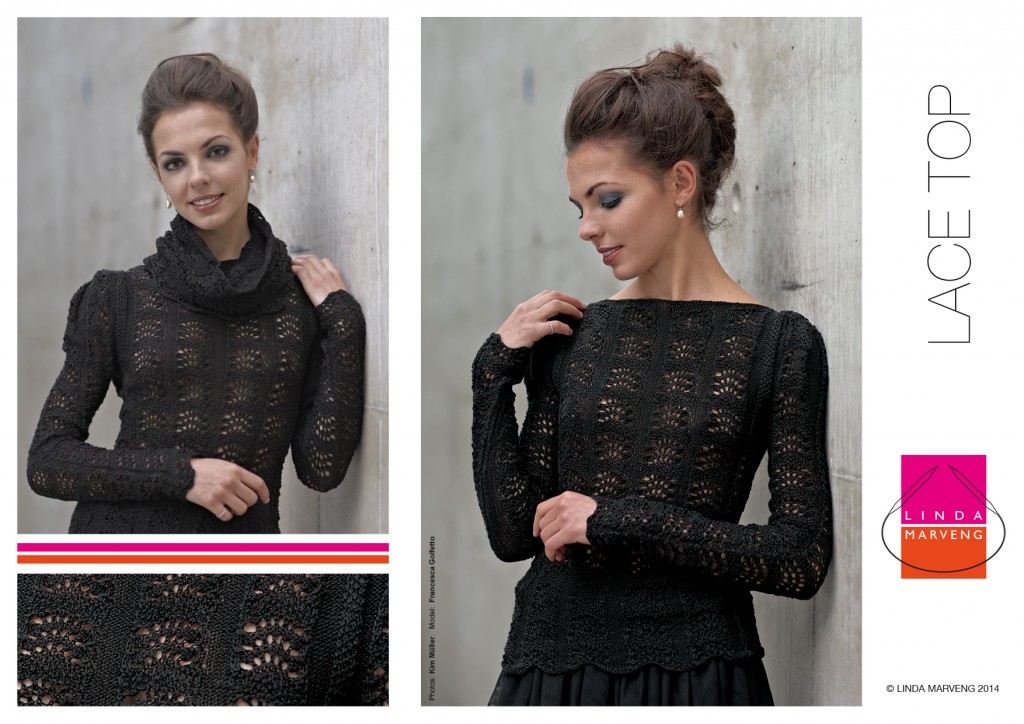 I am delighted to release the English version of the Lace Top & Cowl, called "Blondegenser" in my Norwegian book, in my Ravelry Store, see Lace-Top. Above is the pattern cover, with photos of the beautiful dancer Francesca Golfetto brilliantly captured by Kim Müller. I have written a more detailed English version of the pattern, while my Creative Director (read: husband) has made a new chart, and a schematic. Just to make sure I did not add any mistakes, I sent it to my technical editor Heather Zoppetti to check, see Stitchsprouts. From the intro to my pattern: I have been searching for a fitted party sweater for awhile, since I have not found one, I have designed one. Inspired by Missoni's collections I have chosen a yarn made of tencel that has a fabulous drape and shine. The yarn can be pulled into shape and hides all unevenness. The sweater is knitted in Valley Yarns 8/2 Tencel held double which comes in a large selection of color that makes it possible for you to create your own.
Sizes: S (M, L)
Finished measurements:                                                                                                          Top: Bust:      90 (94, 99) cm/35.5 (37, 39)"                                                                                    Waist:               78 (82, 87) cm/30.75 (32.25, 34.25)"                                                                       Hip:                   90 (94, 99) cm/35.5 (37, 39)"                                                                            Length:             54 (55, 56) cm/21.25 (21.75, 22)"                                                                              Sleeve length  46 cm/18″                                                                                                                  Cowl: 32 cm/12.5″ height and 54cm/21.25″ circumference.
Yarn: Valley Yarns 8/2 Tencel in Black (100% Lyocell, 1lb/454 g, 3360 yds/3675 m): 1 (1, 1) Cone: 2346 (2670, 2993) m/2565 (2920, 3273) yds for top and an extra 770 m/842 yds used for cowl. Note: Yarn is held double throughout pattern. Yarn

Alternative yarns: Jaggerspun Zephyr Wool-Silk 2/18 held double (50% merino, 50% tussah silk, 454 g/1lb, 5040 yds/ 4609 m) Jaggeryarn                                                           Drops, Lace held double (70% alpaca, 30% silk, 800 m/ 874 yds, 100 g) Garnstudio

Needles: 3mm/US 2.5 straight needles, 3 mm/US 2.5 80cm/32″ circular knitting needle, and 3mm/US 2.5 40cm/16″ circular knitting needle for cowl or size needed to obtain gauge.
Gauge: 24 sts and 38 rnds in Lace Panel using 3 mm/US 2.5 needles and 2 strands of yarn held together measures 10cm/4″ square.                                                                              29 sts and 36 rnds in st st using 3 mm/US 2.5 needles and 2 strands of yarn held together measures 10cm/4″ square.
Notes: The sleeves are knitted first and worked flat to learn the stitch pattern, while the body and the cowl is knitted in the round. The pullover has puffed sleeves, made by increasing each side of the middle Lace Panel. Increasing and decreasing is done between the Lace Panels in reverse stockinette stitch. The sleeves have 2 stitches in reverse stockinette stitch while the body has 5 stitches. Size M and L have additional stitches in reverse stockinette stitch after 6th and 12th Lace Panel.