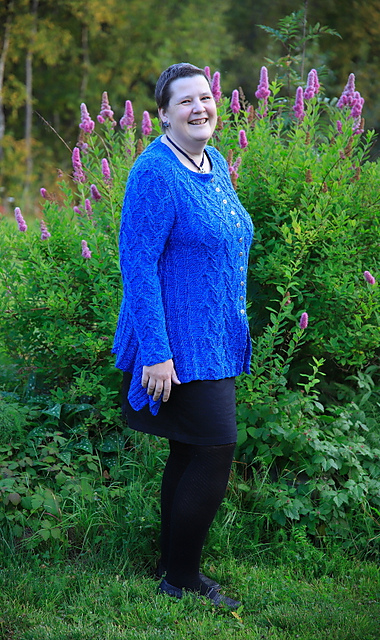 I am pleased to introduce another of my regular test knitters, Norwegian Anja Helen Storø Hansen, aka FlowerBirds on Ravelry, wearing her Leylak knitted in size 2XL in Hillesvåg Ullvarefabrikk, Huldra kamgarn held together with HK Lace. Anja first test knitted for me back in 2013 and has had a break due to her own pattern writing but also a year of strong chemotherapy and stem cell therapy. On her project page she continues "..I needed to put myself to the test. I would like an answer on whether I am able to test and knit a complicated pattern with a given deadline."
"The answer is YES, my hands work, my head starts working again, the same with my eyes. AND I finished by the deadline". I think the jacket looks stunning on her! Anja is a podcasts in Norwegian and one of her episodes is called: "Tilbake til livet"/Back to life. Her other episodes are about her knitting and sewing, see them here: YouTube.com.
Anja used a 2.5 mm/US 1.5 and a 3.25 mm/US 3 needle, instead of the recommended 4 mm/US 6 due to her yarns, to achieve the pattern gauge of 22 stitches and 30 rows in stockinette stitch gauge.  Thank you so much, both for test knitting and for these gorgeous photos, Anja!
Named after the Turkish leylak, the lilac tree, is this flowery cabled a-line cardigan with sidewings. The delicate cables, by Norah Gaughan, reminiscent of the lilac blossoms adorn the fronts, the back and the sleeves. Leylak ends in reverse stockinette stitch in a deep round neckline with a double neck- and buttonband. The jacket is knitted in the divine hand dyed Walk Collection Merino DK yarn, in pieces and seamed for the ultimate fit. To crown Leylak, make the cowl to act as a collar in excess yarn held together with the stunning Kid Mohair Lace.
The Leylak pattern is available in sizes XS to 5XL with bust measurements from 82 to 158 cm/32.25 to 61.5″, from my Ravelry Store and from LoveCrafts.