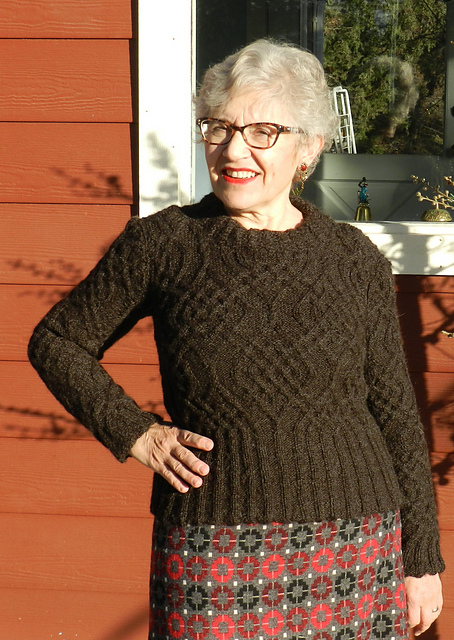 Let me introduce you to Patricia Bell, who lives in Canada, and has knitted my Prescott Pullover with yarn spun from her own homegrown Llama. Pat took part in the Prescott Knit-A-Long that is still running in my Ravelry group and showed us a photo of both her and her Llama, which you can see below. So it all makes sense that her Ravelry name is Bellllama. On her detailed project page you can read: "The llama is from Anna K a lovely black coloured girl. I've included her photo from a time when both she and I were much younger!" She continues: …"I do like the yarn, it will make for a cozy sweater and there's no itch!". All these lovely photos are taken by her husband.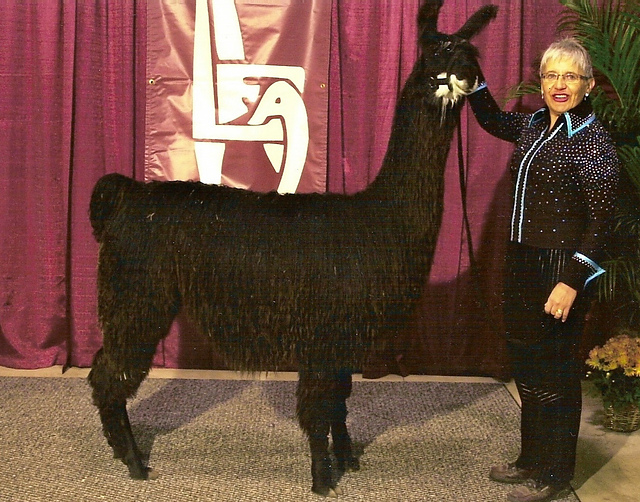 Patricia made size Small with the following modifications:
Shorter body length – 38 cm to underarm
Shorter sleeve length – 40 cm to underarm
Front length to neckline – increased by 3cm
Collar – picked up stitches called for in pattern, but did not increase. Knit collar as per pattern.
With these modifications, the pullover has perfect fit on Pat! She ends her project page with these words: "This is a stunning patterned pullover. The pattern is easy to follow and the cables are lovely to knit." Thank you ever so much for making such a gorgeous version of my pullover, Pat! And for showing us Anna! Pat has also taken part in several of my test knits to my delight. So you can expect to see more of her project here on my blog in the near future!
The Prescott Pullover pattern was published in Interweave Knits Fall 2018 and it is available in a digital edition as well as a print edition. Here is how Interweave introduced it in their Pattern of the week blogpost: "This brilliant design by Linda Marveng is everything I want in a sweater! The cables, which emulate the iron- and stonework found on historic university buildings, are gorgeous and give the pullover texture and interest. The fit is very figure flattering but not too tight, and the long sleeves and turtleneck give it just the right cozy feel. And the yarn is a dream! Supersoft and warm, The Fibre Co. Acadia makes this an extra-comfy sweater you'll want to wear right next to your skin."
I am so thrilled that the pattern made it to the very top of the most knit Interweave Knits Patterns of 2018. Here are the Top 5 Interweave Knits Patterns of 2018.