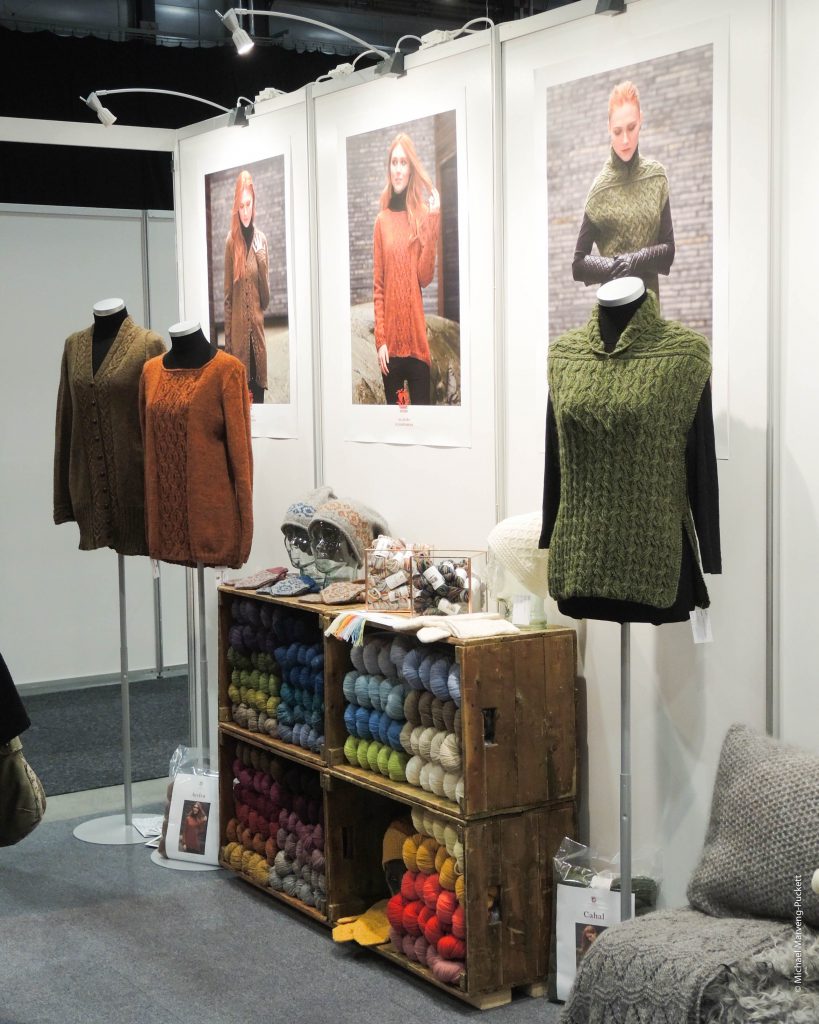 What happened to January? I had so many plans but did not get very far at all. Anyway, I did make it to the first day of the Oslo Design Fair at Lillestrøm on Wednesday 24th of January. I was looking forward to seeing my new designs in collaboration with Hillesvåg Ullvarefabrikk on display at their stand together with large posters of Emma Ross photographed by Eivind Røhne at Bøler Kirke/Church in Oslo last October. Michael came with me and took these photographs. Above you can see the Cahal knitted in Olive green Tinde Pelsull, Ardra knitted in Cognac Sølje Pelsull and Barra knitted in Brown Sølje Pelsull. On the floor are the yarn kits, and in the two boxes closest to Ardra are the Tinde Pelsull while the new lambswool yarn Sol is in the next two boxes.
Hillesvåg Ullvarefabrikk had printed a brochure for retailers and I saw it for the first time, fresh from the printers in the photo above. Here I am talking to Øyvind Myhr since both Berit and Anette were busy taking orders. On the wall to the right is Donia. The sample is on display at the front of the stand. I am wearing my design Kathe Cardigan knitted in SweetGeorgia Superwash Sport, made for Interweave Knits Fall 2016. Yarn kit with Norwegian patterns and printed patterns will soon go on sale in selected yarn stores in Norway and online at Hillesvåg Ullvarefabrikk. Digital patterns will be available after test knitting in my Ravelry group in both Norwegian and English during the spring.
I met up with several designers during the day to my delight. Here is Creative Director at House of Yarn, Margaretha Finseth (yes, the editor of the Norwegian Knitting Designs book) telling Tove Fevang and me about the new yarns from Du Store Alpakka. As you can see from these photos there was plenty of space at this trade fair on the first day.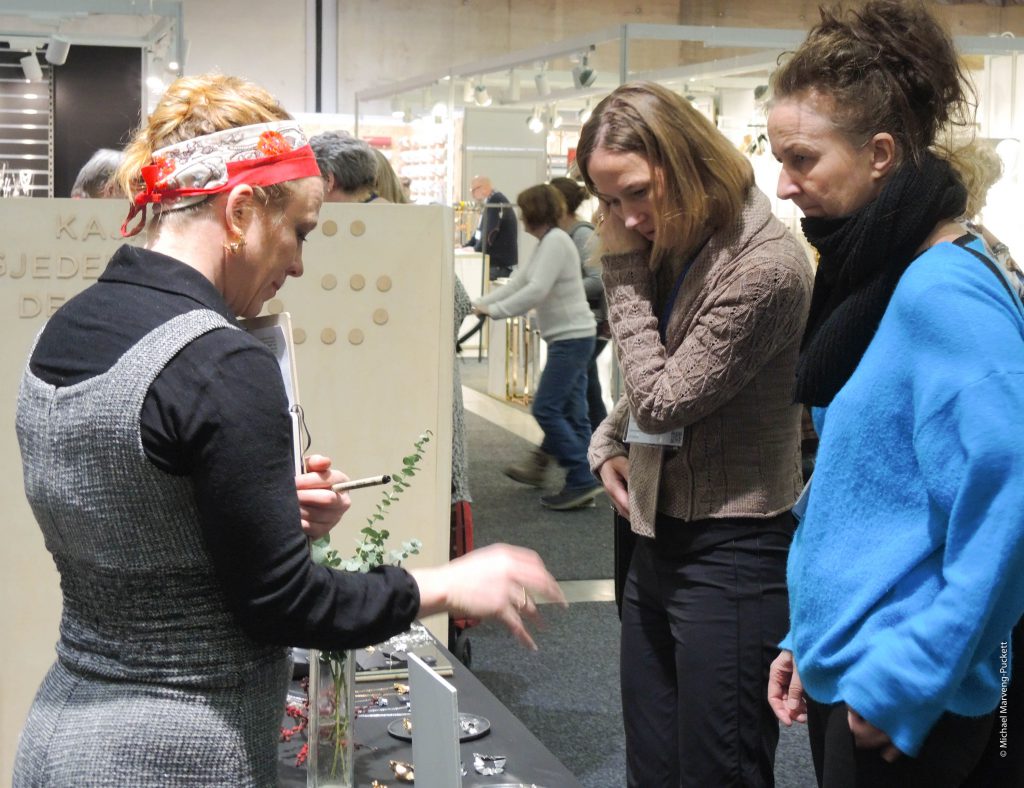 The fair also showcases jewellery, clothing, interiors and decorations in addition to yarn. Kaja Gjedebo had a stand again this time and I had to visit. Kaja is presenting the news to designer Bente Presterud Røvik who joined Tove and me. Thankfully, Kaja had made a new brochure so that we could easily make our wish-lists. In between visiting the stands, I had several coffee breaks and enjoyed catching up with designer Iselin Hafseld and handcraft editor at Familien Åse Myhrvold Egeland. I had a great day and received more design commissions so I will stay busy.
SaveSave
SaveSave
SaveSave
SaveSave
SaveSave
SaveSave
SaveSave
SaveSave
SaveSave
SaveSave