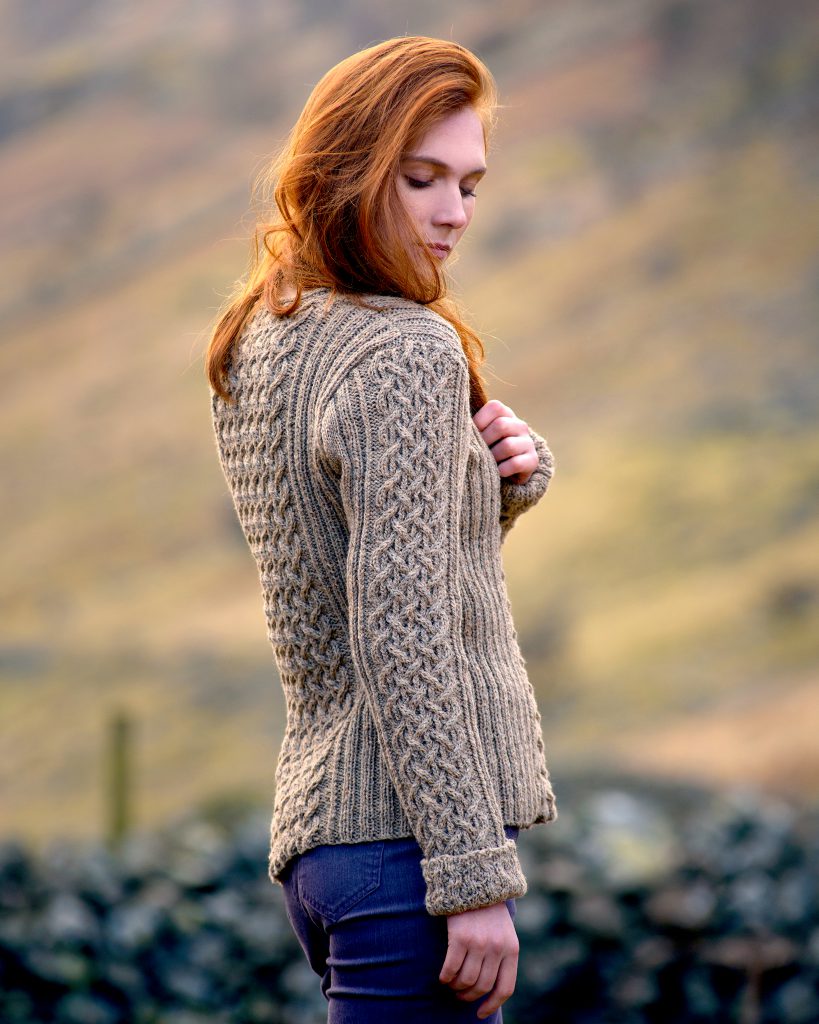 I am thrilled to have a design in the newly released Borrowdale Collection by The Fibre Company. Stonethwaite is knitted in Lore, a new yarn made of 100% lambswool with 250 meters/273 yards per 100 gram skein in Stable using a 4 mm/US 6 needle. I am sure you recognise the model by her stunning red hair, yes, it is Emma Ross photographed by Tommy Martin in Borrowdale Valley in the Lake District in England. "Stonethwaite is a richly cabled sweater that you'd wear proudly for many years to come. Knitted in Lore, it features a lattice of intricately woven cables down the front, back and sleeves. The sweater is knitted in pieces and seamed for stability and strength." The pattern comes in 6 sizes; Bust (at underarm once seamed): 99: 104: 111: 117: 127: 137 cm (39.5: 42: 44.5: 47: 51: 55 in).
Here is the introduction to the Collection: "Take a trip to the Borrowdale Valley, one of the most idyllic places in England and the backdrop for our stunning new collection. Showcasing the work of 16 exceptionally talented designers, each piece in Borrowdale is designed using our glorious new yarn for Autumn 2018, Lore. These garments and accessories are designed for everyday adventures; to be thrown on with your favourite pair of jeans and hiking boots, or wrapped up in as you snuggle on the sofa. We hope you'll be inspired to cast on something lovely and remember this special place in the Lake District."
My design is the result of an accepted design submission I sent back in November. The gorgeous cable is one I discovered awhile back but had not used before. I am in fabulous designer company: Kari-Helene Rane; Holli Yeoh; Sarah Hatton and Mary-Anne Benedetto, just to mention a few. The Fibre Company has made an enchanting video from their photoshoot which you can see on YouTube. Each of the garments in this collection has been photographed on several different models so you can see more photos of this on Ravelry and where you can buy the pattern at www.thefibreco.com. Take a look and be inspired here: Borrowdale Collection.