I wanted to share this gorgeous version of Irpa knitted by Siret in Brooklyn Tweed Loft. Siret test knitted the jacket for me in size medium, and made it for her daughter, who wears the jacket in these photos. The Brooklyn Tweed Loft is finer than the original yarn Hillesvåg Ullvarefabrikk Tinde, and Siret had a 23 stitch gauge instead of a 21 stitch gauge. The photographs are taken in the largest bog of Saaremaa (Estonian island in the Baltic Sea) – Koigi bog. "The bog is an important place of nesting and passing through for birds", writes Siret on her project page.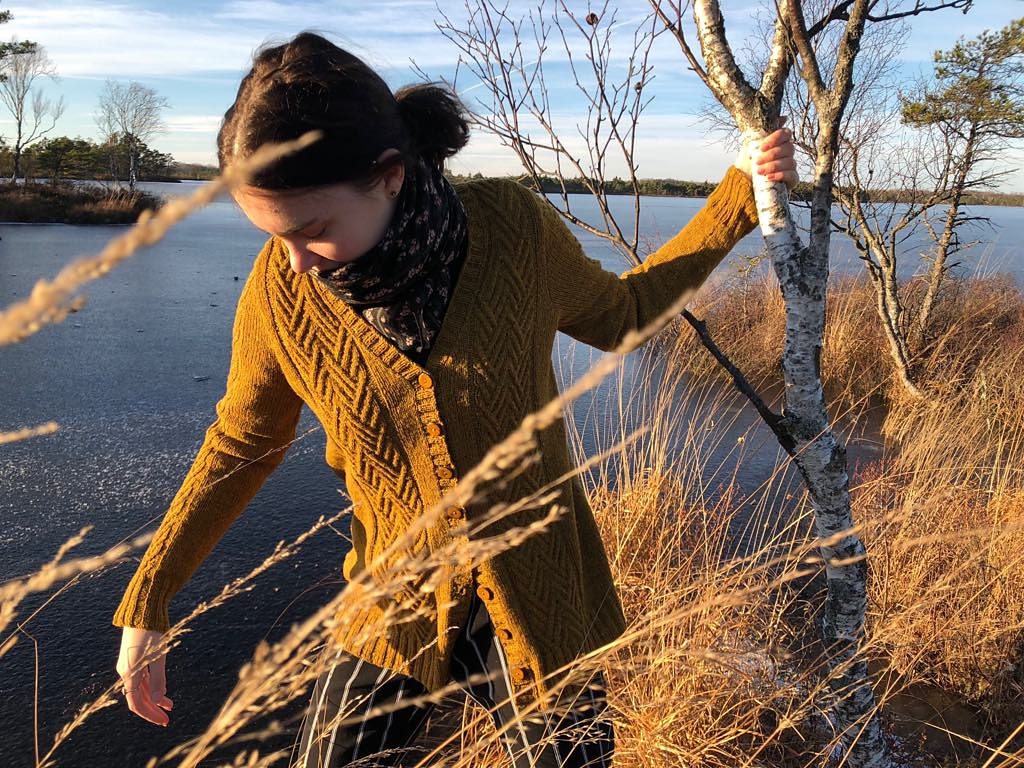 "My daughter wanted a warm and big cardigan. It should be yellow! And Linda Marveng's Irpa was the right one. Irpa is gorgeous cabled cardigan with v-neck. Linda designed Irpa to be oversized. She used an amazing Pine cable pattern which cover the center of the back. One pattern repeat is on the front panel and sleeves. Another wonderful knit from Linda Marveng!" You can find Siret as kollane on Ravelry and as siretsini on Instagram.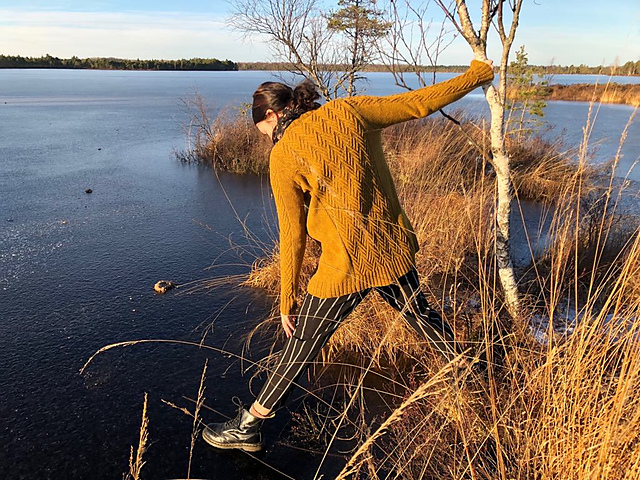 "Only 18 grams of yarn remained of the 8 skeins because my gauge was not the same as in pattern." Siret had to adjust the needle size down to 2.75 mm/US 2 and 3 mm/US 2.5 to match the yarn thickness. I am so thrilled that she test knitted this for me, and took all these wonderful photos using her mobile phone. Thank you so much, Siret!
The pattern, in both English and Norwegian, is available on Ravelry and on Loveknitting.  My  introduction to it is: Irpa is Norse for dark brown and suited this long oversized cardigan with a v-neck and a slight shaping for waist. Pine cable cover the center back, while only one pattern repeat adorns the fronts and sleeve. A wide rib makes this casual jacket a perfect extra layer to the Sigyn dress.