The Norwegian pattern for the Summer Leaves Sweater has finally been published in Familien in their latest issue. The photo is from the first, of three, photo shoots and taken by Esten A. Borgos (see them all on the link above). A deep rich wine red shade was a perfect choice for a leaf vines stitch pattern in lace, which makes up the sleeves of this summer sweater. The A-shape is created by the frame to the lace pattern and worked in twisted rib, while the rest of the body is made up of stocking stitch. The bottom hem is knitted double and folded while the v-shaped neckline is single and rolls up to the purl row. The sweater is knitted in a pure mercerized Egyptian cotton called Luxor, available in more than 60 stunning shades from Hifa, see here: ull. The yarn was kindly sponsored by Hifa for this design.
The test knit was held in my Ravelry group from May to September 2013, you can see all the results on the pattern page, as well as Siv Jorunn's beautiful photo here on my blog: Summer Leaves Sweater by Siv Jorunn Hjellbrekke. The sweater is available in sizes S to 2XL, with bust measurements from 90 cm/35.5″ to 124 cm/48.75″ while the hip measurements are from 110 cm/43.25″ to 144 cm/56.75″ and length from  74 cm/29.25″ to 79 cm/31″. Above is the cover of Familien which in this issue has 40 pages of knits. My sweater is not on the cover this time, only on the contents page, and across two pattern pages, see below.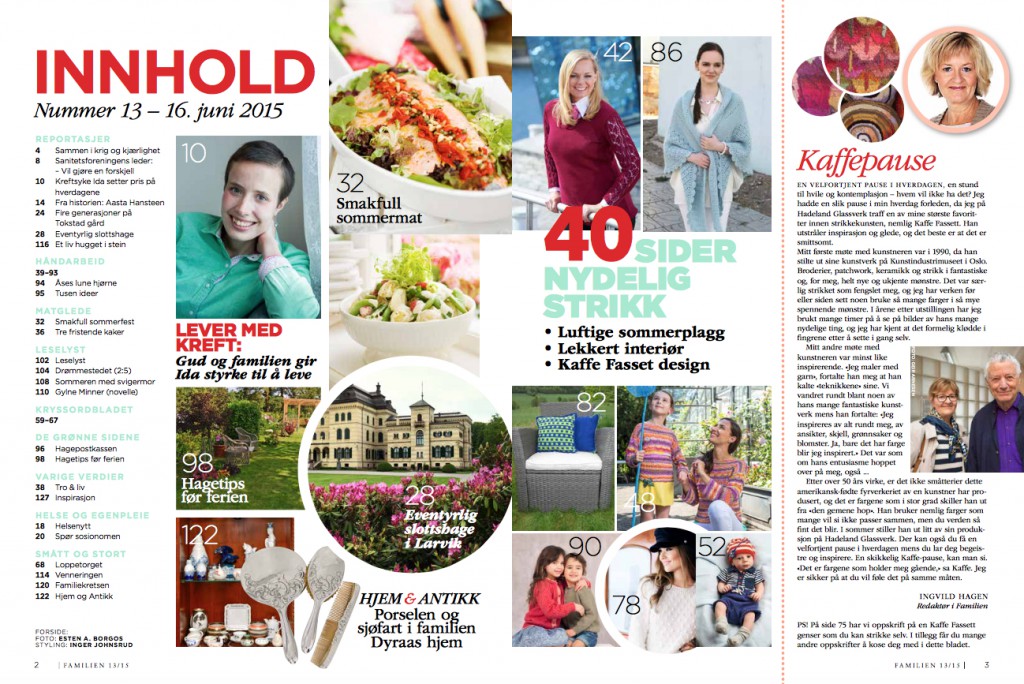 Both the body and the sleeves are knitted using a 3 mm/US 2.5 and worked in the round to the armholes, then flat. The lace pattern is demanding but the shape guides you through it after a few repeats. Hence I found it satisfying to knit both sleeves at once using magic loop, see my post magic-loop-two-sleeves-at-a-time. I also preferred a simpler body stitch pattern to highlight the intricate sleeves. That also means that the body is quick to knit, and a nice rest after working the sleeves. The neckline needed a bit of pondering and I ended up with a different solution than I initally had planned. As most designs it had a life of its own and did not want a double neckline but a softer simpler one. You can read more about my design in this blog post (and see me wearing it): New Design: Summer Leaves Sweater. The English pattern is available in my Ravelry Store and on LoveKnitting.