Here is another stunning version of my design Yaelle, knitted by German test knitter Birgit, aka blumi1412 on Ravelry and blumi1412 alpakas on Instagram, together with two of her three Alpaca boys whose alpaca fleece spun into yarn she used to knit Yaelle. Yes, you will find the super soft and shiny Alpaca yarn in her Etsy shop called: Alpakawiese. Birgit took part in the test knit and made size Small using the recommended 3.5 mm/US 4 needles to get the 21 stitches and 30 rows gauge in stockinette stitch measuring 10 cm/4″ square.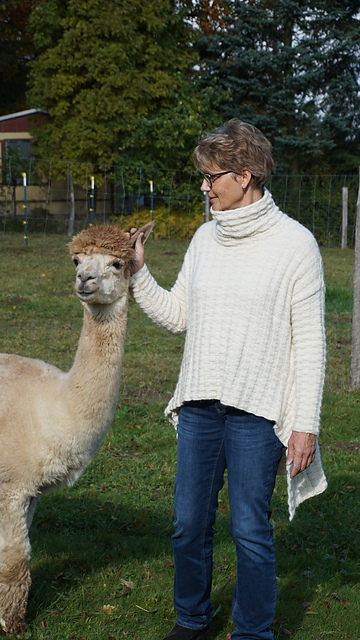 The alpacas' are adorable don't you think. It was Birgit's husband who took these amazing photos! In the photo at the top you can see the longer back and the side panel of Yaelle. The bottom photo shows the pullover worn with a belt! Thank you so much for making such a stunning version, Birgit! And for these lovely photos!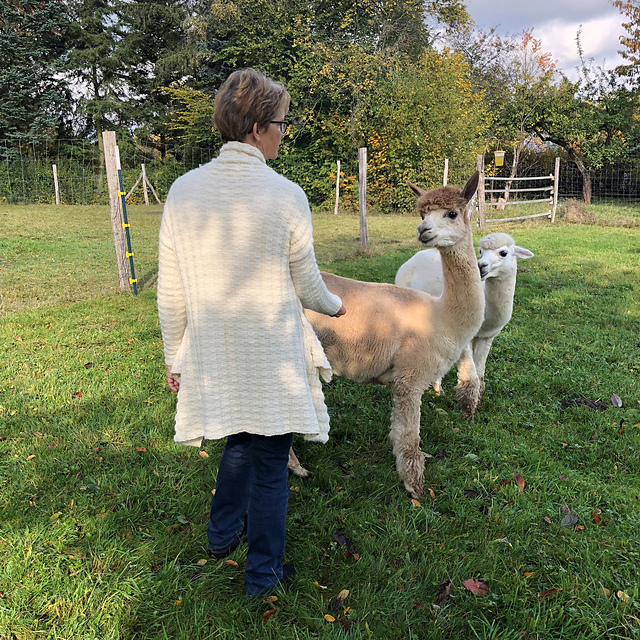 Yaelle is a high-low pullover with an all over check pattern, swinging side panels and pockets. Named after Hebrew for the mountain goat, as it can take you everywhere. The pullover ends in a high loose turtle neck collar. Yaelle's side panels are picked up and knitted after the side seams are done. The pockets are knitted at the same time as the front, including the pocket band and the lining. Wear Yaelle as you like; hanging loose or gathered with a belt or with a shawl pin at the front. The pullover is knitted in the pelt wool yarn Tinde with lustre from Hillesvåg Ullvarefabrikk.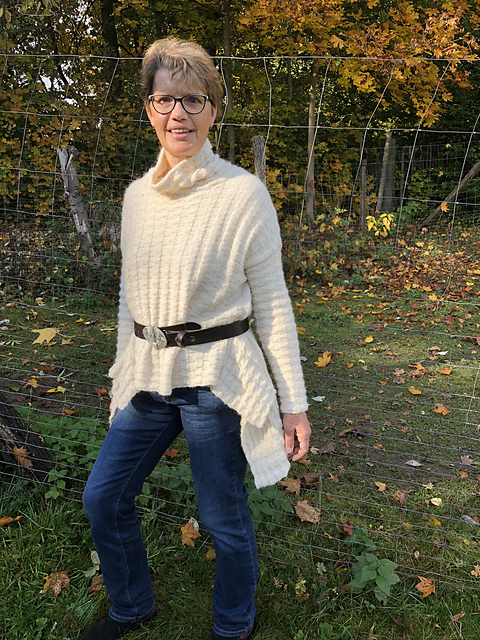 The pullover is worked back and forth in pieces from the bottom and up, then seamed. The side panel is picked up and knitted after the shoulder and side seams. The two vertical side pockets are worked at the same time as the front with extra stitches for the pocket band, with the lining attached horizontally at the top and bottom of the pocket. The collar is worked in the round.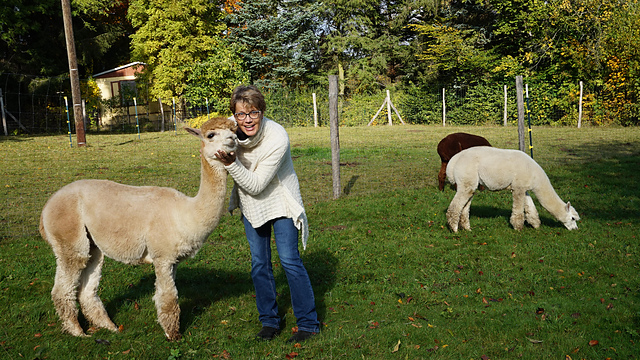 Yaelle comes in sizes XS to 5XL with a finished breast measurement of 128 to 192 cm/50.5 to 75.5″, with an intended ease: + 46-56 cm/18-22". I look forward to showing more brilliant versions of Yaelle!