Røros, is one of the places in Norway, I have wanted to visit for quite a long time, so I was very excited when Marit Larsen founder of Explore Travel asked if I would be interested in holding workshops and talks at a Knitting Weekend with the Norwegian magazine 'Hjemmet' at Røros in October. Indeed, I was. Røros is is one of the oldest towns of wooden buildings in Europe, founded in 1644. Due to its authentic wooden buildings and unique character of an early mining town, Røros was added to the UNESCO World Heritage List in 1980. Of course, Michael wanted to come too and that was ideal since he could my technical support, in addition to photographer and roadie. I wanted to travel the quickest route and that was by plane; a very small Dash-8-100 with only 39 seats operated by Widerøe; a wind-up plane according to Michael. It did feel like flying in slow motion and the propeller located at each wing was ever so noisy. The airport is in walking distance to the city center, but Marit did pick us up from the arrival hall, where there were no baggage belts at all.
My first talk on Friday evening was a presentation of my knitting career to all 110 attendees at Bergstadens Hotel. The top photo is the cosy reception area, which turned into a knitting café during our stay. Those that could not find a seat, conveniently choose the bar next door. Michael and I went for a quick walk after dinner, but on our return, I checked out what the women had on their needles, while I was wearing my Ena. There were a few of my designs around, I was ever so pleased to see!
After my talk, I answered questions while the knitters could take a closer look on a selection of my designs, I had brought. For the occassion I had prepared two new talks and got to test; 'Digital Knitting' on Saturday evening and the last 'The Knitting Clinic' on Sunday afternoon. Some knitters had traveled far, from the north; Bodø and from the south; Tjøme. Most had arrived by the knitting train; one scheduled from Oslo and one from Trondheim, while the remaining ones had driven.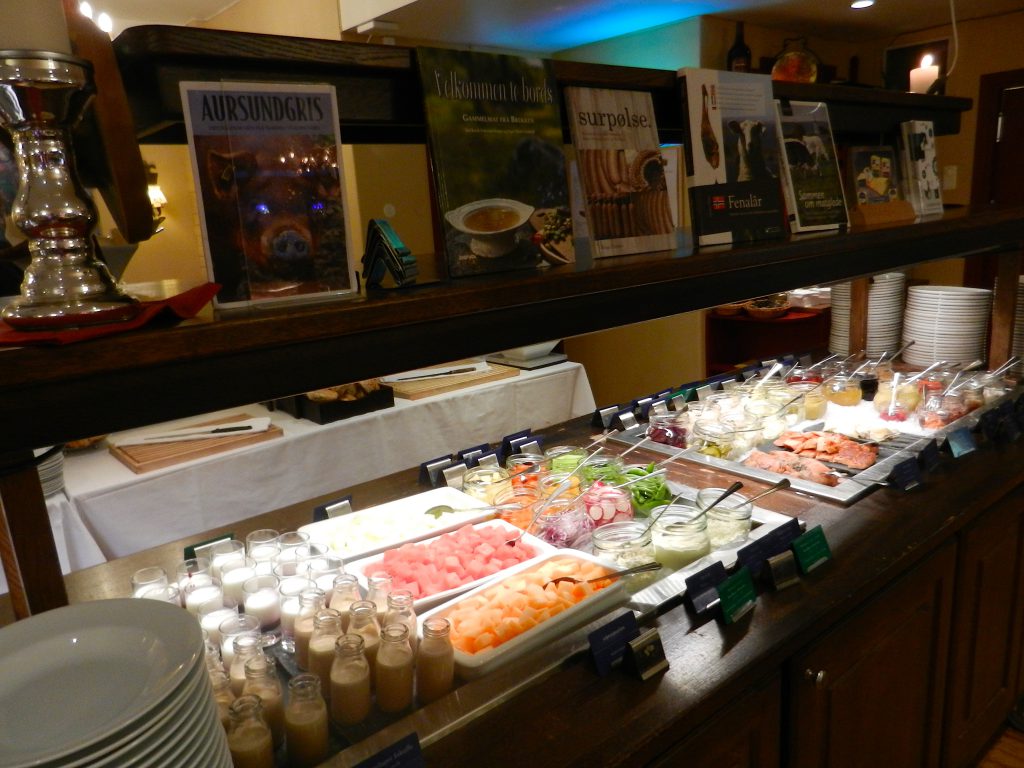 The breakfast was fantastic, not only where there locally made food but everything you could desire. Above is just one of several buffets. Included in our stay was a full board, so we ate extremely well while we were there.
My program was holding two workshops on Saturday and one on Sunday. The first one was cable knitting for beginners, the second one a cable knitting masterclass and the last one was a perfect fit workshop. Yes, I am wearing my Embrae. These two photos are from my final workshop and taken by Vigdis Winge, the handcraft editor at Hjemmet. You can see her sipping coffee in the second photo from the top. Vigdis organised a quiz during the first dinner on Friday night and each person at the winning table, received a generous selection of magazines.
I am demonstrating my favourite way of joining seams; using a crochet hook and slip stitches. There were a couple of spaces available on my first workshop, but the other two were fully booked. The spaces on the Knitting Weekend were all taken, and there was a waiting list. Back at Røros airport, we discovered that the security gate was a combined check in desk as well. When all the 39 passengers where there, some had to stand next to the self-help ice cream counter with a honesty box on top. The flight was an adventure in itself. I met so many nice knitters and had a fabulous weekend! Both Michael and I took a lot of photos, so I will make a second post with photos from Røros.