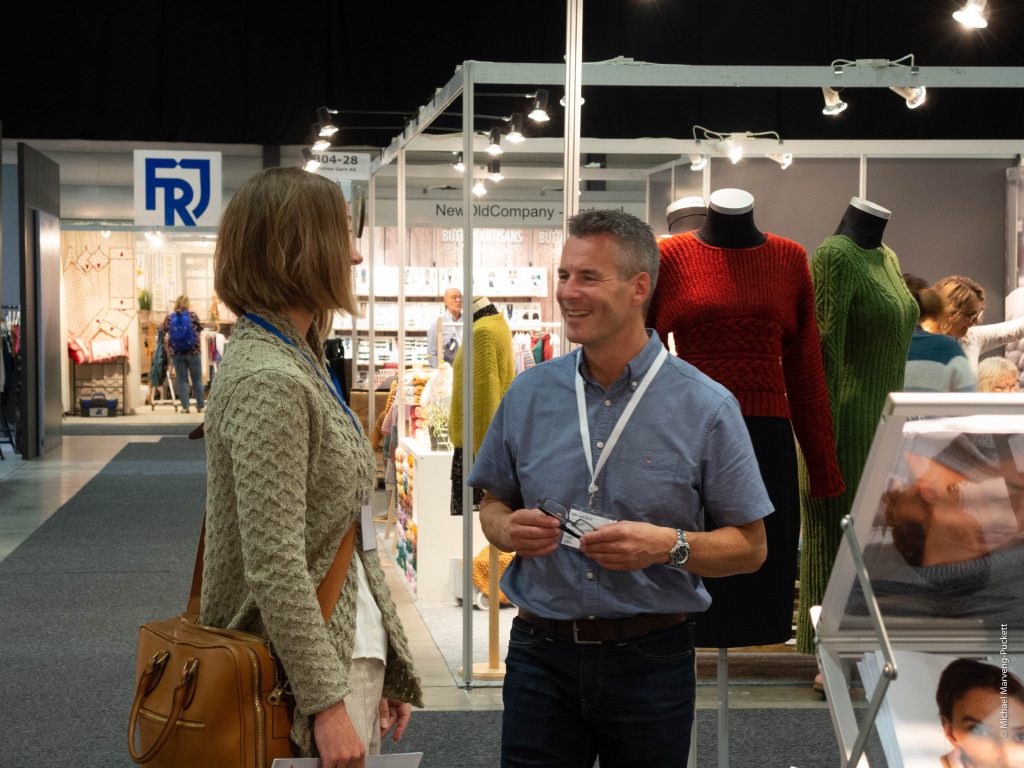 The summer came to an end and the Oslo Design Fair opened its door on last Wednesday, at Lillestrøm. It is a day to catch up with designer colleagues as well as yarn producers, and this time was no exception. First on the agenda was a visit to the Hillesvåg Ullvarefabrikk stand to see my latest collection exhibited and look at the new retailer brochure they have made. Above you see me talking to Øyvind Myhr with the sweater Lofn and the dress Sigyn in the background. Both are knitted in the lovely Sølje pelt yarn. Øyvind and Anette did want me to design 4 new designs and I am delighted to do so. Yes, I am wearing my Harding Cardigan, knitted in Brooklyn Tweed Shelter, first published in Interweave Knits Summer 2016.
Here is another photo of the mannequins with the yarn kit and brochure at the floor. When Michael and I arrived at the stand, designer Kari Hestnes and co-author Hege Dagestad were there. They have recently written the book: Garnmagi med Plantefarging (Yarn magic with plant based dying), recently launched by Cappelen Damm. Kari to the left, next to Berit Løkken and Anette Toft both from Hillesvåg Ullvarefabrikk and Hege.
I also met up with Thomas Kvist of House of Hobbies. He is now the agent for Lana Gatto and the American Distributor Knitting Fever. Designers Iselin Hafseld and Tove Fevang, as well as Dagfinn Sigridson Skoglund –  Works Manager at Oslo National Academy of the Arts – were also there and I had coffee breaks with them all. It is such an amazing and inspiring day!
There was no fashion show but House of Yarn did have a video of their fashion show running on their large stand. There were plenty of new yarns to look at and fondle. As you can see I was way to busy to take photographs so I am lucky that Michael did.
Finally I wanted to show you one of the photos Michael took of the Japanese inspired coffee shop in hall C named Scandinavian Design & Lifestyle. The Coffee shop is designed by Anderssen & Voll, with furniture from Japanese Ariake and food from Happolati. In addition I took one photo of the glass gate (read: the floor to ceiling glass wall is on the left hand side), where new exhibitors were presented on one side and exhibitions between the food outlets on the opposite side. 
For the first time at Oslo Design Fair, Hall C will be open to the public, today Saturday 1. September. So if you are tempted and nearby, this is your chance. You can find more information on the website: Oslo Design Fair.